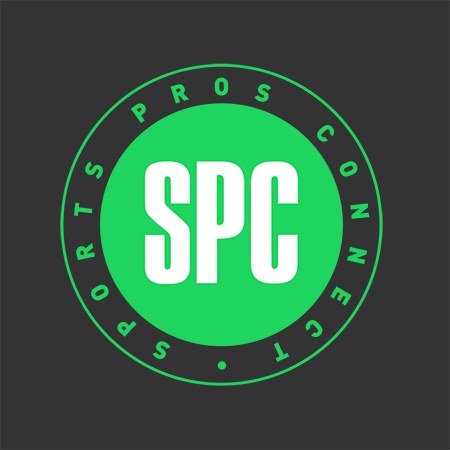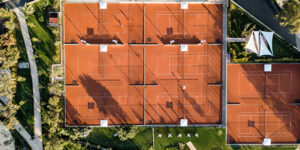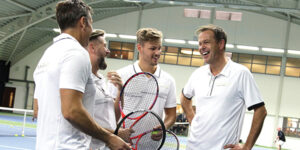 Good morning Josh Thompson, its great to have you here today!  Can you tell us a little about yourself, your career to date and about your tennis background?
Hi Mark, thanks for having me! It's always great to talk to you, you've built a great reach into the Tennis community.
I've known tennis since I was 7 years old, and have been fortunate to have many good people involved with my tennis journey. As a player I competed all over the UK, and made my closest friends through the sport.
As a coach I've been based in Yorkshire, Derbyshire, Oxfordshire and Spain – with my highlight definitely being working with Dan Kiernan at SotoTennis Academy. It was the learning experience I needed when I was transitioning from playing to coaching.
Oh yeah, how can I forget?  I also happen to be a Director at Active Away Tennis Holidays.  This is what keeps me busy now!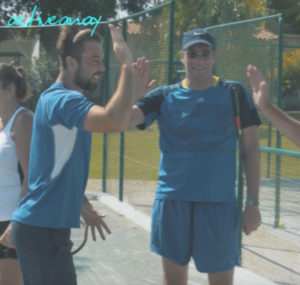 How did you get involved with Active Away?
I was fortunate enough to do some work with Matt Allen on some LTA Regional Camps during my years at DL Derby. I really 'clicked' with Matt and loved learning from him. He showed me the ropes with so many things; coaching, business and even talking to girls! He really brought me out of my shell and helped me become far more charismatic and outgoing.
After Matt joined Steve as his business partner I must've had 5-10 phone calls with him about doing an Active Away week. Eventually on 1 phone call I caved in and said 'just book me, I'm there.' As a naive young lad, I thought I'd be fine having the time off work – well this certainly wasn't the case. I remember calling Matt and letting him down – but paid the £300 for my flight that Active Away had booked for me.
I'll be honest, at this point I thought that the Active Away dream was over. However a couple of months later I got a call from Steve who basically said 'come out, do it, I've heard good things about you and let's see if there's an opportunity for you.'
During my first week, I'll never forget having a swim in the sea at 2:00pm on a Tuesday afternoon and thought – how good is this!! I completely fell in love with everything about Active Away – the standards for the coaching, the care of the coaching team, the engagement with clients, how everyone felt like one big family and the constant smiles/laughs. I felt alive and enthralled by the whole experience. Steve within my first Active Away week became a mentor for me – he shared a passion for the gym, and helping people. I was so keen to learn from both him & Matt – so looked forward to talking further about how I could add to their business.
In mid 2014 – Steve, Matt & I met and they offered me a role within the business. It's been an incredible journey, and I've learned so much. I'm extremely proud to now be a shareholder and director of Active Away.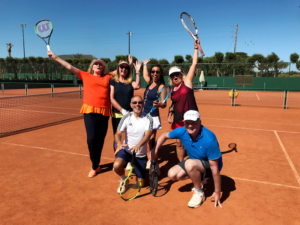 Thanks Josh.  Tell us some more about Active Away!  How has COVID affected the business and what have you been doing during the pandemic?
The pandemic certainly hasn't been easy for anyone, however the hospitality and travel industries have been hit especially hard. We bring groups of people together that don't know each other – so it's certainly been a challenge!
What it has allowed us to do, though is take a step back and look at how we do things. From accounting, to a new website and serious future-proofing I believe now we are much better positioned to thrive as we move forwards.
We've also tried to look after the 'Active Away Family' – one of the initiatives I'm running at the moment is offering a free 'Coach Profile' on our social media (10,000+ reach) to help engage with the coaches that support what we do.
We've also been incredibly lucky with the client part of our family, they've saved our business. With so many holidays cancelled, the average customer deferral rate throughout the travel industry was under 40%. However thanks to our community, we were able to achieve a 75% deferral rate – which is incredible and we are very grateful for the support.
A couple of years ago, I remember watching Dragons' Den and seeing your business partners Matt and Steve win investment from Peter Jones!  What is it like to have Peter Jones behind you, and how much of an effect has he had on Active Away?
How well did Matt and Steve do on the show?! At the time I was an Active Away Employee, and they managed to film the show without even telling me! It was only on a group call they told me what they'd done, and I was incredibly excited for everyone involved. It's given us some fantastic exposure to the wider tennis community and beyond. I'm honestly yet to see a pitch where Peter Jones wants a business more!
Tell us more about your plans towards the end of 2021 and beyond?  What trips have you got to look forward to in the coming months?
Ok so this is the bit that's quite exciting for any of your Tennis Coaches who are reading this, we have 4x 'Tennis Opportunities" for anyone who is a dynamic individual.
1. Active Away Coach @ 5* MarBella Resort, Corfu.
We've just taken over the management of the Tennis Facilities at the MarBella Resort in Corfu and we are wanting to take their tennis product to the next level. The successful coach will get the opportunity to live and work out at the incredibly beautiful 5* Resort, delivering our high quality coaching programme.
2, 3 & 4. Active Away Apprentice (Travel Consultant / Digital Marketer / Customer Service)
These apprenticeships are perfect for anyone who wants to 'earn and learn.' They'll come out of 12-18 months with a Level 3 Qualification and some serious experience. Remember earlier where I mentioned how good SotoTennis was for me as I was starting my coaching journey? Well I think this opportunity could be even better – staying in 5* Resorts, learning from an incredibly experienced team and being paid to do it. Not bad, hey!
Applications are being accepted here: https://activeaway.com/join-the-team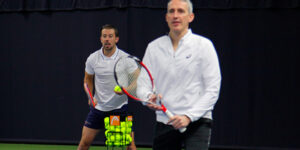 What is the standard of coaching that takes place on these trips?  Are you ever in need of coaches to come away and work with you on these holidays?
Being honest, the standard of coaching is what keeps our clients coming back. We have extremely high standards for everyone we welcome into the Active Away Family. We've got a unique style and brand of coaching that is dynamic, fluent and logical.
Having said that, the challenge as we grow is to find good new coaches. We are always on the lookout for new talent – and if the previously mentioned roles don't work, then we'd love to welcome a coach just for 1 week, 2 weeks or 12 weeks of Tennis Holidays!
Just send through a quick application here and we will be in touch.
How can our readers contact you and book on to your trips in the future?
All I'd say is for 2021 – be quick! We are very full, as soon many people are wanting to escape the UK. We've got some incredible destinations to choose from, so have a look at our Tennis Holiday Dates.
For 2022 – we have our 'big calendar launch' coming up in August, so keep an eye out on activeaway.com for more information. We do a crazy discount for those booking in our launch period.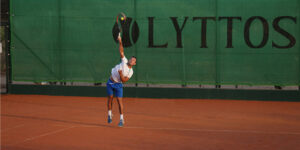 Finally, a question away from tennis holidays…  Who are your tips to win the remaining 3 Grand Slams of the year?  Male and Female?
How tough is this question now! It's so good to see the young guys and girls coming through.
For the guys – keep an eye on Felix Auger Aliassime. I think we could see him getting close in the next year!
For the girls, it's great to see so many of the top 10 aged 20 – 26. Osaka, Barty and Kenin for me will come good this year.
Thank you very much for taking the time to chat with me today Josh.  We hope you have a successful summer season and beyond.  If you have an enquiry for Josh or the Team at Active Away, please send your email to josh@activeaway.com
Likewise if you would like to be interviewed in this format on a topic of your choice, please dont forget to contact Mark Wylam via Whatsapp on +353867922188 or email on info@sportsprosconnect.com

Mark Wylam (Owner Sportsprosconnect.com)