Philippe Matta discusses coaches, players and the Lebanese Tennis Federation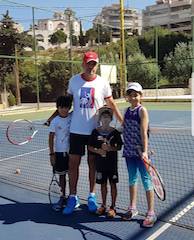 One of the benefits of running a global directory of tennis coaches and academies is that there are so many different countries participating in tennis and therefore so many great minds of the game from different parts of the world!!  Today, we will be interviewing Philippe Matta about Tennis in Lebanon…
Good morning Philippe, its great to have you here today!  Please give our audience an introduction about yourself and in particular your career in tennis?
Hello Mark, thank you for your time..
I started playing tennis at the age of 14, when I participated in many tournaments, but never played as professional…I worked as a tennis teacher at the Paraná Sports Club of Curitiba-Southern Brazil in 2007 coaching according to the MTM, (Modern Tennis Methodology) Oscar Wegner's method and later as a private coach in Curitiba and Imperatriz-Northern Brazil before returning to Lebanon…
I am currently working in Lebanon and teaching players of various ages…I earned several tennis credentials:
– World Mastery diploma with Toni Nadal (intermediate and advanced levels)
– MTMCA Italia Tennis Teaching Professional
– CSEN – MILANO Tennis Coach
– GPTCA B-Level International coach
– Mental Coaching diploma (mental aspects of tennis) from the Scuola Superiore Psicologia Dello Sport of Rome
– MTMCA Level 3 professional tennis coach
– USTA 10 & under courses of Coach Youth Tennis
I am also holder of human nutrition and psychology diplomas in addition to many courses in P.E. (Prime Cursos and Iped in Brazil) and also did two online courses in psychology of sports.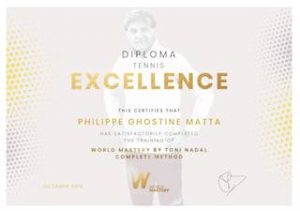 It appears to me that tennis is on the up in the middle east with a few players starting to come through…  Are there many players coming through the junior / pro ranks in Lebanon?  Who are the players to watch out for?
We have very good Lebanese players, great names like Hady Habib, Benjamin Hassan and Giovanni Samaha.  They are well ranked among the first 1000 ATP World Tour players.  In addition there are some serious talents like Najib Fakih, Michel Saadeh and Jad Ballout among many other juniors…
Tell us a little about the coaches in Lebanon, are they educated to a good level?  What is the main qualification they take?
The majority of the Lebanese coaches did ITF level 1 course, three of them reached ITF level 2… We also have an excellent GPTCA B level international coach that I personally know (Coach Charbel Richa).  Of course, we cannot forget the Davis cup captain Nasri Achkar, who did a great job helping the Lebanese team reaching the Asia Oceania Group 1 last month…
I see from social media that you are launching a PTR coaching workshop in Beirut with Inaki Balzola in June next year.  Have you had much of a response, and what about plans for some more?
I signed a contract with PTR international director, Mr Inaki Balzola, to organize a 10 & under + 11-17 workshops in June 2019… This will be a great opportunity for coaches and parents willing to have more experience in the tennis "first step" skills development…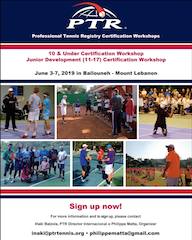 How is the Lebanese Tennis Federation helping coaches and players currently?  Is there much funding and help from the federation?
In fact, the LTF responsibles did their best, and the head of the Lebanese federation, president Oliver Faissal, paid from his own pocket to keep things working. There are some financial issues which are preventing the game from improving perfectly all over the country, especially in schools and clubs… In my opinion, Lebanon needs additional support in tennis because talents exist and all that we need is more tournaments and international participation in ITF Juniors, Futures and WTA/ATP tournaments in addition of regular workshops for coaches and players…
Again, we have players with great potential who can reach the top 100 ATP, and all that they need is financial support but unfortunately due to the country's economical crisis, things are a little slow.  We hope to get some assistance soon especially for players involved in ITF Juniors and Futures tournaments…
And finally, how do you feel about the participation in tennis in your area?  How is your personal programme running at your club? What are you doing to try to stand out above others?
I am doing my best coaching more than 40 hours weekly, after my new page on the www.sportsprosconnect.com site two years ago, things changed positively…Even if all Lebanese coaches are on the right path, they should promote themselves better than they do.  They should also continue their education and not be happy with what they have. Your platform allows coaches to do this, which is why I think you have a great product.  I am a big fan of what you are doing for the tennis industry.
We still have a lot to learn, big efforts have been made.  But we need to do more to promote tennis all over Lebanese schools and clubs… I am sure the LTF has serious plans for the next two years, and I hope things can work to improve the national and international participation of tennis in Lebanon…
Thank you for your time Mark…
Thank you very much Philippe for taking time out of your schedule to say a few words today.  I think its really important to discuss tennis globally, which is why over the coming weeks we will be having interviews from across the globe.  Watch this space for more interviews every Friday.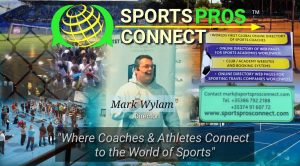 Mark Wylam (Owner Sportsprosconnect.com)