Report This Page
If you think that the content on this page this page contravenes our Terms & Conditions please let us know and we will take a look. 
Ariane Thibault - Tennis Coach
Ariane Thibault
I am a 24 years old French tennis coach. I want to challenge myself with experiences all over the world. I have always been involved within the tennis world. In 2009, I played the Swiss championship U12. In 2015, I started coaching in France. After 3 years of experience in different luxury resorts around the world, I want to come back to France and Switzerland and accompagned some player all year long on their preparation and competition. Also I want to pass more certification in tennis, padel, mental et physical preparation.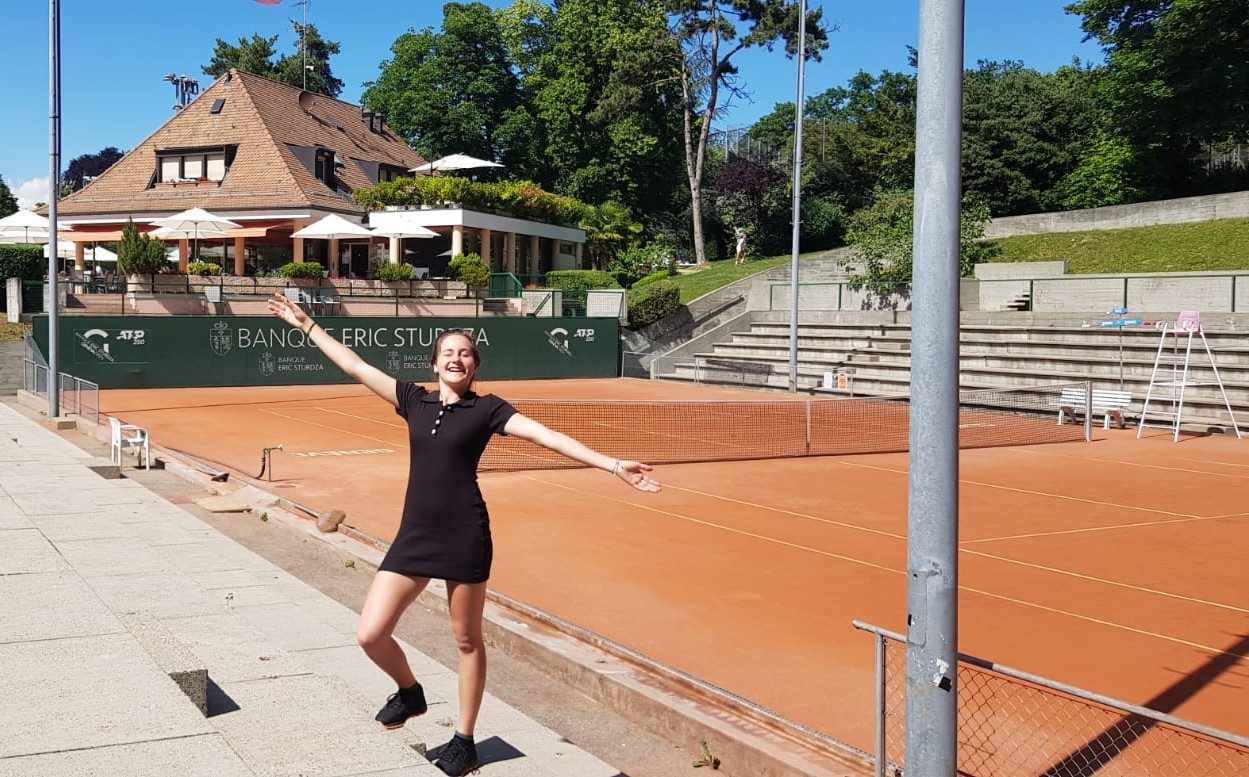 Qualifications
2021: Federal Initiation and Educator Certification in tennis
2021: Bachelor in Sports Training with Tennis Specialization
2021: PSC 1 (prevention and security for the citizen)
2020: Bachelor in Adapted Physical Activities
2017: Scientific Baccalaureate
French driver license
Coaching times & fees
Please contact Ariane direct via email or Whatsapp.
She can be contacted via Whatsapp on +33662704123
Or you can contact her using email on ariane.thibaul@gmail.com
I am a sportive girl since my youngest age. I have always been part of any sport event
I love to push myself and other in a physical preparation and I am convince that the mental preparation and human psycologie is a big part of sportif life.
To find my peace I love to write song and to play piano but I would also love to go for hike and explore nature.
I am full of energy and I need things to move on. Keep looking to reach my goals or help my players to reach theirs.
Through tennis drills, I enable players a technical and physical development. Also coach in physical adapted activities, I can adjust myself to different public of all ages. I Look forward to meeting you
Native French – Fluent English – Basic fluency in Spanish
Experience
2023: Head tennis and padel coach in Constance Ephelia Resort, Seychelles with MTA (Mauritus Tennis Accademy)
Beginner to advance players
Private or group session adult and kids
Fitness tennis / Kids tennis / Padel and squash challenge
Marketing
2022: Tennis coach in Mouratoglou Tennis Center in Costa Navarino, Greece
Private and group of all levels
Team work
Internship tennis + physical preparation for kids and teens
2021: Tennis coach with Lux Tennis at Soneva Jani, a luxury five-star property in the Maldives.
Beginner to competitive guests – Private or group sessions with kids and/or adults
2020/2021: Tennis Coach at Thonon-les-Bains, Tennis Club in France
Coaching two competitive juniors players in tennis and physical preparation
In charge of multiple kids' groups from 5 to 9 years old
Adult group and private classes
Initiate fit 4 tennis (fitness and tennis in 40 min sessions)
2018/2020: Assistant Tennis Coach at Grenoble University Club Tennis, France
In charge of multiple group 4 to 8 years old kids
2015/2017: Assistant Tennis Coach at Evian Tennis Club, France
In charge of 4 to 8 years old kids
Testimonial
This letter is my personal recommendation for Ariane Thibault who has worked with us at LUX Tennis. Ariane has been our tennis professional in a luxury five-star property in the Maldives between July and November 2021. Not only she provided a great service to each guest of the resort, but she also exceeded our expectations in terms of financial revenue generated. We have received some great feedback from the management team of the resort as well as from the guests she has coached. Ariane has always been positive, sociable and very easy to work with during her 5 months with us
Tony Rajaobelina, LUX Tennis
Testimonial
During her tenure with us we found Ariane to be a highly committed team player with strong knowledge in the respected field of work and skillfully handled responsibilities and displayed a great example in her character and conduct. Ariane left behind a great legacy, her passion and commitment and her "Can do" attitude will be an asset for any organization. We would strongly recommend her for any position that would draw upon her skills and her experience in her field. We would like to take this opportunity to thank her for her service and wish her every success in her future career.
Kunal Maste, Host Engagement Manager, Soneva Jani resort, Maldives