Report This Page
If you think that the content on this page this page contravenes our Terms & Conditions please let us know and we will take a look. 
Barcelona Tennis Academy
We are a tennis academy located in the beautiful, seaside town of Castelldefels, just 20 minutes from Barcelona. Our academy is only 10 minutes away from the Barcelona International Airport and a 5-minute walk to the beach. Barcelona Tennis Academy offers training programmes for all ages and levels. We will design a programme for you whether you are a professional player or just looking for a tennis holiday.
The Barcelona region of Spain has an international reputation for producing some of Europe's and the world's best tennis players. The Barcelona Tennis Academy aims to provide the opportunity to enjoy a world-class training programme in a beautiful Spanish setting, whether you are with us for one week or for a year.
Our Photographs
Here are some photos of our academy.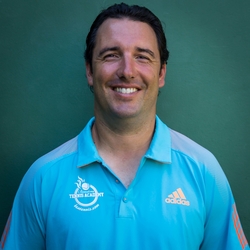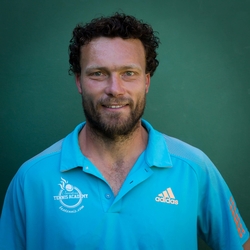 No jobs currently available at this time, but feel free to send us a C.V.
Our great new facilities have all the necessary structures to establish complete training programmes for our players. The club boasts 21 clay courts, 1 greenset, 2 mini tennis courts and 11 padel courts.
The club has a beautiful swimming pool. We use it frequently for our fitness sessions. By the pool there is a chill out area where players can recover from a hard day of training.
The gym is spacious and includes all the equipment required for a first-rate workout. The aerobics studio is perfect for a quiet stretch after training. It is also used for classes such as yoga, pilates, body pump and more.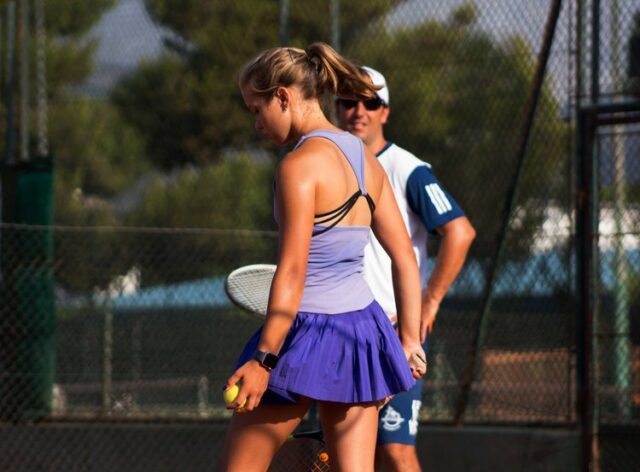 For a player who wants individual intensive training on a one-to-one basis, BTA Directors and coaches can provide expert analysis and coaching. Individual lessons will help you improve your game faster, focusing on a specific area of your game, which needs to be improved. Individual lessons can be a great addition to another programme at the academy, but they can also be booked on their own.
Students train five days a week with an extra group training session held on Saturday mornings. In total the weekly schedule includes more than 20 hours tennis and fitness training for our full-time students. Students are given individual attention from experienced BTA coaches who follow the player's progress throughout the year. Students are matched with other players of their age and ability and given an opportunity to engage in match play regularly to develop their competitive skills. Training includes tactical and technical aspects of tennis, as well as fitness and mental coaching.
The British College of Gavà offers a comprehensive and personalised education. It encourages students to take a genuine interest in their studies, to make the most of their skills and to develop a strong sense of personal motivation, thus preparing them to continue learning throughout his life in a world that is rapidly evolving. It provides a cosy, quiet and disciplined environment in which students can take advantage of British – and international – programmes enriched with the language and culture, Spanish and Catalan.
The Barcelona Tennis Academy offers short-stay tennis training programmes for individuals for any length of
time between 1 week to 3 weeks. Each training programme is specifically tailored to each individual player's
ability, ambition and potential. If a player wishes to stay for longer than 3 weeks we recommend they consider enrolling in our monthly or annual programmes. Players are given the same personalised attention from our staff regardless of the length of their stay. They will receive coaching from the BTA Directors and coaches and be given an opportunity to engage in match play with other Academy players where possible and suitable. All players who attend a short-stay at The Academy are given a final report at the end of their stay which assesses their ability, areas of improvement and aspects of their game to work on for the future.
Tennis Programme
Our programme puts heavy emphasis on: technical coaching, fitness training, match play, tactical coaching and group mental trainings. There are 2 daily training sessions morning session: 2 hours of tennis, 1 hour of fitness afternoon session: 2 hours of tennis & cool-down. Language courses available.
Accomodation
There are several different forms you can choose from including hotels, apartments, full-board accommodation All our accommodation options are located within walking distance to both our academy and the beach. Airport pick up and drop off is available.
Activities (optional)
Guided city tour of Barcelona, where you get to see sights such as Sagrada Familia, Barri Gòtic, Park Güell,Barcelona Magic Fountain of Montjuic costs 41 EUR per person.
"The Camp Nou Experience" (Barcelona Football Club – complete museum & tour visit, panoramic view) costs 25 EUR per person.
Port Aventura (optional) A day at one of the greatest theme & water parks in Europe. costs 29 EUR per person
95 EUR per person for the whole package of activities.
Tennis Programme
Our programme puts emphasis on the following: Tennis training, fitness training and physiotherapy, mental coaching, technical and tactical coaching, tournament programme and coaching, 2 training options: full-time and part-time. Price – 15,500 EUR
Academic Studies (optional)
When you study here you can expect the following : Cooperation with the British College Of Gava, national curriculum of England and Scotland, Preparation for g.c.s.e. and a-level examinations, Optional language courses and lunch included. School Fees – 9,500 EUR
Accomodation (optional)
There are a wide variety of options when it comes to accommodation, our main recommendations are: Spanish host families and apartments. They are within walking distance of the academy and you're provided with 3 meals a day. Price – 9,000 EUR Total Price – 34,000 EUR
Testimonial
I just wanted to thank you all so much again for making the week so fantastic! It was such a great experience, very personalised and the venue was simply perfect. Everyone has been saying what a great time they had, and it's really all down to you and your wonderful team who were all so friendly and accommodating. We really do appreciate it. Many thanks again for all your efforts! I do hope we'll be back! (if you have us ;)
Sandra
Testimonial
I am now back home and settled and just wanted to thank you again for an incredible month at the BTA. Everyone was so fantastic - conscientious, fun and encouraging - so please pass on my thanks and regards to the rest of your team. I will never forget the experience. I learnt a great deal and I look forward to putting it all into practice in future.I would like to thank the Barcelona Tennis Academy, and in particular, Juan, Raphael, Gilles, Adri and Jordie for their professionally kind and focused tuition. As a beginner, and aspiring intermediate player I felt that my tennis needed guidance to take it to the next level.The reality of my time with the BTA was beyond all my expectations. I was worked hard in all the right fitness routines, in the gym and on the courts. My technique in my game was worked with, and fine tuned to be the best I could be. This experience was delivered with a great deal of patience, and understanding. The food and facilities at the club are amazing, with good wifi. They have everything to hand. Supermarkets and the beach are within walking distance. The accommodation offered in the package was comfortable, clean and a home from home. A worthwhile mention here has to be with the staff at the restaurant, wonderfully understanding with my English request in a very Spanish location. As a parent, I was fortunate to see firsthand the wonderful family atmosphere of the academy. Knowing now what I do, there is a huge recommendation for any young person to be here. They would benefit from the kindness and compassion of great coaches and thoughtful adults in an alien environment. Words fail me for this experience, it has been beyond all expectations. I'll see you in 2017.
Matt
Testimonial
All we have to say is that we have dealt with the most passionate and dedicated coaches at BTA. We are now confident that Anjani is real safe hands. We returned home so very satisfied. Thanks again for all the support. A very special thanks to Mr Jordi to come all the way to drop us. Thanks & Kind Regards!
Maheesh and Vimal