Report This Page
If you think that the content on this page this page contravenes our Terms & Conditions please let us know and we will take a look. 
Bruno Pascal Riviere - Tennis Coach
Bruno Riviere
Hello I am Bruno Riviere, pro tennis coach graduated from the french tennis federation (FFT).  I currently run my own tennis company in China.  However due to the CoronaVirus I am looking for a short term assignment that will help me along the way.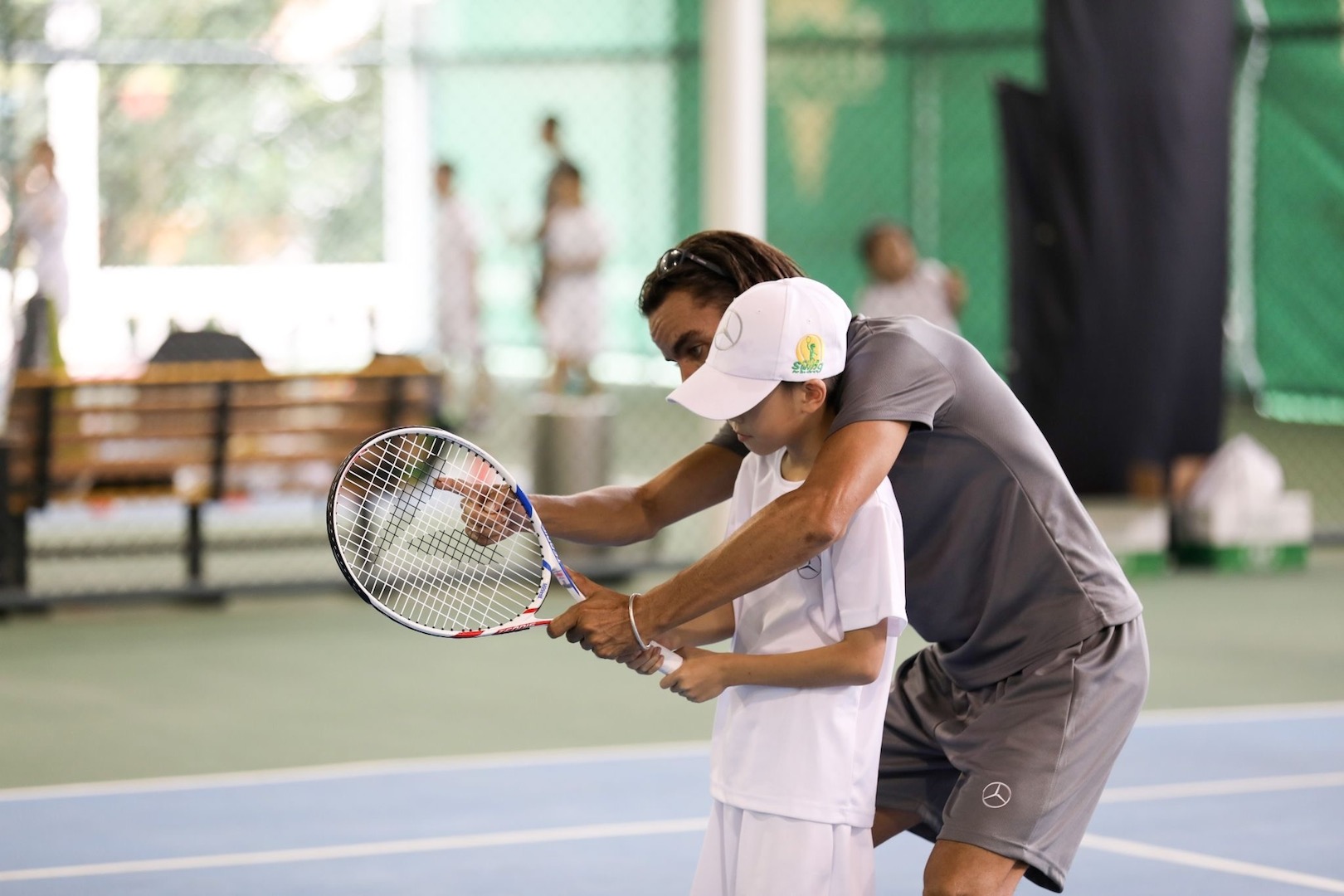 Qualifications
Graduated from the French DEJEPS in 2015 (French federation national pro coach diploma)
Assistant coach certification in 2012
Tennis initiation coach certification in 1993
Baby & Mini tennis
Beginners & intermediate players adults & kids
Competition coaching programmation of Advanced players of all ages
Private & group lessons
Coaching times & fees
Please contact Bruno directly via email or WeChat for more information on his availability and fees.
Email address:  riviereb@hotmail.com
We Chat:  BrunoRiviere974
Further information
Tennis Academy management :
TCMSJ licenses : –
2015 : 32 –
2016: 89 –
2017: 112
Video and statistic analysis ( Dartfish &
School Program:
Baby tennis program for the international kindergartens in China. I currently contracted with 8 international schools in Guangzhou concerning the U6 kids. I implemented a tennis curriculum adapted to very young kids. The purpose is to drive them progressively to tennis, developing their coordination and motor skills , in a fun playing atmosphere.
I started the classes myself but now i have hired 3 coaches i have trained to my pedagogy who are going to these kindergarten everyday to give the class. I write down the weekly/monthly lesson content and scheduling  for them, and make sure they have everything to keep the teaching quality standards high.
beside this i also work with primary schools ( International french school of Guangzhou and international American school of Guangzhou) on a weekly basis, assisted by one of my coach.
Competitive Coaching:
I am the private coach of 2 Spanish kids of 10 and 12 years old who are targeting to play on the ITF Junior tour, for 8h a week each.
I also give private and group lessons to adults players, chinese and foreigners  from very beginners to advanced players ( level 4/6 french ranking / 5 US ranking)
I have a deep passion for the tennis game on all its aspects, and a deeper passion for teaching and transmitting.  I take the same pleasure to teach to very beginners than i do for advanced players, and i believe everyone can improve his game and tennis tennis skills. A student who feels that he is improving will feel pleasure to play and to come back.
Improvement and pleasure are not my only motto, as i give a great importance to the atmosphere i impulse on my lessons. You learn and understand better in a great friendly atmosphere.
In my life, in my business, and in my class i am solution finding oriented mind, and always start my class with an interview of my customers to set up clear goals, for my customer, for me and for us together.
I also have good knowledge on stringing and equipment.
Experience
May 2019 – Currently Founder, Manager & Head Coach Kindy Tennis plc – Guangzhou China.
Creation of a tennis program for kids 3 to 6 yo
Recruitment and training of coaches to the baby tennis program
Contract with international kindergarten chain to display tennis lessons coaches in their 8 Guangzhou schools
Private coach of 2 competitive foreign players in China targeting ITF tour.
Adult tennis lessons – group and private, leisure to competition level
Development of cardio tennis program
Display tennis program for the American International School of Guangzhou
Jun 2018 – May 2019 Love Sport Tennis Academy- Guangzhou China.
Manager and head coach of the TEN tennis studies , most important tennis program of the company.
Elite program group & private session
Adults, kids beginners, intermediate & advanced levels
Management and instruction of 2 Chinese coaches on the « play &stay galaxy tennis program».
Cardio Tennis for adults & physical conditioning for kids
Tournaments organization
Marketing promotion events
Sept 2015 – Jun 2018 Tennis Club Municipal SaintJoseph – Réunion Island / France
Tennis coach beginners to advanced players, private and group sessions
Academy founder & manager
Sept 2011 – Aug 2015 AMTSP tennis Academy
Senior Coach. 2013 – 2015
Assistant coach 2011-2013
2009 – 2012 Golf club Bourbon
Moreover, as i graduated from a prestigious business school in Paris , and have working experience in international groups,  i have a business oriented mind.  A customer who is improving, feels it and can verbalize it is a customer who will come back for more lessons and will be happy to do so. High quality standard leads to good business.  High quality standards means good content on the the court , and also off the court.
I teach tennis in a holistic way , which means i can equally work on the technical, tactical, physical and mental leverages according to my analysis of the student needs. After validating my plan to help him/her to improve his/her game, I then propose the teaching plan and we validate together so the student is an actor of his game.
I also ran my own academy for 3 years in France before i came to China, starting with 32 students in 2015 to 112 , 2 years after (key figures available on the french tennis federation  (FFT) website.
Situation is for now idling in China, and i am ready for another experience, specially in Asia as i feel really adapted and adopted here.