Report This Page
If you think that the content on this page this page contravenes our Terms & Conditions please let us know and we will take a look. 
Cagney Tennis Academy
Cagney Tennis Academy is the largest and most innovative coaching academy in the Hunter Region. With 5 centres, internationally and nationally accredited coaches, offering programs from 3 years+ across Red, Orange, Green and Yellow ball hotshots through to elite training for nationally ranked juniors, we are able to offer something for everyone, at affordable prices. We are the professional academy, providing a level of technical analysis and correction which is not available at other centres. We are a community based business focussed on grass roots tennis with the aim of developing as many players of competitive standard as possible. Tennis is our life and we live it and love it everyday.
Our approach to professionalism and inclusivity has been fostered over the past 30 years. We aim to create an environment in which students learn and flourish while being part of a team. The bonds formed within these teams, encourage friendship, sportsmanship and teamwork in young kids. Our aim to building an inclusive environment means every student feels welcome, heard and taught to enable them to excel. We teach kids and adults and offer various classes: group classes, private classes and holiday workshops – to name but a few, all reasonably priced. We are proudly Australian-owned and operated, and our experience over three decades meant an expansion of clinics to five locations to better serve our tennis community.
Derek Cagney - Owner / Head Coach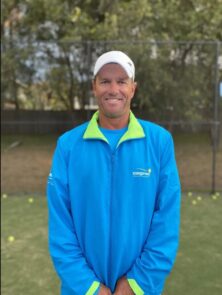 Professional coach wanted! Click here to view the job vacancy
5 Tennis Centres, including:
7 synthetic grass courts
5 hard courts
All outdoors, all with floodlights
Clubhouse at 3 of the centres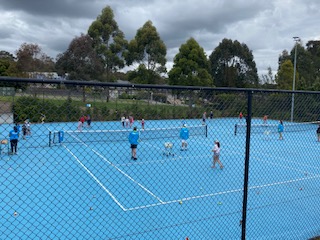 Junior Tennis Coaching Classes & Squads – are for children between the ages of 3 & 18. It is a 3 tiered program offering professional coaching for:
Beginner
Intermediate
Advanced players
Our junior tennis coaching programs teach every facet including technique, match play, tactics, mental approach and physical fitness through a variety of drills, simulated match play and games, as well as discussion during lessons.
Our 3-12 year old students are usually taught using Tennis Australia's ANZ Hotshots program.
Cagney Tennis Academy's tennis competitions are offered to junior and adult players as soon as they are ready to play. Our competitions are conducted at various times for all player ages and levels in different formats throughout the week. We understand everyone has busy lives and limited free time in their hectic schedules so we keep our competitions short, quick and provide maximum participation for all players.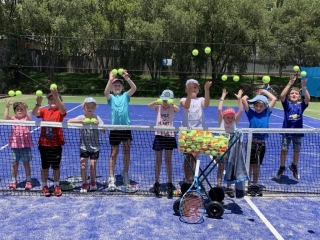 School Holiday Tennis Camps
Our school holiday tennis camps, which are conducted each school holidays, are a great way to introduce your child to tennis or to continue your child's tennis development. Catering to all children, of all ability levels from age 4-14. If your child is new to tennis, they will receive 14.5 hours of coaching in a week, which is almost the equivalent to 1.5 regular terms of coaching in just 1 week! It is an economical and effective way to get them started.
Our tennis camps offer loads of giveaways such as tennis balls, tennis racquet grips, report cards detailing your child's progress, effort and skill level, a drink, a snack and stacks of prizes for those children that excel during the week to take home and further inspire them.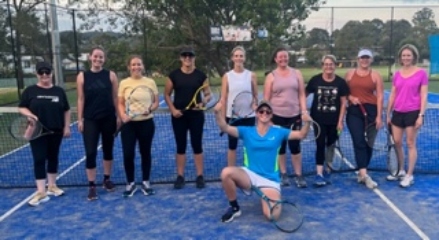 If you're looking for a new hobby to keep you fit and entertained simultaneously, adult tennis lessons are the perfect solution for you. Tennis is a fun way to keep moving while developing some beneficial skills, which is why it's such a well-loved and popular sport, played by people of all ages from 3 years of age right through to retirement age.
Through tennis, you can create new friendship bonds, increase your fitness levels, and maintain a hobby that is as beneficial as it is exciting and with our hands-on approach to coaching provides you with quality tennis lessons that all ages can enjoy.
Our Private & Semi-Private Tennis Lessons and Tennis Coaching are available for players of ALL levels from beginner to elite, ages 3+.
Private tennis lessons will maximise your learning experience and enhance the development of your technical, tactical, movement, and match play skills as well as improve your mental approach to tennis. Every private tennis lesson is tailored specifically to each student's needs and is completely geared towards maximum participation and hitting experience. Private tennis lessons are the best and quickest way to fast track your learning and the development of your tennis game.
Cardio Tennis is a new, fun, group fitness activity featuring drills to give players of all abilities an ultimate, high-energy workout.
This includes warm-up, cardio workout, and cool down phases. If you want to find a healthy, new way to get in shape and burn calories, you should try this.
Cardio Tennis will allow you to hit significantly more tennis balls per hour than a class, as there are far less stops in play.
Cardio Tennis is one of the fastest growing forms of tennis delivery in Australia and Cagney Tennis Academy was the pioneering tennis business in the country, introducing it, even before Tennis Australia had it on their "radar".
Testimonial
Hi Cagney Tennis Academy, my husband & I would like to tell you that we were so impressed with Coach Paris today. Her attention to detail, patience, creativity, effort and ongoing current feedback through her coaching session with the boys today, was phenomenal. We were absolutely stoked with their increased ability to listen and focus. They loved her games and we loved their listening. Please pass on our thanks and gratitude!
Lisa
Testimonial
Myself and my family have been going to Cagney Tennis Academy at Eleebana Tennis Centre for almost 20 years and continue to enjoy tennis and coaching to this day. Derek and his staff are always professional and any segment of the business, be it coaching, competitions and/or clinics are always very well organised with all levels of ability and age groups provided for. Derek has lived in the Lake Macquarie area for many years and caters to all aspects of the "tennis experience" including the Pro Shop where racquets, restrings and clothing and equipment are available at very competitive prices and backed by a know-how of what best suits the individual. I would recommend Cagney Tennis Academy to anyone wanting to start a new, or continue an old, tennis journey with a professional organisation staffed by caring and knowledgeable staff.
Phil