Report This Page
If you think that the content on this page this page contravenes our Terms & Conditions please let us know and we will take a look. 
Walid Jallali - Tennis Coach
Emirats
United Arab Emirates
Walid Jallali
Walid is a ex professional tennis player from Tunisia and was a member of the David Cup team for 12 years. Walid has numerous achievements as both a player and a coach.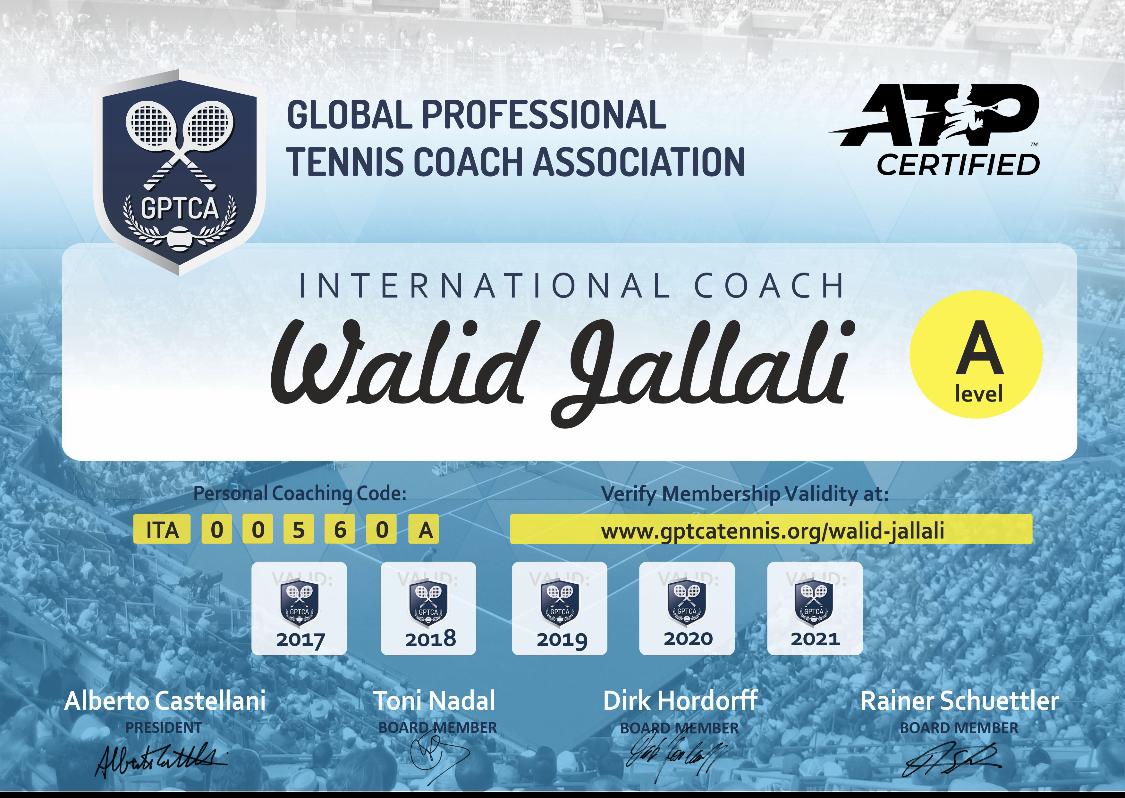 Qualifications
Education Teaching Diploma granted the Ministry of sport
Participate congress north African for coaches' 2010 in Tunisia
Diplomat ITF level 2 international
Diplome ATP B (GPTCA)
Diplôme ATP A (GPTCA)
Coaching times & fees
Please contact Walid direct via email or Whatsapp.
He can be contacted via Whatsapp on +971 56 625 7973
Or you can contact him using email on walidjallali@hotmail.com
Walid has the best Davis Cup record in the history of Tunisian tennis.
Walid was the number one in the country for more than twelve years.
Experience
As a player:
ATP Ranked player: Best career ranking 480 singles, 320 Doubles
Winner of: ITF Futures [6 singles, 11 doubles]
Participated 3 times at the Mediterrean games [1997 Bari-Italy, 2001 Tunis-Tunisia, 2005 AlmeriaSpain]
Tunisian champion in All categories: U10, U12, U14, U16, U18, and Open (senior for 12 years)
3rd place: Junior African Championship- Ivory Cost 1998
3rd place: Open African Championship-2008- Egypt
3rd place: Open African Championship-2009-Morocco
Winner: African Open Championship-Team Event- Morocco 2009
Winner: African Open championship-Doubles- Morocco 2009
French Open participation
3rd round Orange Bowl
Gold Medal: Arabic Championship-Singles, Doubles & teams 2002
Circuit player chosen by the ATP committee since 1998
As a coach
2009-2010 National Coach and Sparing Partner for The Tunisian Team [Juniors, Davis Cup] – 2009-
2010-2011
2009-2010 Private Coach of Ons Jabeur [36 ITF], Sonia Daggou [250 ITF], Ahmad Triki [68 ITF], slim
hamza (69 ITF)
2010-2011 Presently Coaching Ahmad Triki and ons jabeur
(African championship Nigeria 2010), Ahmed triki (winner Nigeria 2010)
[African Championship Nigeria 2010], slim hamza (final Nigeria 2010)
2010-2011 Worked with Malek Jaziri [310 ATP] & Haythem Abid [380ATP]
2010-2011 Traveled to US Open 2009, Australian Open 2010, Roland gross 2010 (final), Wimbledon
2010 (quarter final), us open 2010 (semi final) as a private coach with Ons Jabeur [10 ITF]
2010 Arab championship ladies Libya (nour abbes winner)
Nour Abbes [50 ITF] & Slim Hamza [69 ITF]
2011 private coach of malek jaziri (76 ATP) traveled to US Open 2011 (qualify and lost 2 end round
main draw)
2011 Davis cup coach Tunisia team (Tunisia -England)
2011 Davis cup captain Tunisia team (Tunisia-Ireland)
2016 DAVIS CUP CAPTAIN Tunisia team ( Tunisia-bosnia)
2016 DAVIS CUP CAPTAIN Tunisia team ( Tunisia-bulgaria)
Coaching Malek Jaziri ( 64 ATP ) : Dubai Open 2016 , before and after Davis Cup for 2 months
Coaching Malek Jaziri ( 42 ATP ) at Dubai open 2018 : He made semi final
2020 still coaching Malek Jaziri for weeks