Report This Page
If you think that the content on this page this page contravenes our Terms & Conditions please let us know and we will take a look. 
Dodo Costin - Tennis Coach
Dubayy
United Arab Emirates
Coach Dodo
Being the formal coach of U.A.E. National Tennis team between 2000 and 2006 I performed an extensive program in a variety of roles as a player, sparing partner or a hitting coach, coaching children and adults of all nationalities from Dubai and Europe. Following this program the players obtained every year one of the first 3 places in GCC Tournaments. I've got considerable experience as a Tennis Events organizer being capable to provide Clubs and Hotels with tennis programs to achieve maximum court time and capacity. I'm an open person, original, punctual, result driven and positively critical with a great and sense of humor.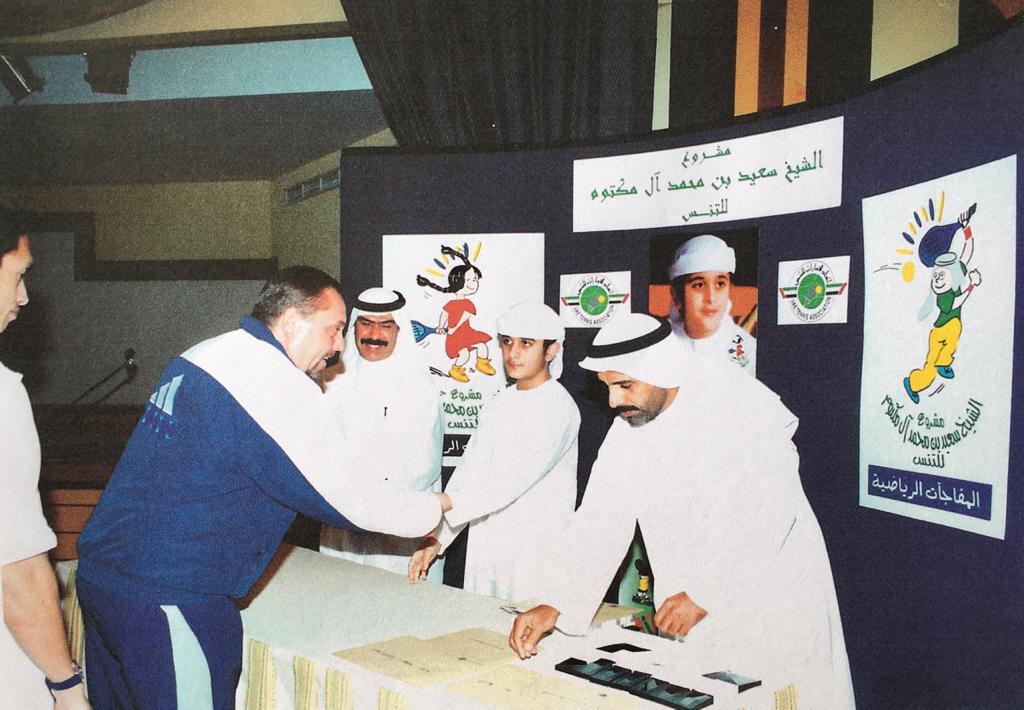 Qualifications
* Diploma and Certificate of PRO Tennis coach recognized by the Romanian Tennis Federation and ATP, member of Romanian Coaches Association from 1985. * B.Ed. /Physical Education – IGCSE, IB, IBDP. * Member of International Olympic Committee from July 2000; * Member of "PRO Tennis Registry" Hilton Head Island USA from March 2000; ** * Member of the Tennis Emirates Coaches Association from 2000;  * Sports, Leisure & Events Management – * Master's Degree in Education – "Teaching and Learning" from McMillan University U.S. * Special Training and Expertise for Sports Skills Development in: Tennis (33 years of coaching) and Table Tennis, * Fitness training: (Circuit Training, Cardio); More than 15 years' experience with U.A.E. National students and National Schools as a Physical Education teacher with sports facility management and sports coaching: * Administration, C.R.M. and coaching teams, Outdoor Activities & School holidays trips organizer, having initiative, drive and taking action with enthusiasm and flexibility mixed with a good sense of humor. * Developer and Organizer of Extra-Curricular Activities (E.C.A) Program. * First Aid & Special Medical Assistance qualification with CPR. TOEFL – Level 90 & IELTS – 7,5 with Exams every School Academic year: from 2005 till 2016;
Coaching times & fees
After School Tennis Activities Fees: 3-4 players in group = AED 600 / 8 classes
2 players in group = AED 100 / pers / class
Private class 1 to 1 = AED 200 / pers/ class
Those classes take place after school / after-noon.
For adults after-noon and evening classes i n group or private.
Further information
Dodo's Tennis classes take place in Al Barsha Park having lessons with kids in group and private and adults.
Video with Nela (Spain 4 years old) during coaching time and then playing "Short Tennis" during Dubai Open Tennis Championship 2018 (when she was 5 years old).
Video with Samy and Dodi to improve movement on court with reaction for hitting Forehand and Backhand,
During my Bucharest Sports Academy period and youngest coaching time, I was playing double at Bucharest Tennis Club with Ilie Nastase (Nasty) double Rolland Garros and Wimbledon winner and I was leading the first steps in tennis of future 12 World Ranked (2002) player Andrei Pavel. After this period I was coaching in Tennis Club "Sanatatea" Satu Mare city where during the years 1982-1998 I prepared players for National level. During this time I've got 4 junior level National Champions. Coming to Dubai in January 1999 I worked with Dubai Marine Beach Resort and Spa where I was winning with the Hotel Club team every year different levels of "Prince League." Best player: Michael Maksudian.       From year 2000 I worked with the U.A.E. National team players. My best player: Omar Bachrosian top GCC player. With the program implemented to players the U.A.E. National team won every year one of the first 3 places in GCC Tournaments. Starting with 2006 I was hired as a Physical Education teacher but I was continuing my work as tennis coach organizing After School Tennis Activities with groups for kids (different levels) and private classes for kids and adults organizing "Ladies mornings", "Playing with professionals" and "Socializing double evenings".
Experience
WORK EXPERIENCE:
-2016 – DATE – Athletics and Tennis director at "OREON EDUCATION"– Free Lancer PRO Tennis coach – coaching different level of players from Beginners, Advanced till Professional players.
-2006-2016 – PE Teacher/ HOD in Schools from Dubai (EIS Meadows, DASS, Al Dhafra School AUH) and After School Tennis Activities: Tennis for group and individual classes for all ages and all level players from School: ESS Jumeirah,  EIS Meadows & Jumeirah, Dubai American School.
-2000 – 2006 – U.A.E. TENNIS ASSOCIATION –PRO Head Coach for UAE National Team: Under 10y; U12y; U14y & U16 years old players (trained Omar Bahrozian – UAE National Top GCC Player and  Kirksteen Rebuyas U21 years player U.A.E.  Champion 2013/2016); Still doing local selection for U8y, U10y, U12y.
–1999-2003-Dubai Marine Beach Resort & Spa – Recreation Manager cum PRO Tennis Coach; Participating and winning every year with my Club team, every level from "Prince League".(Newspaper)
–1982-1999 – PHYSICAL EDUCATION teacher and PRO Tennis Coach for After School Sports Activities – ROMANIA (worked in different Schools). In 1985 I became a Certified PRO coach recognized by Romanian Tennis Federation and a member of Romanian Coaches Association. During this period I've prepared 4 Junior National Champions.
–1984-1995 – Summer holiday Tennis coach for Hungarian Tennis Clubs in: Mateszalka, Debrecen & Nyiregyhaza;
Testimonial
26 January 2017 I commend "Coach Dodo" who has been the Head Coach at the UAE Tennis Association (2000-2006). Coach Dodo was responsible for the educational development and well-being of his respective department. In addition to his academic contributions, Coach Dodo has headed numerous Academic and social activities and projects in and out of the Tennis Emirates Association. He was organizing Demo lessons in different Malls Entrances to promote Tennis in Dubai, as well as the School holidays and After School Tennis Activities for over 500 students participating in an Educational Training and Selection under patronage of H/H Sheikh Hamdan bin Mohammed bin Rashid Al Maktoum (2001-2004) Coach Dodo is a proficient employee is shrewd, attractive, precise, organized, decisive, honest," on the ball" and very frank. In addition to this, he is extremely organized, reliable and computer literate. He is flexible and willing to work on any project that is assigned to him and initiates ideas that would benefit the Tennis Club. Coach Dodo is quick to volunteer to assist in other areas of the Tennis Club's operations. To further illustrate his flexibility and professional competence, Coach Dodo was appointed to advise on all aspects of Tennis (Technic's & Tactic's) and the development of pastoral education, winning every year one of the first three places during GCC Tournaments. With his tenacity, he was capable to change the game and the style of the top UAE Tennis player, Omar Behrozian (especially his backhand). Coach Dodo is recommended to work in the future in any other well- known Sports/Tennis Clubs. If you have any further questions with regard to his background or experience, please do not hesitate to call me. Sincerely, Slah Bramly Secretary of UAE Tennis Asociation +971507655686
Slah Bramli , Tennis Emirates Secretary for UAE National Tennis Team
Testimonial
Dubai /14/04/2005 Reference for Coach Dodo Costin : UAE Tennis Emirates is an all age co-educational Tennis Association following an International Training curriculum with the mode of delivery being English/Arabic. It caters largely for Emirati students but has an international mix from over forty different nationalities. I have known Coach Dodo in a professional capacity, since January 2000 when he joined the staff of Emirates Tennis Association and I can state without reservation that he is one of the most consummate professionals with whom it has been my privilege to work. From the beginning he worked for Free for the first 3 months, showing his high abilities to teach Tennis to kids from Beginners, Advanced till Professional level players. His lessons were fully prepared, meticulous in detail and cognoscente of the different range of abilities within the class or different age groups. His attention to detail has always been the hallmark of his teaching and his effusive care and understanding of children's needs is second to none. I feel this ability to be able to adjust to a different task is an asset many coaches lack today. He has always been prepared to go the 'extra mile' for the children in his care. Coach Dodo could always be relied upon to be the first to volunteer for additional responsibilities – very often without remuneration – and this was greatly appreciated. He organized all of the inter year Tennis activities, House Tennis Championships and the teams for Competitions (National, GCC Tournaments and International), However, it has been his readiness and flexibility to undertake challenges above and beyond the call of duty which have proved to me his total commitment to education He quickly established a solid professional rapport with these boys and worked very hard to improve their Tennis technic as well as their Tactic skills. Given that these boys were also considered some of the most challenging, in terms of their attitude and behavior, his efforts are even more commendable. To further illustrate his flexibility and professional competence, Coach Dodo leaded the UAE Tennis Team to win every year, one of the first three places during GCC Tournaments, till he was working with us. His input was invaluable. Even after he finished his Contract, he was doing players selection for the National Team. The care and dedication he has portrayed over the time I have worked with him, leave me in no doubt that UAE Tennis Association' loss will be another Tennis Club's gain. I have no hesitation in recommending Coach Dodo to your Tennis Club as a PRO Tennis Coach. He is an asset to education and a true professional. Yours faithfully, Col. Mohammed El Merry General Secretary / UAE Tennis Association +971506444883
Mohammad El Merry -UAE Tennis Emirates Federation President
Testimonial
Dubai /14/04/2013 To Whom It May Concern Subject: Testimonial/Reference for Mr. Doru Costin Abstract: Dubai American Scientific School is an all age [K-12] co-educational, private school following an American curriculum with the mode of delivery being English. I have known Mr. Costin in a professional capacity, since September 2008 when I joined the staff of Dubai American Scientific School as Assistant Principal and, in my thirty eight years of education, I can state without reservation that he is one of the most consummate professionals with whom it has been my privilege to work. Upon my arrival at the school, Mr. Costin (Coach Dodo) was teaching Primary, Middle and High School Physical Education. His lessons were fully prepared, meticulous in detail and cognoscente of the different range of abilities within the class or groups. His attention to detail has always been the hallmark of his teaching and his effusive care and understanding of children's needs is second to none. He was in-charge with the position of School Exams Supervisor for all grades and School levels and Middle & High School Students Counselor to, doing the job of Human Resource Manager when the School was hiring new teachers . I feel this ability to be able to adjust to a different task is an asset many teachers lack today. He has always been prepared to go the 'extra mile' for the children in his care. In my first year at the school this was evidenced by his commitment to the extra-curricular program conducted during the break times and after school. Mr. Costin could always be relied upon to be the first to volunteer for additional responsibilities – very often without remuneration – and this was greatly appreciated. He organized all of the inter year activities, sports days, National and International days, the special soccer programs which the school engaged in as well as all of the inter-school sporting activities, which included Tennis, Soccer, Swimming, Cross-Country, Table Tennis, Chess, Volleyball and Basketball. To further illustrate his flexibility and professional competence, Mr. Costin was appointed to the Senior Leadership Team in November 2008 to advise on aspects of extra-curricular development, Counseling, Human Resource (hiring teachers together with the School Board) ), Health and Safety and the development of pastoral education. His input was invaluable. The care and dedication he has portrayed over the time I have worked with him, leave me in no doubt that DASS' loss will be another school's gain. I have no hesitation in recommending Mr. Costin to your School/College/University or Sports Club. He is an asset to education and a true professional. Yours faithfully, Ian Hicks – email: motspur61@yahoo.co.uk (DASS Assistant Principal)
Jan Hicks Dubai American School Assistant Principal