Report This Page
If you think that the content on this page this page contravenes our Terms & Conditions please let us know and we will take a look. 
Heiner Wirtz-Fielding - Tennis Coach
Heiner Wirtz-Fielding
Heiner's highly regarded international coaching experience spans in excess of 25 years, supported by internationally recognised qualifications in Germany, the United Kingdom and Australia.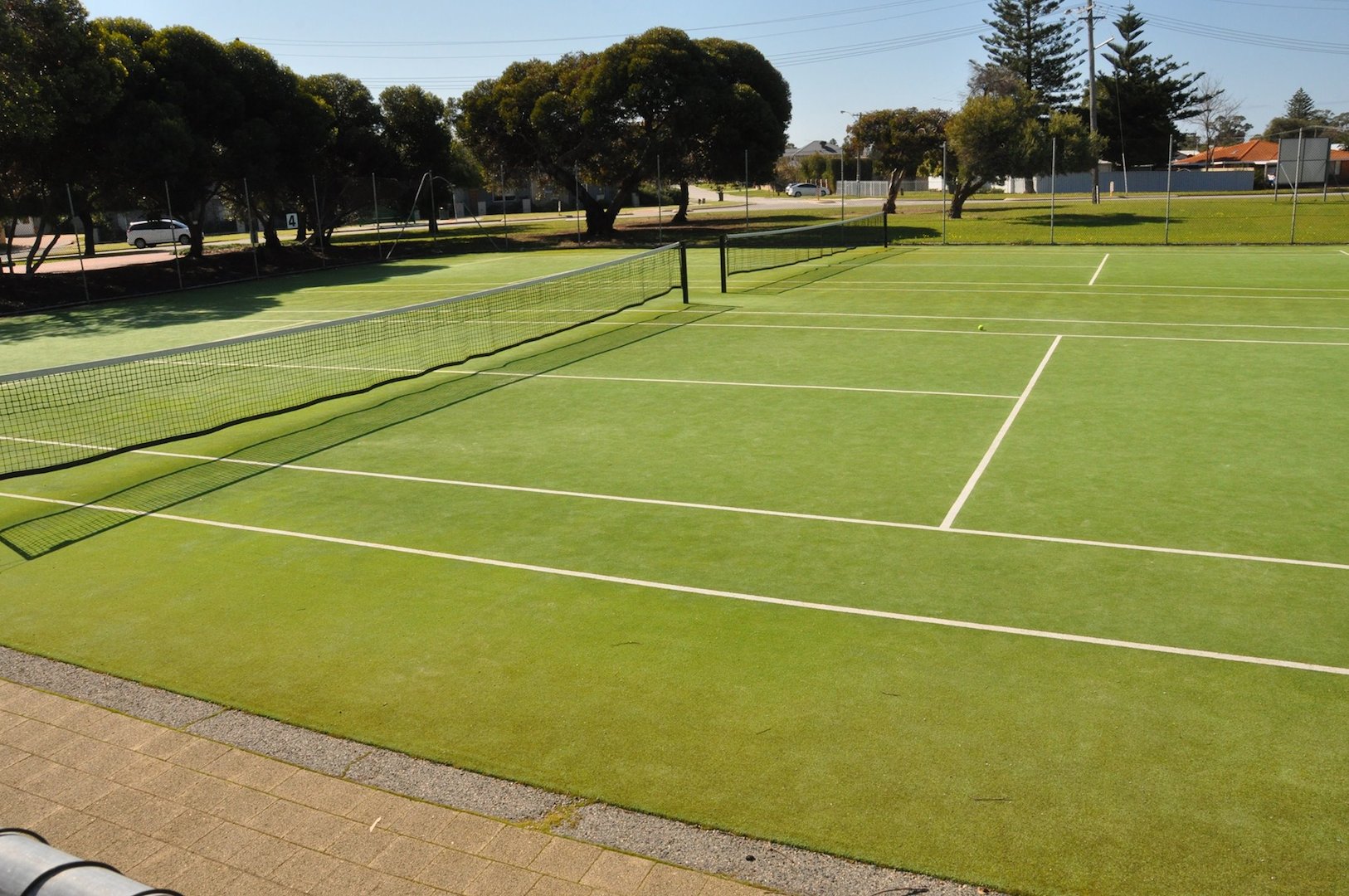 Qualifications
1991 State Certified Tennis Instructor at the 'Technische Universitaet' in Munich and 'B'

 

coach license DTB (German Tennis Association)

2004 Level 2 License / Lawn Tennis Association / UK

2005 / 2006 Level 3 (Performance Coach Award) – course / Loughborough University/ Lawn Tennis Association / Roehampton/London (awarded in 31/03/2015)

2011 Cardio Tennis Provider through Tennis Australia

2011 Coach Education Facilitator Tennis Australia

2013 Talent Development Coach Tennis Australia

2018 Global Professional Tennis Association (ATP certified) level C
Coaching times & fees
Heiner can be contacted direct for more information on his availability and coaching costs
He can be contacted via email on heiner.newzonetennis@gmail.com
Or via telephone / WhatsApp on +61457524903
Further information
DTB (German Tennis Association)
LTA (Lawn Tennis Association)
GPTCA (Global Professional Tennis Coaches Association) ATP
Tennis Australia
As 'Head Of Performance at the Esporta Racquets Academy my main task was to develop and establish a performance orientated junior program. I was responsible for developing annual training and tournament plans and leading a team of coaches.
My role as Talent & Performance Coordinator for the LTA was to find talented players through ID days, monitor their progress in tournaments and camps, report back on their performance and liaise/consult with the player's coaches, clubs and parents.
My appointment in New Zealand has given me the chance to start with a clean sheet, meaning that there wasn't a program in place. I have been developing a team of twelve
" High Performance Players" (four players in each age-group 10U/12U14U) for the MTA and attracting new players into Tennis by providing Tennis Events (Grasshopper/Hot Shots) for novices under 10 years of age.
As Head Coach of TFP academy Sunshine Coach I was also the Community Tennis Manager and therefore one of my remits was to encourage and foster competitive play amongst children in schools. In the academy I was concentrating on players under 12 within a performance orientated training and competition structure. I also was private coach to Jack Moore QLd #1 U14 boys and Jamie Gilbertson Australia #1 U14 Girls (2011).
I returned to Germany due to family affairs and worked for two clubs in the Frankfurt region where I focused on club-team coaching across the board with one of my boys teams being promoted to the German inter-club's top division.
At Elite Tennis International I have been working with players of all age groups with more performance orientated goals. For the academy I established a clear performance and development pathway as well as attracted new players through establishing good working relationships with the local schools where we introduced TA's Hot Shots Tennis Program.
Since establishing my company New Zone Tennis in October 2013 I have been working very closely with Tennis SA on their Project Talent as Talent Development Coach and establishing
National School Partnership Programs with regional Primary Schools as well as delivering performance orientated development programs at Seaside and Littlehampton Tennis Club.
In my role as TA Talent Development Coach I was very fortunate to be chosen to take SA's
Super 10's boys team to the national final in Melbourne during the 2014 Australian Open and take SA's strongest two 10/u players to the National Development Camp at the Gold Coast in May 2014.
After returning to Queensland in 2015 I have established a High Performance Academy for the Queensland Tennis Centre and helped players to successfully compete at TA and ITF events.
Experience
1989 – 1992 Assistant Coach at Tennisschule Karner and TC Gerkerath in Moenchengladbach / Germany
1992 – 1996 Head Coach TC Gerkerath and TC Hardt in Moenchengladbach
1996 – 2000 Head Coach DTC1984 and TGL in Duesseldorf / Germany
2000 – 2002 Head Coach TC Blau – Schwartz Duesseldorf 1904
2002 – 2006 Head Of Performance Esporta Racquets Academy in Southampton / GB
2007 – 2008 Talent & Performance Coordinator / Lawn Tennis Association in London
2008 – 2010 Head Coach Renwick Tennis Club in Marlborough/New Zealand,
Association Coach for Marlborough Tennis Association

and Pilot Provider for HOT SHOTS Tennis in Marlborough for Tennis NZ
2010 – 2011 Head Coach TFP Academy Sunshine Coach, Queensland, Australia, and
Coach Education Facilitator Tennis Australia 
2011 – 2012 Freelance Coach in Frankfurt/Wiesbaden/Germany
2012 – 2013 Head of Performance at Elite Tennis International Mooloolaba, Qld
2013 – 2014 Head Coach/Director of New Zone Tennis in Littlehampton and
SeasideTennis Club, Henley Beach, Adelaide, SA

Talent Development Coach, Team Manager/Coach for SA Super 10's boys

Team at National Final in Melbourne 2014
2015-2016   Head Of Performance at Queensland Tennis Centre in Brisbane, Australia
2016-2020 Coaching provider at Yeronga Tennis Club, Brisbane, Qld, Australia
2020 October – Have jus accepted a coaching role at Rockingham Tennis Club in Western Australia.
Competitive Experience:
I started competing from the age of twelve, mainly in the German Interclub where I peaked on Oberliga level in the open class and in the 30+ veterans with strong competitors from all over the world. I competed in ITF Satellite tournaments throughout Europe and North Africa in 1986/87.
I have been Hitting Partner to Top WTA players in the past, and I still occasionally enter ITF veterans tournaments. In 2012 I was competing in the 40 + Regional liga (Top Division) team of Bad Camberg and more currently in the 1st division of SA's Interclub competition and ITF senior events (Brisbane and Gold Coast)
Testimonial
My daughter, Jaimee Gilbertson, was the 12/U Australian Junior Tennis Champion, having won the Australian National title at Mildura the previous year. On joining TFP Heiner became closely involved in formulating and overseeing Jaimee's tennis coaching programme, during which time he was instrumental in improving many aspects of her game. During his time with Jaimee she won multiple Optus Junior tournaments and two more National titles, further proof of the improvement she was showing under his guidance. Heiner had proved himself to be a highly capable and knowledgeable coach, combining excellent communication and organizational skills with an ability to extract the very best from the athletes under his supervision. I can highly recommend Heiner for any position that he may apply for, as he would be a great asset in any field.
Barrie Gilbertson - Tennis Parent
Testimonial
I was introduced to Heiner at an international Junior Tennis Tournament in Tarbes, France (Les Petits As) in 2006. Since then we have met on several occasions in Europe and France, and have had the opportunity to exchange thoughts and experiences with regards to elite athlete development. I myself and peers in my field rate Heiner highly, finding him inspiring to work with and value his professional insights into the latest developments in the international tennis industry. Heiner is widely regarded as an exceptional and hard-working coach, a passionate and caring expert in the field of elite junior development.Many of his proteges have evolved to compete at major events at ITF, ATP and WTA level and / or earned scholarships at top American Colleges
Sven Groenveld - International Tennis Coach and Former Coach of many top WTA tennis players.
Testimonial
I, Miguel Montero an ex professional soccer player from Spain that has undertaken tennis in the past 3 years in the pursuit of achieving the highest ranking possible. Heiner has coached me for the last 2 years and I have been able to rank #17 in Australia (Aged 40) and rank #531 worldwide. All these would not have been possible without Heiner's mentorship and guidance. He is acknowledged to be a competent and skilled tennis coach.
Miguel Montero, former professional footballer