Report This Page
If you think that the content on this page this page contravenes our Terms & Conditions please let us know and we will take a look. 
Jeffrey Smallwood - Tennis Coach
Jeffrey Smallwood
Organized, enthusiastic leader with over 10 years of professional tennis experience at private clubs, academies, universities, national and international centers.  Recognized for creating fun, engaging events, groups and social outings.  Attract and retain members, approachable management style, planning, assigning projects, appraising performance and goals. Proficient in hiring, scheduling, training staff, manage budget, development and planning.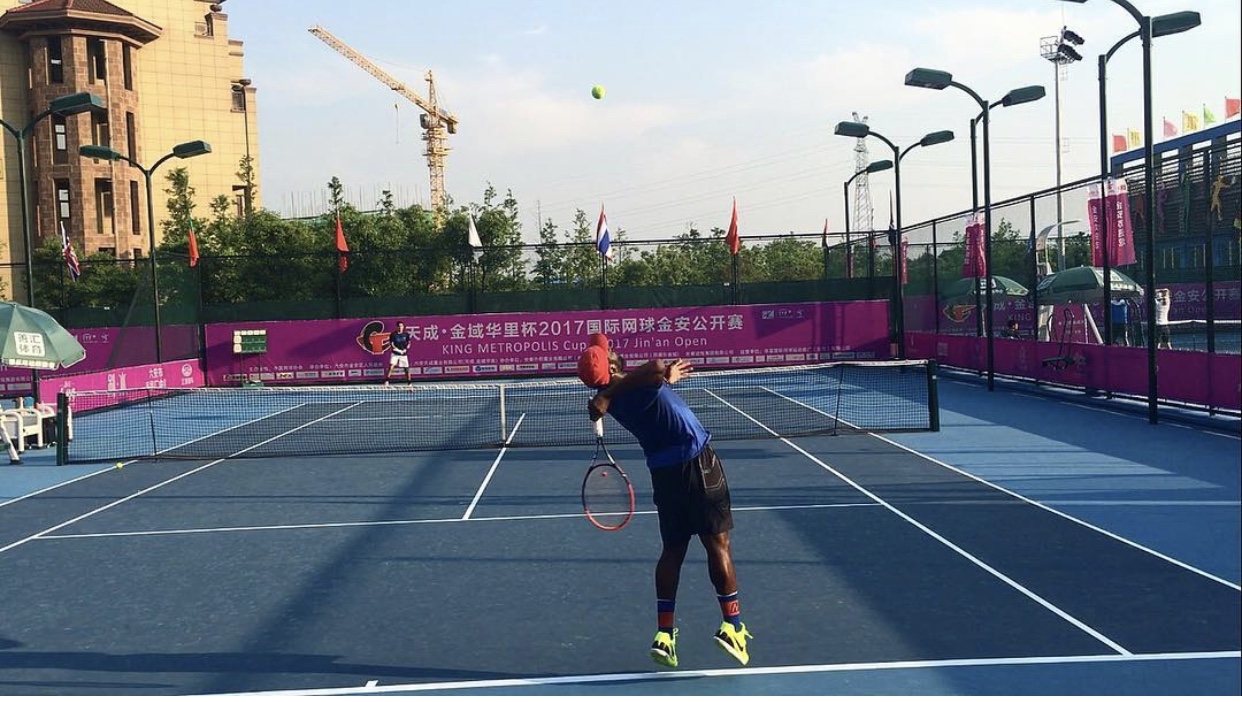 Qualifications
United States Professional Tennis Association

         

USPTA Elite (Pending)

     

Professional Tennis Registry
Coaching times & fees
Please contact Jeffrey direct for more information on his availability and costings.
He can be contacted via email on lovetennis40love@yahoo.com
Or via Telephone / WhatsApp on +1 215-375-0315
Further information
EDUCATION
Bachelor of Arts in Psychology 

BETHUNE-COOKMAN UNIVERSITY, Daytona Beach, FL
USTA Men's Open Tennis Vs USTA 5.5 Practice Session in 117 Degrees (Arizona)
As a player, perhaps my most memorable moments included reaching the 3rd round of the US Open qualifiers, and I also made the qualifiers of Indian Wells.
Subscribe to my YouTube Channel Here:
Here are a few photos of Jeffrey and some of his players in recent times.
Experience
Professional – CAMELBACK VILLAGE RACQUET & HEALTH CLUB, Phoenix, 1/2019 – Present
Collaborate with tennis socials, tournaments, demo's, ball machine clinics, cardio and live ball programs.

Coach junior programs from red, orange, green and high-performance level.

Execute privates, group tennis lessons utilizing video technology consistently exceed industry standards.
Coach – TEAM USA SOUTHWEST, Phoenix, AZ  9/2019 – Present
Organize and plan group lessons for the top green and orange ball tennis players in the southwest.

Communicate with USTA National and USTA Southwest of ways to improve.

   
Professional – SEVILLE COUNTRY CLUB, Gilbert, AZ   9/2018 – 1/2019
Coach junior programs using red, orange, green and high-performance level, privates and group lessons.

Created and coordinated new member clinics and social events such as live ball and adult mixer events.
ATP Professional – SADDLEBROOK TENNIS RESORT, Wesley Chapel, Fl  2/2018 – 9/2018
Coach ATP Player Stefan Frljanic., hitting Partner for ATP Tour players.

Organize practice schedules, meal plans, tournaments, travel arrangements, fitness and video analysis.
Director – RUSH YOUNG SPORTS AND TENNIS, Wuxi, CHINA 3/2017 – 10/2017
Coordinate execute programs to implement in the Wuxi and Shanghai School district.

Trained, managed 10 Tennis Professionals, junior tennis and coached/traveled with Top 10 players.
Professional – RIVIERA COUNTRY CLUB, Pacific Palisades, CA  6/2016 – 3/2017
Promoted, managed social media/photography for social events and National Players.

Created and organized the first USTA Junior Team Tennis for Riviera Country Club.
Professional – UCLA TENNIS, Los Angeles, CA  6/2014 – 7/2016
Coach high school national players, privates, groups, after school and summer programs.
Head Professional – ORMOND BEACH TENNIS CENTER, Ormond Beach, FL 8/2014 – 12/2014
Assisted and overseeing consistent court and ground maintenance procedures for 8 Hard-Tru courts.

Managed adult tennis programming, ensuring court utilization for local neighborhood tennis members.
Professional – DARTMOUTH COLLEGE KJTC, Hanover, NH  6/2008 – 5/2017
All day and sleep over tennis camp for tennis players.

Produced social media for Instagram, Facebook, generating new clients from weekly camp tennis videos.
Professional – ARTHUR ASHE YOUTH TENNIS AND EDUCATION, Philadelphia, PA                  6/2000 – 8/2008
Organize groups for Arthur Ashe Kids day for US OPEN, and programs for inner city youth parks district.

Managed courts/grounds maintenance procedures for 18- Hard-Court facility and after school tutoring.
Testimonial
Great teacher, and tenacity was always in the curriculum.
Testimonial
Your enthusiasm and positive attitude while teaching. I don't think I've ever seen you on the courts without your giant smile. You have such a way of communicating so I understood what you were teaching me and you always made court time fun!
Testimonial
You're coaching style is a balance of fun and keeping us on track so we improve our game.