Report This Page
If you think that the content on this page this page contravenes our Terms & Conditions please let us know and we will take a look. 
Tenerife Tennis Academy
Welcome to Tenerife Tennis Academy, a premier international tennis academy located on the beautiful island of Tenerife, Spain. Our academy offers exceptional tennis and educational programs, as well as year-round professional training camps. Conveniently situated in the south of Tenerife, TTA enjoys a strategic location, boasting 365 days of outdoor training in the sun, making it the ideal destination for tennis enthusiasts.
At Tenerife Tennis Academy, we strive to deliver the highest quality tennis education and training to help our students achieve their goals. We invite you to join us on this exciting journey and become part of our community of tennis enthusiasts.
Our vision is to bring together like-minded children with a shared goal and help them realize their dreams, whether it's to reach the professional level, secure a university scholarship, or establish a career in tennis. We believe in fostering a family atmosphere at our boutique academy, where each player receives personalized attention and support to develop both their mental and physical abilities to the fullest.
Our mission is to uncover the talent that lies in every player, to challenge their limits and guide them beyond
At TTA, we take pride in providing a personal and supportive atmosphere for our players. Our experienced team of tennis professionals is committed to delivering the best tennis experience for our players, developing and honing their skills to achieve their full potential.
In 2021, we partnered with Tenerife Top Training to enhance our facilities and provide our students with world-class training amenities. We have recently built four new hard-surfaced courts, bringing our total to seven green set hard courts and three clay courts, making us the go-to destination for tennis lovers seeking the best courts on the island. Tenerife Top Training provides state-of-the-art gymnasiums, both indoor and outdoor, swimming pools, running tracks, ice baths, and much more for a comprehensive fitness, physical, and mental training program for our students.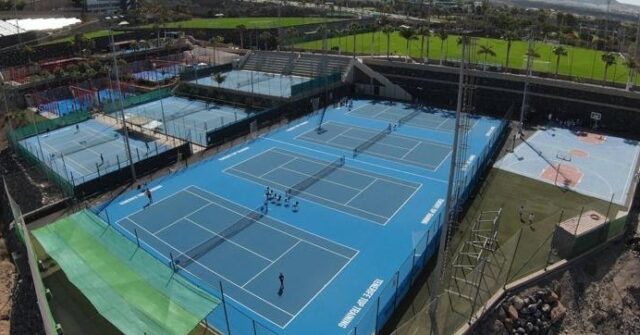 7 Hard Courts
3 Clay Courts
2 Padel Courts
Fitness Center
Cafe/bar
Pro Shop
School
Player Housing
5 day training week, with UTR matches on Saturday mornings.
Green ball players u10
Yellow ball players u12 and u14
€450 pp per week + VAT 7%
€300 pp per week just mornings
Dates:
Summer 2023: Every week from June 26th to August 25th
Christmas 2023-2024: 18-22 December, 25-29 December, 2-5 January
Easter 2023: 3-7 April, 10-14 April, 17-21 April
Fully integrate into the academy training sessions with our TTA full time players of your level and/or age.
€500 pp per week + VAT 7%
€300 pp per week just mornings
Available every week of the year for 14yrs and older, and in non-holiday weeks for under 14 competition players.
A typical training day is as follows:
08:00-09:00 – Fitness
09:00-11:00 – Tennis
16:00-17:30 – Tennis
17:30-18:15 – Fitness
During 10 weeks over the summer, TTA will be hosting our summer intensive tennis camp where you can train like a pro to raise your game to the next level. TTA has a proven track record of producing international level tennis players, and this is your chance to join and train alongside them.
Dates: Between 25/06 – 02/09
Train with our best TTA academy players and visitors and get 10 hours of individual training (tennis and fitness)
€995 pp per week + VAT 7%
5,5 day program for all TE, ITF, WTA, ATP players or UTR rating 9+
1 hour private tennis and integrated private fitness per day
10 hours per week in duo or small groups
2 UTR matches
1 hour assessment from Kris Gray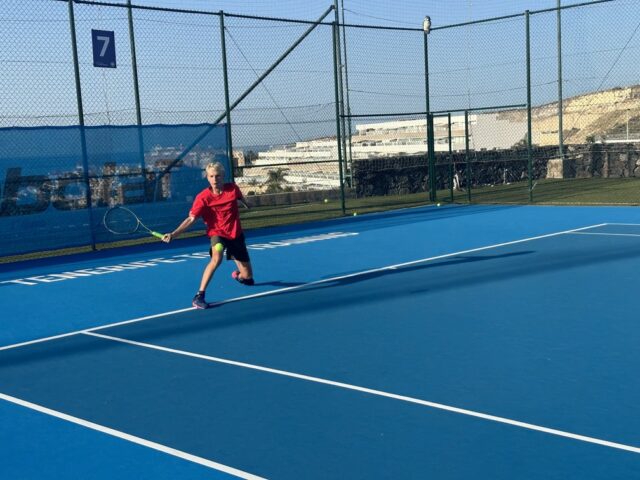 Work full time with our academy director Kris Gray and team of professional coaches
5,5 day program for all TE, ITF, WTA, ATP players
Work exclusively with Kris Gray (Level 5 Master Performance Coach)
Tailor made programs to suit your needs ( ie bring your own coach or sparring partner etc..)
For players who are committing to 10 months or more of training per year.
All our academy programs are individually designed around the player according to their personal needs. But the core daily program is based around the following schedule:
08:00-09:00 – Group warm up & fitness
09:00-11:00 – Tennis
16:00-17:30 – Group Tennis
17:30-18:30 – Group Fitness
Each player is assigned a Mentor, responsible for the technical and tactical development. They are also assigned a technical coach, who will be responsible for their day to day programming, and the development of the player.