Report This Page
If you think that the content on this page this page contravenes our Terms & Conditions please let us know and we will take a look. 
Laura Jackson - Tennis Coach
My name is Laura, I'm 24 from Cheshire UK, I am an LTA level 3 coach with 7 years' experience coaching adults and children in tennis clubs and at schools in the UK. I have also coached at the Kenwood Summer Camp in Connecticut, USA for 3 seasons. I have devised and operated numerous tennis programmes for all ages and experiences for groups and individuals.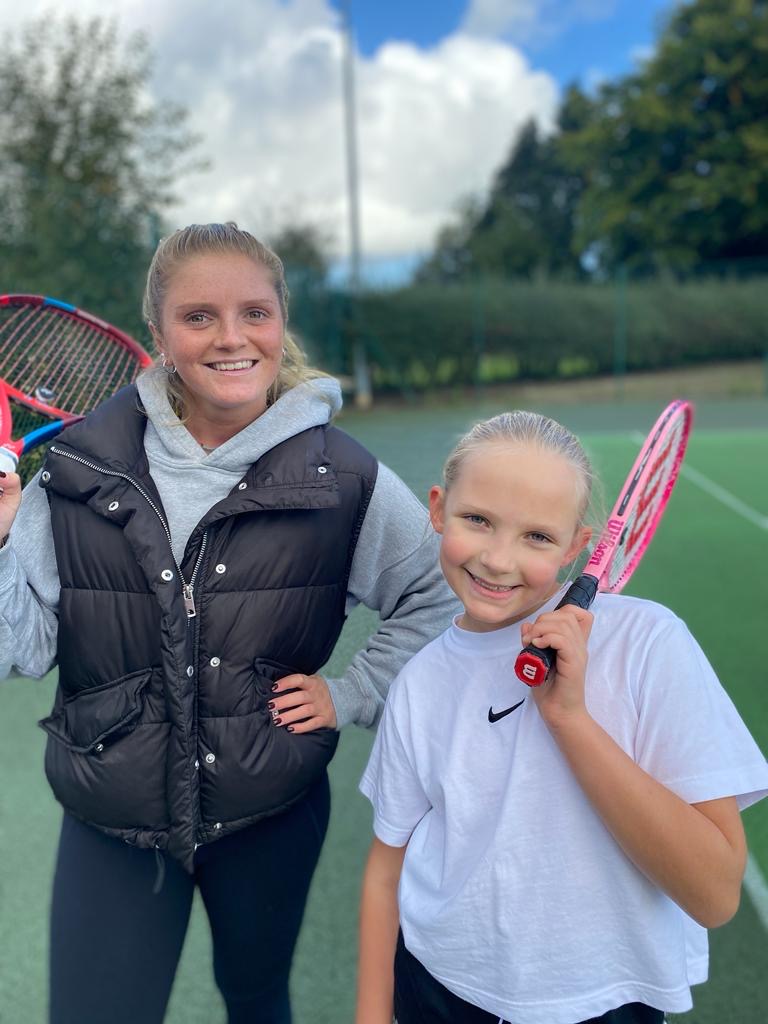 Qualifications
Qualifications
LTA Level 3 Tennis Coaching
EFAW Fist Aid at Work
LTA introductory Paddle Coaching
My focus is always to ensure the lessons are enjoyable with a positive attitude to bring out the best in people and inspire them to develop and improve. I have been competing since I was 7 years old and won my first county championship at age 9 and have played for Cheshire in national competitions. I am also committed to promoting the benefits of fitness and diet as part of my wider interest in all sports and activities.
Experience
2017 to 2023
Tennis Coach, High Legh Tennis Club Tennis coach
2019 to 2023 – Terra Nova Preparatory School, Cheshire UK
I was engaged for 2 days per week at this exclusive private school, as part of the sports department, to provide one to one and group tennis coaching for children aged 4 to 13 years and parent individuals.
2018 to 2023 – Kenwood Summer Camp, Connecticut, USA
Head of Tennis for 3 seasons.
Testimonial
I am writing to wholeheartedly recommend Laura Jackson for any future endeavour in the field of coaching or sports instruction. During our time together as colleagues at KenWood KenMont camps from 2018 to 2023, I had the honour of witnessing Laura's remarkable dedication and steadfast commitment to the campers, all while overseeing an impressive array of 16 tennis courts. Her vibrant personality and unwavering dedication made tennis a focal point of the camp experience. Under her leadership, tennis was not just a sport; it became a passion for our campers. Her exceptional leadership skills left a profoundly positive impact on both the campers she coached and the counselors she supervised. What truly sets Laura apart is her ability to connect with each camper individually. Despite the diverse range of ages and skill levels among our campers, Laura made it a priority to understand and cater to the unique needs and aspirations of every child. She consistently challenged campers to push their limits, setting the bar high while providing the guidance and support necessary for success. This approach not only led to significant improvements in our campers' tennis abilities but also instilled in them a strong work ethic and self-belief that transcended the tennis court. In her role as a supervisor to the counselors, Laura exhibited strong leadership skills. She provided guidance, support and constructive feedback to counselors, empowering them to become effective tennis instructors in their own right. Laura ensured that the tennis program ran smoothly, and consistently went above and beyond to organize events, tournaments, and activities that brought campers together, creating a sense of camaraderie that extended beyond the summer months. She meticulously planned and executed tennis drills that were not only engaging but also highly educational. In summary, Laura is a true gem in the world of tennis coaching and sports instruction. Her flexibility, energy, thoroughness, and ability to connect with campers individually make an invaluable asset to any organization. I have no doubt that Laura will continue to make a significant impact in the field of tennis coaching, inspiring and shaping the lives of countless young athletes. Please do not hesitate to contact me at mslynnie10@gmail.com if you need any further information or have specific questions about Laura's qualifications and performance. Again, I am happy to recommend Laura Jackson and am confident that she will excel in any future endeavour. Sincerely, Lynne Pizzulli
Lynnie Pizulli / Director of tennis at Kenwood Summer camp
Testimonial
Laura is a fantastic tennis coach; she's energetic, engaging, enthusiastic and fun. She's coached my children for around 3 years on a 1:1 basis, as well as coaching in group holiday camps and after school group coaching. She's so patient and encouraging with the children and has a really positive and sunny disposition, it's impossible not to warm to her. I would say she has maturity beyond her years, often coaching larger groups of children, maintaining control and making sure they're all behaving whilst having fun. I always know that my children are in safe hands with Laura, I trust her completely and it's incredible how much my kids have developed and improved in terms of their tennis skills since Laura has been coaching them. She's an incredibly talented tennis player and is great at sharing that talent, watching carefully and coaching others to improve their game.
Nadine Elkin / Client Parent