Report This Page
If you think that the content on this page this page contravenes our Terms & Conditions please let us know and we will take a look. 
Luca Ottino
I am a former professional tennis player and a strength & conditioning expert having worked in many Academies with a good number of ATP and WTA players, including top juniors. I have specialized in CrossFit applied to tennis training and I believe that an outstanding bodyweight program is perfect to improve tennis players' needs.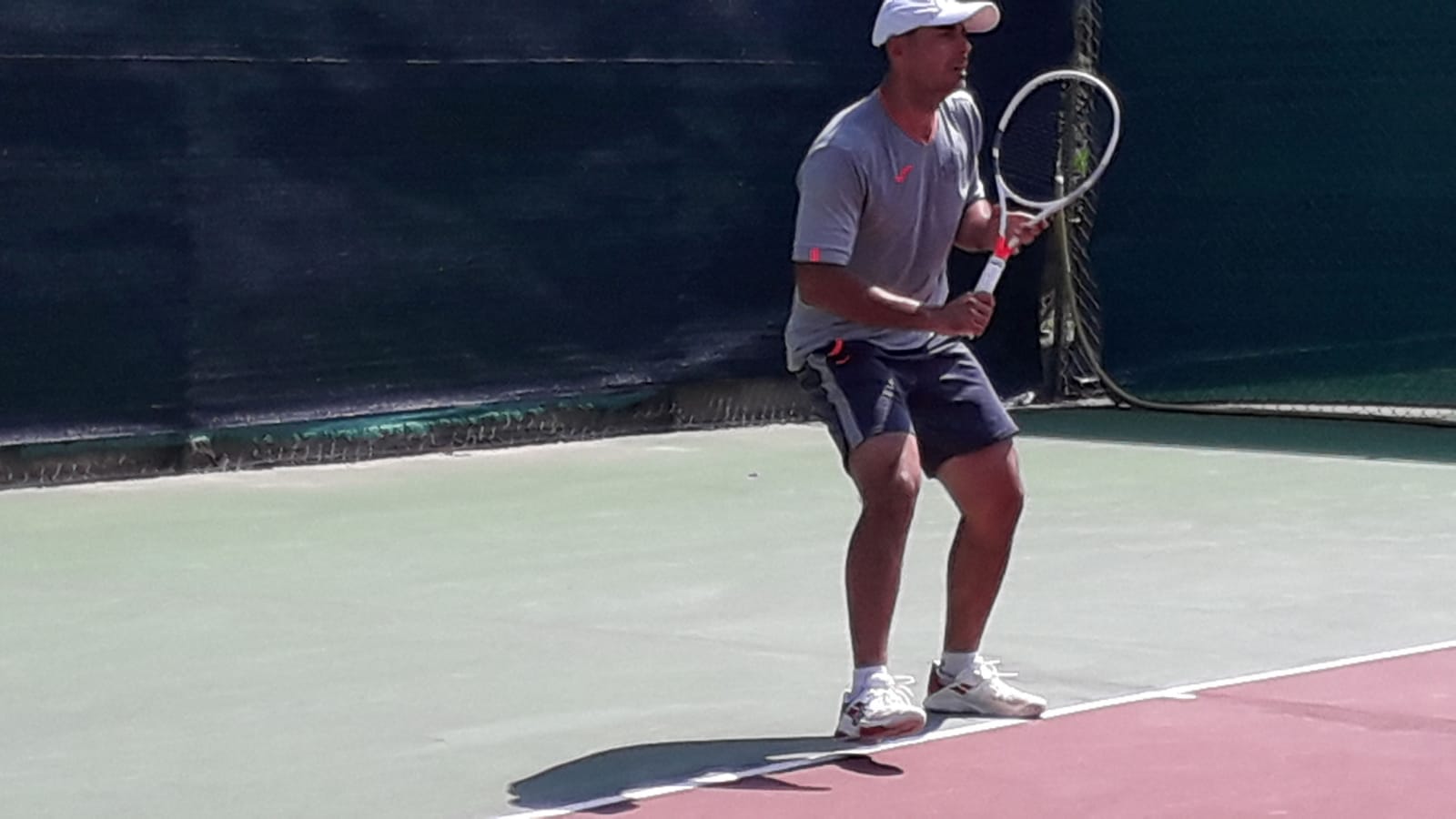 Qualifications
Sport Science & Kinesiologist at Sport Science University (SUISM), Turin (in 2008)
Maestro Nazionale (LTA 3) at Italian Tennis Federation (in 2009)
Fitness Coach (Level 2) at Italian Tennis Federation (in 2012)
Functional Training Instructor at CSEN (italian sport school) (in 2013)
Level 1 Trainer at CrossFit Inc. (in 2015)
Level 2 Trainer at CrossFit Inc. (in 2016)
Coaching times & fees
Please contact me directly for information regarding coaching times and fees
"I have known Luca Ottino for several years. He worked with me in Sanremo, Italy at the Bob Brett Tennis Academy as a Fitness Trainer for tennis players. He demonstrated dedication, technical and pedagogical skills, as well as good determination.  He has a positive attitude and good ethical standards and communication skills.  I am convinced that Luca has a great potential to become a good teacher and sport specialist"
MARCOS PIZZORNO, former Del Potro fitness and conditioning coach
Further information
I am currently Head Coach and Tennis Director at  Polisportiva Valpellice Tennis 
"Hey Luca! I still think about your conditioning training at Bob Brett's, even though it was a long time ago. I like your shoulder workout. It was tough and yet we didn't use more than small weights which was since we were doing injury prevention. I liked your active rests and lots of variation to hit all the muscles in the shoulder and rotator cuff. Good stuff! August liked working with you a lot. It gave him a good physical foundation and the understanding that in order to reach a higher level of tennis, you must do a lot of off court work!"
PHILIP ORNO, Former ATP player and now coach
An example of Luca and his fitness training.
"Our experience working with Luca Ottino was very interesting and helpful.  Players from different age groups liked to worked a lot with Luca.  They liked his positive coaching attitude and found the technical work that he did with players very helpful for them.  We can recommend other players to work with Luca Ottino we will be happy to work once again with Luca in the future"
Nikolay Mishin, Former ATP Player and now coach in St. Petersburg
"I had the pleasure of working with Luca Ottino at the Bob Brett Academy in 2013. Luca did a great job getting Cilic, Dodig and myself physically ready for the upcoming Monte Carlo Masters. I would highly recommend him to any player!"
Marinko Matosevic, Former ATP Player (Top 35)
Some photos of Luca in action at various locations around the world.
"I had the pleasure of having Luca Ottino as my strength and conditioning coach when I was at Bob Brett's tennis academy. I spent a lot of hours training on and off the court while I was there which posed a great risk of getting injured. However, I never became injured. I credit this mostly to the smart workout schedule that Luca made, focusing on very specific tennis related workouts. He and the other coaches coordinated the training in a manner so that the toughest strengthening sessions didn't coincide with the toughest on-court practices"
AUGUST HOLMGREN, ATP player, Danish Champion and NSCA D1 player in St. Diego Unversity
Experience
I have been involved in strength & fitness and tennis coaching since 2005 so this has given me a wealth of experience on which I can draw on when working with clients.  I have outlined below some of my most recent roles.
2015-Present:  Head Coach & Tennis Director, Polisportiva Valpellice Tennis
Tennis Director of a small club near Turin.  Starting from almost zero I now have almost 60 members (children and adults) coming to learn and play.  We have 6 teams for club competitions and several tennis enthusiasts who play tournaments.
13.02.01 – 14.12.01:  Head Strength & Conditioning Coach and Assistant Tennis Coach, Bob Brett Tennis Academy
Fitness and Tennis coach, followed many juniors PRO (ITF players full timers in the Academy – and others top 100 ITF from all over the world) including occasional personal treatment as fitness coach and/or masseur to top 100 ATP players coming to the Academy to practice.  Here the most important work was made with Helene Pellicano (European Champion Under 14 and Tennis Europe No.1)
11.10.01-13.03.01:  Head Strength & Conditioning Coach Assistant in Tennis and Hitting Partner, Appino Tennis Academy, Tennis Talents Training Centre
Fitness Coach & Assistant tennis coach followed ATP player Matteo Civarolo (900), WTA Valentine Confalonieri (401), top Italian 14 and under Luca Prevosto.  Also some foreign players like Andjela Sebrek, Kristina Novak and many others
09.09.01-12.06.01:  Head Coach and General Manager, Circolo Tennis Pinerolo
This club asked me to make tennis start again after a bit of a 'dark period'.  Results have been very impressive after a couple of years of work, with over 100 people (children and adults) playing and practicing in lessons or small groups training.
"I had the pleasure in meeting Luca Ottino while I attended the Bob Brett, Tennis Academy in San Remo, Italy.  I had a  good impression after first meeting Luca. He was full of positive energy and drive. He is also very easy-going and a wonderful person to talk to. Luca possesses great knowledge in what he does and knows how to bring it out in people. Everything is explained very well and always backed up by great examples. Another superb trait about him is that he always takes part in the training process and shows what needs to be done himself.  The experience of working alongside him was one of the best I had come across.  I would like to recommend this individual as a highly skilled professional and disciplined worker who is very passionate about what he does and always strives to become better in every aspect of his life. It would be a big asset to have him working in any team or business. He will only bring good things and plenty of success."
ALEXEY BARNIKOV, Russian coach, Elite Tennis Academy, Mornington, VIC, Australia
Testimonial
When I was working with luca in italy I experienced a great time working physically on my body. We worked hard but also with good knowlegde from Luca about what was needed for my body for my sport tennis. I like his exercises because of the variation everytime in the exercises and I like how luca is motivated to keep working with his players and make good practises everyday.
MARK DIJKHUIZEN (Dutch ITF and ATP player)
Testimonial
My experience with Luca Ottino was great. Although I was still young we worked on everything: strength, coordination, footwork, running and we used to stretch a lot. Luca used to push me a lot and always challenged me to be the best and that's what I really like about him as a fitness coach. Even though we used to work a lot he always found a way to make it enjoyable and fun. Training with Luca was such a nice and great experience and made me grow as a person. I really recommend him as a trainer. He is a lovely person to work with and to be around.
HELENE PELLICANO, former European Champion Under 14 and Tennis Europe #1:
Testimonial
Dear Luca, I'm happy to sponsor you for your next job. You have been very helpful at the Academy in the two years that you spent with us. I always appreciate your motivation and the happy atmosphere that you could create in your fitness sessions. I think that your program is very good to help players getting fit and prevents from injuries.
FABIO LAVAZZA, Head Coach & Mr. Brett's Personal Assistant in Bob Brett Tennis Academy: