Report This Page
If you think that the content on this page this page contravenes our Terms & Conditions please let us know and we will take a look. 
Maureen Boys - Tennis Coach
Maureen Boys
I played club tennis and tournaments in Germany and Europe. I coached team tennis, gave private lessons and group workshops at tennis academies, and headed up coaching at various schools and estates in South Africa. I love to bring the joy of tennis to my pupils, unlocking personal potential and capabilities of learning, playing, and enjoying the game.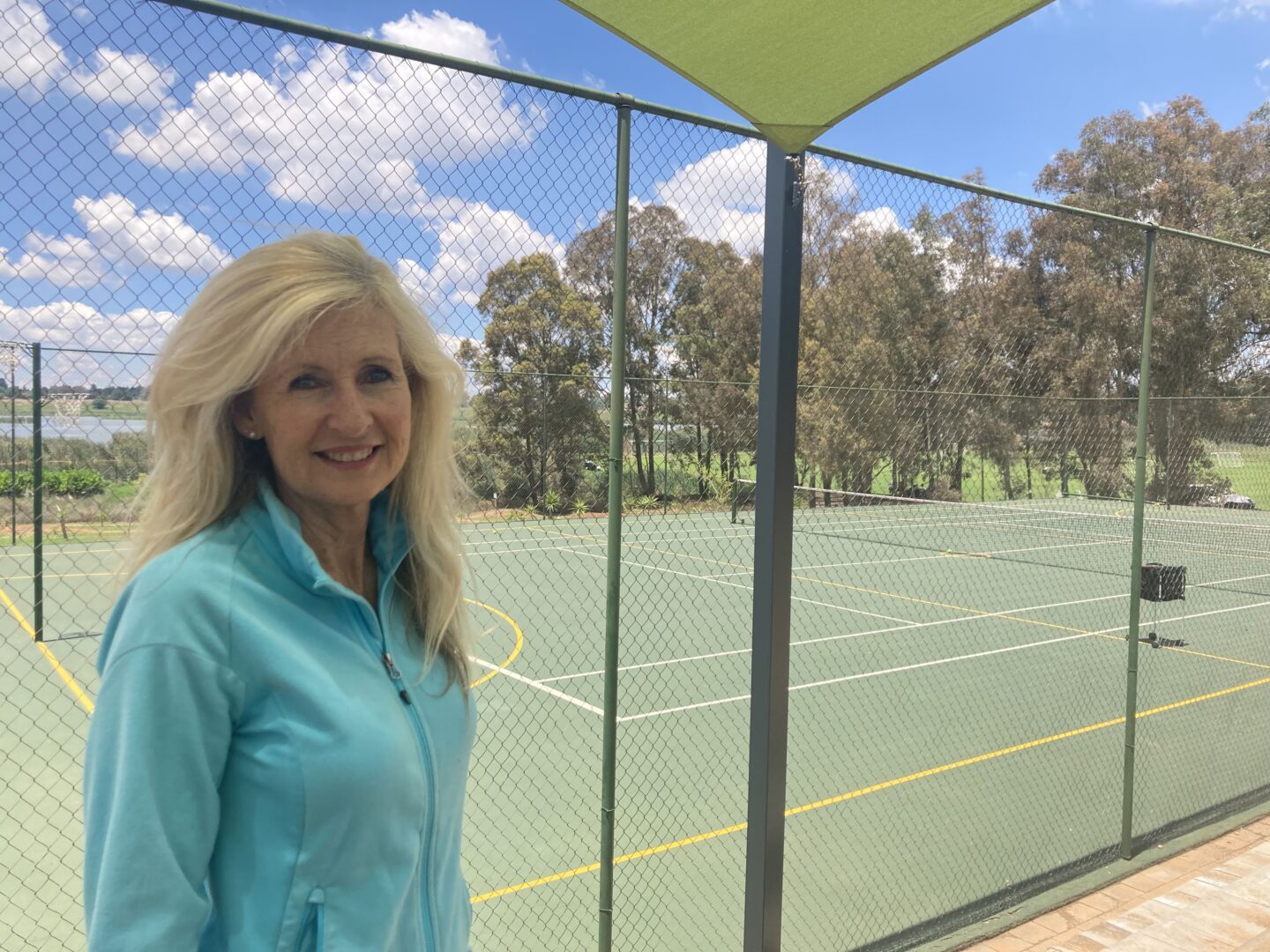 Qualifications
Play and Stay
Coaching times & fees
Please contact Maureen direct via email or WhatsApp.
She can be contacted via WhatsApp on +27826053980
Or you can contact her using email on info@maureenboys.com
I love the sense of joy tennis gives me and I enjoy imparting that to my pupils. As I am very interested in wellness, wholesome nutrition, and loving life, tennis opens up a whole world of self-discovery and self-awareness on so many levels.
Adult Coaching. Private and group lessons
Sparring partner
Dance and movement classes
Private, group, and team training for children at school
Red dot, orange dot, and green dot tennis for all ages.
Experience with coaching young players (6-year-olds and upwards)
Promote healthy living via playing sport
Experience
I am South African and I started playing tennis and tournaments from a very young age where I was consistently in the top ranks of my age group.
I was no. 1 u/18 and after finishing school, I was offered scholarships in the U.S.A as well as an opportunity to play as the no. 1 player for club tennis at T.C. Noris Weiss Blau in Nurnberg, Germany.
As I wanted to travel and play tournaments, I chose to play club tennis.
I coached the First Ladies team and gave private and group coaching at various tennis schools I.e. Tennis Academy Ronhof and T.C. Marienberg. After 17 years I returned to South Africa where I am currently coaching.
I have coached at various schools, namely St Andrews private school for Girls, CBC private school for Boys, and the German International School in Johannesburg.
Testimonial
Coach Maureen and my son Arran. WOW, where to start? Arran has been playing since he was 4, and Coach Maureen is Arran's 4th coach; with her, he has found a LOVE for tennis. I have realised that my son has a natural talent for tennis, and I have guided him to play tennis. As I'm a tennis player myself - I could see the signs. However, Arran has not enjoyed his tennis until now. With Coach Maureen, Arran wants to play every day of the week, honestly, every day. He asks to play tennis, and he WANTS to play. Coach Maureen has "figured" out whom Arran is and worked with him as an individual. The individual who has talent, but is lazy, who has a gift but struggles to focus. Coach Maureen has helped Arran find his love for tennis through Arran's love of life, strategy, insights and technical applications. She has taken the time to understand Arran so that he would appreciate tennis and its game. Arran has decided he wants to go PRO, and he wants to play at Wimbledon one day. This excitement and enthusiasm is the best outcome a tennis mom could ask for. Thank you, Coach Maureen. Arran loves tennis and learning with you, and he appreciates you and your time. This I know because he tells me every day after tennis.
Jessica Vogt and Arran Vogt
Testimonial
Learning any new skill can be quite a difficult slog as you train your brain and your body to learn a new form and way of doing things. What I love about Maureen is her endless patience, compassion, and positivity. Little things like constant encouragement, letting you know you're doing better than you think, and always ending the lesson on a winning shot really help you have a positive attitude towards your game and help you work harder and improve because you want to, not because you don't feel good enough. I really wish all teachers adopted her approach of positive reinforcement.
Dipa Dass
Testimonial
Coach Maureen is a special woman and a true pioneer in the game of tennis. I have a deep respect for her teaching and her amazing passion to help others. Miss Maureen is so friendly, encouraging and supportive. After I was met in an accident, I thought I would never play tennis again. Fortunately, through her unimaginable superpower, I can play tennis once again. Every lesson was enlightening and very clear and I am really improving my forehand and backhand from zero level to infinity level. I am very amazed because in such short time with her on the court, I can play well more than ever. She really cares about her job and has a dedication to perfection. I only wish that I had met her earlier.
Arthur