Report This Page
If you think that the content on this page this page contravenes our Terms & Conditions please let us know and we will take a look. 
Ruslan Miroshnychenko - Tennis Coach
Ruslan Miroshnychenko
Experienced and highly motivated coach, with 10+ years of coaching experience at TE, ITF and WTA levels. Extensive practical hands-on experience as a travelling WTA hitting partner (Elina Svitolina the best ranked 5 WTA). For many years was a sparring partner and captain assistant of the National Women's Team of Ukraine (Fed Cup, BJKC). Girls captain U12 National Team of Ukraine. Have experience working with different players and people of different levels in many countries such as Ukraine, China, Kazakhstan. I'm also a senior coach at Kazakhstan Tennis Federation which is seeing big success in professional tennis currently.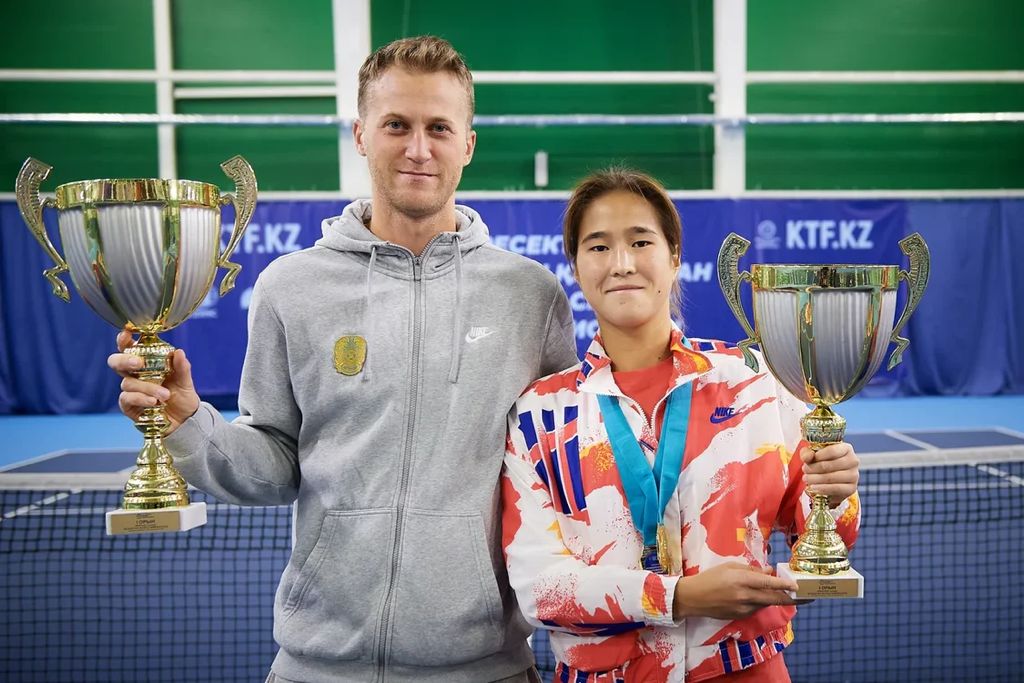 Qualifications
2007-2009: Donetsk sport college named by Sergey Bubka, Ukraine, Donetsk.
2010-2014: Bachelor of Human health and Teacher of Physical Education, Donetsk State Institute of Health, Physical Education and Sport, Ukraine, Donetsk
2017: ITF level 1 course.
Coaching times & fees
Please contact Ruslan direct via email or WhatsApp.
He can be contacted via WhatsApp on +77054235312
Or you can contact him using email on ruslanmirosnicenko3@gmail.com
As a player I was ranked TOP 10 Tennis Europe players under 14 & 16 age groups. The best ITF ranking I had was #230.
Experience
2019-2023: Senior coach , Kazakhstan Tennis Federation , Kazakhstan, Astana
2018-2019: Head coach , Forever Tennis Club , China, Guangzhou
2016-2018: Tennis coach , Ukrainian Tennis Federation , Ukraine, Kiev
2014-2015: Hitting partner , WTA, Elina Svitolina , Worldwide, Ukrainian Tennis Federation , Ukraine, Kiev
2014-2018: Hitting partner and captain assistant of National Team of Ukraine ,
2011-2014: Club tennis coach , Sportclass Tennis Club, Ukraine, Donetsk
Testimonial
Mr. Ruslan Miroshnychenko worked for Kazakhstan Tennis Federation (KTF) as a Tennis Coach from December 2019 to May 2023. During his time at KTF Ruslan played a key role in developing our Junior Players at "Team Kazakhstan" Academy, which is a leading tennis academy in Kazakhstan. Under the leadership of Ruslan our Players have achieved high results both at international and national levels. Thus, Ruslan worked with leading ITF and WTA Players, including ITF TOP-100 Ranking Player and a member of Kazakhstan Billie Jean King Cup Team. Moreover, Ruslan's contribution to the development of tennis in Kazakhstan was not only on the tennis court, but also off it. As a highly qualified and one of the most experienced KTF specialists, Ruslan was involved in the work of the Academy, sharing his ideas and international background. All in all, during his work Ruslan was a very responsible and strong leader, a highly motivated employee, as well as respected and great friend to each of us, and on behalf of the Kazakhstan Tennis Federation I am very pleased to recommend Ruslan to the next employee as an outstanding professional and expert in tennis. If there is any further information that we may provide, please do not hesitate to contact us
Dias Doskarayev, Vice President Kazakhstan Tennis Federation
Testimonial
Mr. Ruslan Miroshnychenko has been working as an assistant coach and a hitting Nov of 2014 until current time. Furthermore, he has been a captain of the National team of Ukraine in girls under 12, During the year of 2015 has worked as a hitting partner and an assistant coach with the top-5 WTA player Elina Svitolina. He also worked with one of the best junior players in Ukraine. During his work, Ruslan has: private sessions with some of the top Ukrainian and international junior players, defining their weaknesses and strengths, planning executing of the custom made tennis program for each of the players, senior sport consultant for players of all levels, private/group lesson of all levels and age groups. His attention to details, guests service, colleagues and associates, as well as the amount of work he is ready to fulfill, are on a very high level. During this time, Ruslan has got a coaching certificate UTF «ITF LEVEL 1» in 2017 and confirmed it in 2017. In addition, Ruslan was ITF ranked top-200 and top-10 junior player in Europe under 14 and 16 years and has excellent technique and tactic bases for coaching. We are more than pleased to recommend Ruslan to the next employer as an excellent worker.
Viktoriia Shuvainykova Deputy Executive Director