Report This Page
If you think that the content on this page this page contravenes our Terms & Conditions please let us know and we will take a look. 
Patrick Wysoczarski - Tennis Coach
Patrick Wysoczarski
I am an experienced advanced tennis coach, I managed my own tennis academy under Rudman's Tennis coaching. I consider myself a people person, professional, hard-working, motivated and passionate. I have gained a lot of valuable experience in the last 14 years of my career and I am excited by new challenges. Looking to secure a new role where my skills, knowledge, and previous experiences can be applied and further my professional development.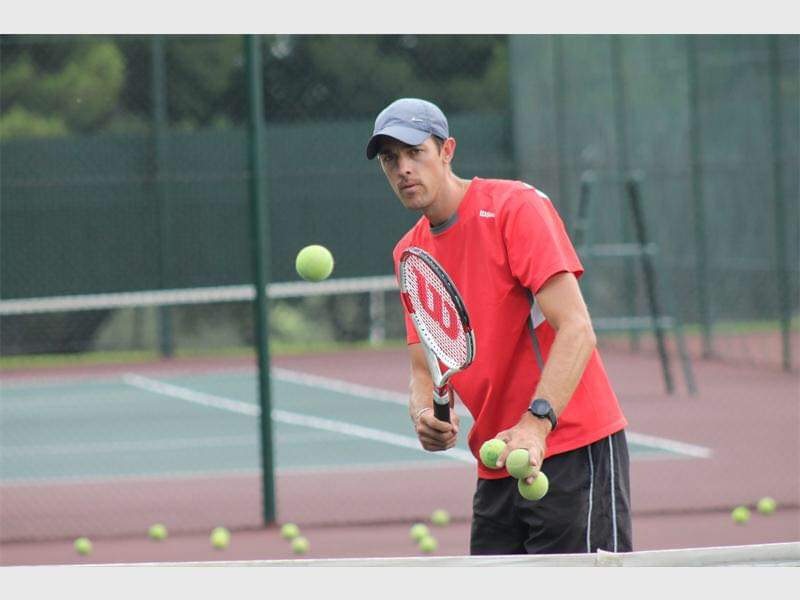 Qualifications
South African Tennis Association Instructor Course Level 1 (ITF recognized).
South African Tennis Association Advanced in level 2 (ITF recognized)
Attended "Play and Stay" Tennis Instructor Course
Attended the MINDSET course BY Jackie Reardon
Annual CPD course
MBA in marketing and business degree at Damelin college
First aid course
Coaching times & fees
Please contact Patrick direct via email or WhatsApp.
He can be contacted via WhatsApp on +34 607 390 035
Or you can contact him using email on wysoczarski@gmail.com
Achievements:
Winner of Topguns Growthpoint national club competition in 2019 (Marks Park).
Winner of 4 Bundes leagues (The highest league in Johannesburg).
Winner of 5 combined leagues in Johannesburg.
Represented Gauteng Central in Junior Inter-Pro 2006 and 2007.
Participated in Wayne Ferreira Tournament for Northcliff High.
Received Sportsman of the Year award at Northcliff High (2007).
Represented Gauteng at SA Games Finished top 10 doubles and singles U/18boys.
National junior singles ranking #7.
National junior doubles ranking #3.
Experience
2022: Vamos Padel (Club Padel)
I coached Padel part-time at Club Padel in Johannesburg based at Pirates club. I did a 10-hour Padel training course which was facilitated by Paul Jones, I learned the foundation of Padel and how to coach Padel, which was more of a game-based approach.
2010 – 2022: Patrick Wysoczarski Tennis Academy
I coached full-time at Marks Park sports club in Johannesburg South Africa, which is where I had my tennis academy under Rudman Tennis coaching for the last 12 years. In this period of time I grew my business to full capacity. I am experienced in play and stay red, orange, and green squad training, adult individual and squad training, as well as coaching tournament players preparing for ITF, TSA tournaments and college players planning to study internationally. I offered School coaching at Northcliff high school, and more recently Redford College which are both based in Johannesburg. I have worked with some of the top wheelchair tennis players under Holger Losch, from which I have gained great experience. I also strung tennis rackets under my coaching business for many clients and club members, I am self taught and found that this skill worked well along side to my academy.
2008 – 2010: Charles Wheeler Tennis Academy
I gained valuable experience coaching at this large tennis academy in Johannesburg, I worked part-time, which enabled me to still, train and compete at a personal level in local tournaments and leagues. I worked with top juniors, traveling to local tournaments with the group, which allowed me to gain further experience working with players both technical and tactical during my time at the academy, as well as coach at St Peter's College managing squad sessions.
Testimonial
Patrick started coaching at Marks Park in July 2010 and I gladly give the following information. Patrick has been the Marks Park Club Champion for a number of years and was the number 1 player on our team that participated in the Johannesburg's top league, the 'Bundesliga'. Patrick has always given me his full co-operation and strictly adheres to all rules and regulations, is extremely reliable, honest and punctual. He is a very well liked and respected tennis player who displays impeccable court manners. He works well with his students and they love their coaching with him. It has been a pleasure to be associated with Patrick as he is always friendly, courteous and polite. He will be an invaluable asset to anyone in the tennis coaching business. I wish Patrick every happiness and success in the future.
George Rudman, Head Pro - Marks Park Tennis Club
Testimonial
I have known Patrick Wysoczarski since he joined our club as a young boy. He passed through the junior ranks, developing into an outstanding player and has five Men's Singles A, eight Men's Doubles A and ten Mixed Doubles A titles to his name. He has represented our club in the Gauteng Central Bundes League and the TOP GUNS National Tournament over many years, and was part of victorious provincial and national teams in these events. In a club that is arguably one of the strongest in South Africa, these are admirable feats. Patrick is a respected player and coach amongst the tennis fraternity. He has been one of our resident coaches for the last twelve years and his pupils are sad to see him leave. Patrick will certainly leave a hole in the Marks Park community. His loyalty to and support of our club and his willingness to work hard are commendable. We will miss his friendly smile, his sportsmanship, his sense of fair play and his love for the game. He was the recipient of the Sportsman of the Year trophy in 2019, a testimony to these qualities. I have no doubt that Patrick will continue to fly the Marks Park flag high wherever he goes. I am confident that he will be successful in his new venture and I wish him every future success and happiness. Yours sincerely,
Lynda Johnson, Hon. Chair/Secretary - Marks Park Tennis Club
Testimonial
It is my pleasure to deliver this letter of recommendation for Patrick Wysoczarski, who has been a sponsored Wilson coach since 2010. Patrick is an enthusiastic, kind, reliable, honest and dynamic coach. Patrick has represented Wilson brand very professionally over the past 13 years, Patrick's professional manners show both through his appearance and communication skills. In conclusion, I would like to express my strong support for Patrick's application. I am confident that Patrick will surpass your expectations and you will benefit greatly with Patrick as part of your team.
Brad Summers, owner - The Golf Racket Pty Ltd