Report This Page
If you think that the content on this page this page contravenes our Terms & Conditions please let us know and we will take a look. 
Ricardo Demeritte - Tennis Coach
Ricardo Demeritte
Ricardo Demeritte is presently one of the Bahamas's premier coaches and has a wealth of knowledge to provide to players of all levels. He began his tennis career as a player, where he was ranked as the #1 junior in the Bahamas in U14s – U18s. Since that time, Ricardo has been a staple in tennis over the last 13 years. He currently holds an International Tennis Federation certification, a Guizar Tennis Academy High Performance certification and a Global Professional Tennis Coach Association -Level C certification.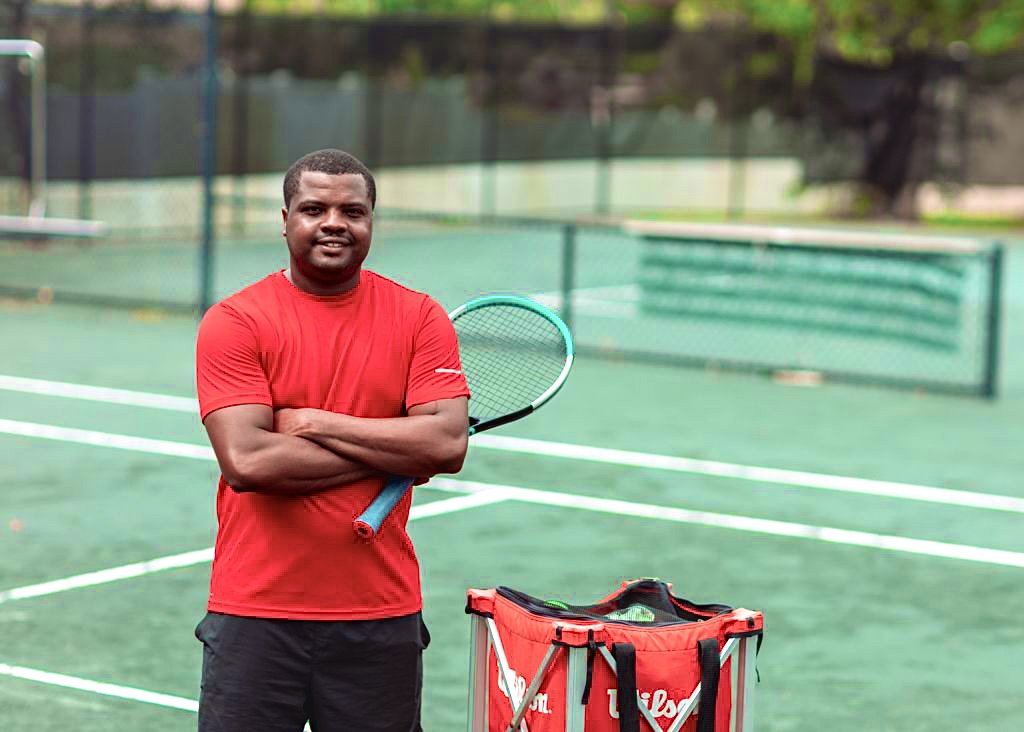 Qualifications
International Tennis Federation – Level 2
Guizar Tennis Academy High Performance
Global Professional Tennis Coach Association -Level C
Coaching times & fees
Please contact Ricardo direct via email or Whatsapp.
He can be contacted via Whatsapp on +12424376117
Or you can contact him using email on rdemeritte@hotmail.com
Ricardo has been selected to travel as a national team coach with the Bahamian senior & junior delegations over twenty (20) times including the Youth Olympics, Fed Cup, Pan American Games and Jr. Davis Cup.
Ricardo also has a wealth of international coaching experience having coached at Guizar Tennis Academy in Tampa, Florida. This academy has developed elite players such as former ATP Professional Ryan Sweeting who is also of Bahamian descent.
Additionally, Ricardo worked at iTUSA tennis academy in Scottsdale, Arizona under the tutelage of Rafael Font De Mora, whose clients have reached the upper echelons of the game. While in Arizona, he assisted in developing some of the most promising juniors in the world and gained a wealth of knowledge.
Upon returning to Nassau, he began working at the major resorts and gated communities here in the Bahamas, which includes Albany, Atlantis and Lyford Cay. Rest assured that whatever your tennis goals are, Ricardo has the ability to take you to the next level.
Experience
Impact Tennis Academy: 2017 – Present
The Lyford Cay Club: 2015 – 2017
Tennis Professional
Assistant to the Junior Tennis Coordinator
Assistant to the Director of Tennis
International Private High Performance Coach: 2013 – Present
Cuba Dominican Republic
El Salvador Mexico
Guatemala U.S.A
Antigua Panama
Trinidad & Tobago Barbados
Albany: 2013 – 2014
Atlantis Resort & Casino 2013 – 2014
Tennis Professional (On Call / Eventual)
Guizar Tennis Academy (Clearwater, Florida): 2011 – 2014
Academy Coach
Travel Coach
Recruiter
iTUSA Tennis Academy (Arizona, USA): 2014
Academy Coach
Traveling Coach
Brajaxba Tennis Service: 2008 – 2014
Assistant Head Tennis Coach
Pro Shop Assistant
The Bahamas Lawn Tennis Association: 2011-2018
Secretary General
Youth Commonwealth Games – Tennis Tournament Director
International Tennis Federation (ITF) – Tennis Tournament Director
20x Bahamas Junior National Team Coach
Youth Olympic Tennis Coach (Nanjing, China)
Pan American Games (Toronto, Canada)
Bahamas Fed Cup Coach & Captain (Puerto Rico)
Co-Chair of Junior Development
Testimonial
Coach Ricardo is considered an expert in high performance development. He has played a significant role in structuring our national teams training and development program. He has traveled over 15x as a national team coach both on the senior and junior level
Derron Donaldson, Past President - Bahamas Lawn Tennis Association & Secretary General - Bahamas Olympic Committee
Testimonial
Ricardo has helped tremulously throughout my tennis career especially during my junior and collegiate tennis years. During my time at the University of South Florida (USF), Ricardo trained me during my Christmas and summer breaks. He developed detailed training schedules and fitness plans to maintain and sharpen my skills for the next season. Ricardo has a very direct coaching style and conducts each session to the highest level of professionalism.
Justin Roberts, #1 Bahamas Davis Cup Player ITF - #162 ATP - #753