Report This Page
If you think that the content on this page this page contravenes our Terms & Conditions please let us know and we will take a look. 
Player Seeking Sponsorship - Sonia Chiorean
Oxfordshire
United Kingdom
Sonia Chiorean
Hi, my name is Sonia and I have been playing tennis since I was 5 years old. Although tennis was not my first choice of sport, over the years it has become my favourite, overtaking gymnastics, football and ballet. When I was 7 years old I was invited to attend the Junior Performance Squad at my local club and then to be part of the Oxfordshire County Team. Over the years I have represented Oxfordshire in the County Cup and Lionel Cox competitions. In 2018 I have started regularly taking part in international competitions and last year I have started competing in U12 Tennis Europe. I am a strong believer that if you work hard and you are passionate and determined, you can achieve your dreams. My dream job? Professional tennis player, of course!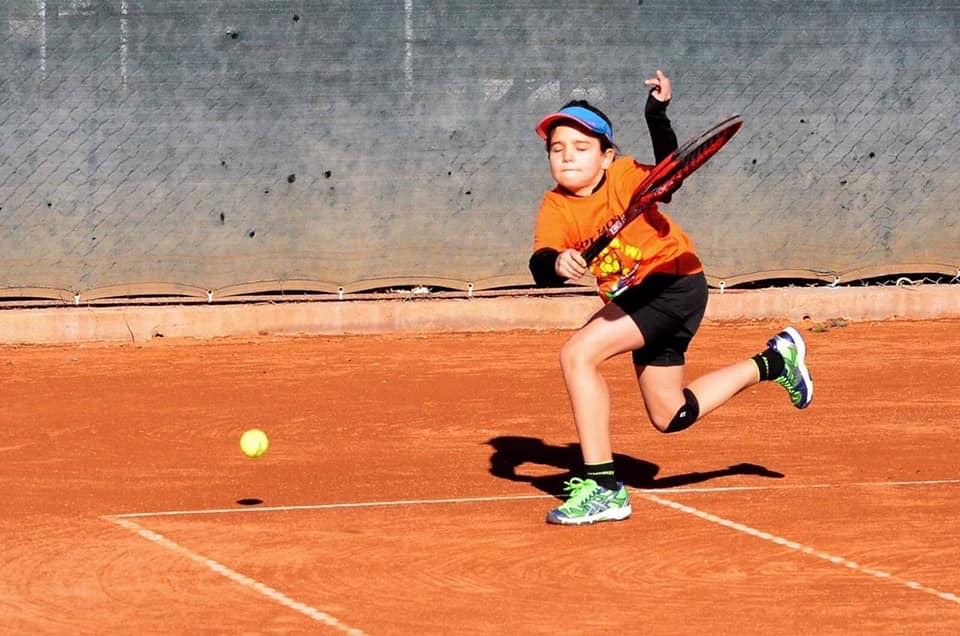 Education & Rankings
Sonia is in the last year of Primary School (Year 6). She will start Secondary School in September 2020.
Her rating is Green 1* which is the maximum that can be achieved for her age. She is the Girls U10 singles and doubles champion in Oxfordshire.
She has a UTR of 3/4 for singles and 7 for doubles.
Playing experience
2018 – (when she was 8/9 yo.) she participated in 6 International competitions as part of Ten Pro Global Junior Tour, in the Netherlands, Belgium (BATD and Kim Clijters Academy), Germany (BASE), Spain (Nadal Academy), France (Mouratoglou Academy). She played in the U10 and U11 categories.
2019 – Lemon Bowl U10 – lost in the second round
2019 – Dubrovnik Bowl U11 – lost in the quarterfinals of the consolation draw. She was the only girl from the UK that took part in the competition.
2019 – took part in 3 U12 Tennis Europe tournaments.
She was on the qualification draw at Tennis Europe Category 1 in Halton in June 2019 and lost in the first match.
She was on the main draw in Tennis Europe Category 2 in Dublin in July 2019 and won a match.
She was on the qualification draw at Tennis Europe Category 1 in Paris in December 2019 and lost in the first match.
In 2019 she took part in local, regional and national competitions in the UK.
2019 – Girls U10 singles and doubles Oxfordshire county champion
2018/2019 – Girls U14 Winter and Summer Leagues winner along with her (doubles) partner. Sonia won all her singles and doubles. She was the only 9/10 yo. to take part in the competition
2018/2019 – U10 Winter League winner and U10 Summer league runner up with her team. Sonia won all her singles.
2019- She won Junior Deddington Club Championship, being the only girl and the only 10 year old to take part in the competition.
In June 2019 she received the GLL Sport Foundation Award for Tennis.
Starting with September 2019 she is part of the U13 Oxfordshire County Squad. She is training regularly at White Horse Tennis and Leisure Centre, with the U11 and U13/14 groups
About you
Date of birth: 29.5.2009
Hand used: Right
Height: 138cm /

4′6″

Racket: Yonex
Clothing: Varies
Shoes: Varies
Any sponsors: no
Favourite players: Björn Bjorg, John McEnroe and David Goffin
Career aspirations: Play at Roland Garros and win it
Favourite tournament: Roland Garros
Best surface: clay
Best win: Girls U10 singles and doubles Oxfordshire County Champion
Goals for the coming year: Take part in more Tennis Europe competitions and win more matches, be one of the best U12 players in the county and work towards a good position in U12 in the country, better performance at other international competitions such as TenPro Global Junior Tour and Dubrovnik Bowl
Favourite quote: "If you are good enough you are old enough"
Training at Kim Clijsters Academy:
Sonia is an all day, all weathers player: she plays from early in the morning until late in the afternoon-evening, during weekends, in the rain, in the heat or on frosty courts.
At the TenPro Global Junior Tour tournament organised at the Kim Clijters Academy in 2018, she was awarded the fair player tournament award. After that she was accepted to train there. She is training at the Kim Clijters Academy during holidays and she is staying in the players' house, where she is by far the youngest player. It helped her to become more independent and familiar with the routine of the professionals players.
Sonia's strong points:
Sonia is a fighter and a runner, passionate about what she is doing, very determined and she will practice a skill until it gets as close to perfection as possible. She reflects on learning experiences, from the matches (won or lost) and from her own mistakes.

Her nickname is "Pocket Rocket" and her opponents say that she is hard to beat. She has trialled Thirty30 Tennis and she is considering it a very useful tool for mental training, as you learn to appreciate every point.
Testimonial
Sonia's list of achievements is extensive. She is pivotal when representing Banbury Westend Tennis Club in Oxfordshire Team Tennis and the Oxfordshire Junior Winter League. She was unbeaten in singles when 10U Mixed Team won the Winter League in 2018/2019 and came second in the 10U 2019 Team Tennis. Furthermore, Sonia lost neither a singles nor doubles match to clinch 14U Girls Team Tennis 2019 and 14U Junior Winter League 2018 with her partner.
Rosie Clark - Head Coach of Rosie Clark Tennis Coaching
Testimonial
Since the Summer of 2019, Sonia has been attending the Kim Clijsters Academy (KCA) intermittently between her school and tournament obligations. KCA is located in Bree, Belgium, and her training motivations are to assist her tennis developments and tournament preparations in an elite environment. I have coached Sonia for the past 18months and continue to do so every time she visits our tennis academy. Throughout our partnership, I've witnessed her develop into an independent and mature junior athlete. She understands the needs and demands of what a professional athlete must endure and sacrifice to provide a maximum chance of success at all levels and ages.
Yasemin Ozsoy - Assistant Academy Manager - Kim Clijsters Academy
Testimonial
I have been teaching Sonia on an individual basis for the past 18 months, during this period she has improved vastly. Sonia is always looking to stretch and push herself, taking herself out of her comfort zone to improve on the court physically developing her strength and conditioning, whilst also taking the time to improve her knowledge of her own game, better understanding what she has improved and areas she still needs to improve on.
Andy Aitken, Head Coach at Wantage Lawn Tennis Club & LTA Level 4 Senior Performance Coach