Report This Page
If you think that the content on this page this page contravenes our Terms & Conditions please let us know and we will take a look. 
Tim Bauer
Tim Bauer's career has guided elite athletes and executive performers for over two decades, coaching world ranked WTA and ATP Professional tennis players, NCAA competitors, Olympians and other top performers in sports and business.  His consulting guides elite professional athletes, as well as executives in high pressure performance environments beyond center court. He has served some of the top names in the sports industry including Saddlebrook, Nike Tennis US Sports Camps, Van Der Meer and Yonex Racquet Sports.
For more information, please see Tim's website http://www.bauerconsulting.net/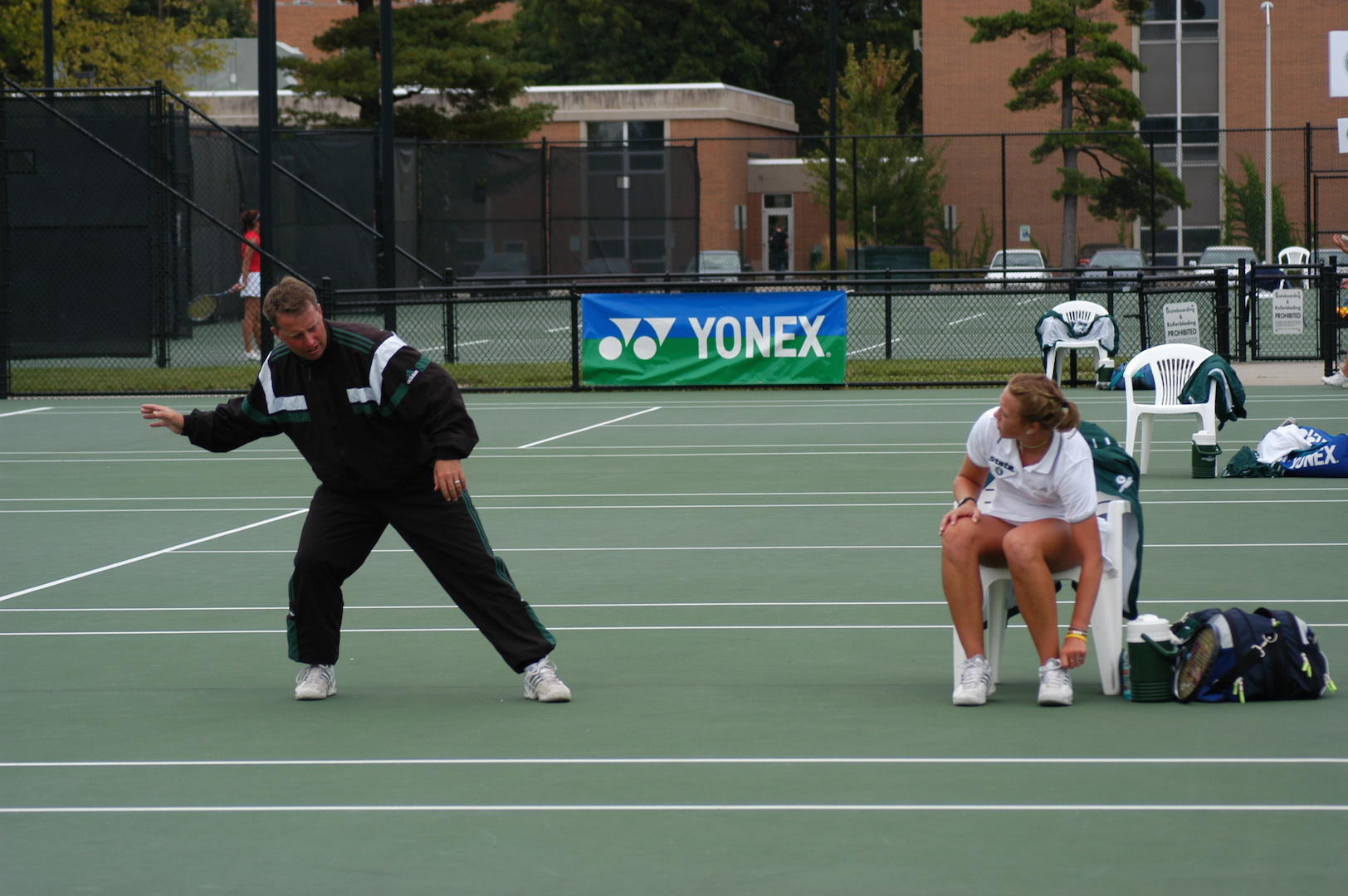 Qualifications
1993-1995 University of Florida, Gainesville, Florida
Master of Exercise and Sport Science

Motor Learning and Sport Psychology

Graduate Assistant Instructor and Lecturer
1989-1993 Furman University, Greenville, South Carolina
B.A. in Health and Exercise Science,/Education

Certification in Physical Education (Grades K – 12)

Course work: Exercise Physiology, Motor Learning

Biomechanics, Sport Psychology, Human Anatomy

Cardiac Function, Cardiac Rehabilitation
Coaching times & fees
Please contact Tim back directly via email on timbauer88@hotmail.com or via Phone / Whatsapp on +1 239 398 5549 for more information on his costings and availability.
Alternatively you can see Tim's website here:  http://www.bauerconsulting.net/
Further information
Professional Experience
2017-Present Director of Tennis
Kensington Golf and Country Club

Naples, Florida
2013-2016 Director of Tennis
Greater Naples YMCA

Naples, Florida
2008-2013 Sports Club Director
The Club at Mediterra

Naples, Florida
2008-2010 Director of Tennis
Boar's Head Historic Inn and Resort

Charlottesville, Virginia
2006-2008 Director of Tennis
Eau Gallie Yacht Club

Indian Harbour Beach, Florida
2000-2006 NCAA Division I Women's Head Coach
Michigan State University, East Lansing, Michigan
2000-2006 Director/Owner of NIKE-MSU Tennis Camps
Michigan State University, East Lansing, Michigan
1996-1999 NCAA Division I Women's Assistant Tennis Coach
Florida State University, Tallahassee, Florida
.1992-Present Professional Tennis Coach (WTA/ATP Professional Tennis Tours)
Guiding several players ranked in the top 50 WTA and ATP world rankings
1995-1996 Director of Sport Science / WTA/ATP/ ITF World Tour Coach
Van der Meer Tennis Academy, Sport Psychology & Fitness

Hilton Head, South Carolina
1996-1997, 1999 Assistant Director, NIKE-Gator Tennis Camp,
University of Florida, Gainesville, Florida
1993-1995 University of Florida Instructor of Sport and Fitness
UF College of Health and Human Performance, Gainesville, Florida
1995, 1998 United States Tennis Association, USTA Area Training Center Coach
Hilton Head Island, South Carolina (Southern Section, 1995)
Tallahassee, Florida (Florida Section, 1997)
1995-Present Bauer Consulting
Athletic and Executive Clients
Saddlebrook Resort Tennis and Golf Academies, Richmond Brothers Financial, Yonex, Reebok, Head
A formally trained and certified teacher, Tim Bauer's passion as an educator and his belief in sport as a pathway to health and higher function has shaped an approach which uses sport to reach both child and adult, novice and champion.  Using equal parts art and science, Tim has helped athletes triumph, programs grow, and facilities prosper through careful management and innovative guidance.
As coach and Sport Scientist, Tim has put his mark on two of the world's most prominent tennis academies. Tim directed the Sport Science program at Dennis Van Der Meer's acclaimed World Class Tennis Academy and Resort on Hilton Head Island, bringing new training methods to an already successful international program.  Additionally, his work as a Sport Psychology consultant at Saddlebrook Tennis and Golf Academy in Tampa, Florida has created  the Mental Performance curriculum which guides the elite players who train full time at the academy.
His depth of experience coaching high performance athletes contributed to the success of world ranked players on the ATP/WTA tours at the world's most prestigious events.  Coaching and consulting work with top athletes has brought him to Grand Slam events including the US Open, Roland Garros and Wimbledon. The successes of these players include top 30 world rankings, several #1 National rankings and a round of 16 US Open appearance by Joanette Kruger.
Tim's involvement with NCAA Division I programs has been spanned well over a decade, at University of Florida (as intern), Florida State & Michigan State (in coaching roles).  As Assistant Coach, Tim helped guide the FSU Seminoles to the NCAA Top 20 and their best season in history. As Head Coach, Michigan State captured their first ever NCAA Division I National team and individual singles rankings. Tim has also coached each of these university teams to the top overall team GPA on campus, resulting in a variety of successful alumni, including MSU's top Student Athlete of 2005.
While at Michigan State, Tim designed and built a nationally recognized Nike Tennis Camp for Adults, Juniors and Ranked players. The MSU camp quickly became one of the top in the USA for Nike, employing over 20 staff and often serving well over 100 campers a week. His Nike camps have scored near perfect with a 98% customer satisfaction rate in exit surveys and a high return rate each year.
For more information please see Tim's website
Experience
As a designer and consultant, Tim has put his mark on sports facilities making them more efficient, effective and aesthetically pleasing.  His tennis concepts have been used internationally and have won the 2012 American Sports Builder's Association Award for Outstanding Facility as well as the USTA's 2013 Outstanding Facility Award which he accepted in New York at the 2013 US Open.
His work at the Greater Naples YMCA revived an aging and derelict 10 court tennis facility raising over $350,000, bringing it up to become one of the most unique facilities in South Florida and in the YMCA system.  The Y, via Tim's vision, now includes 2 Grand Slam replica surfaces: US Open Deco Turf and French Open European Red Clay. In addition to adding a miniature Children's court for ages 3 and 4, Tim's creation of a top staff, new programming, marketing and customer service again innovates to serve a YMCA of over 10,000 members providing tennis for all ages and levels, from beginner to the collegiate and professional athlete using tennis to teach life lessons. 
  Academically, a passion for knowledge of the technical and mental aspects of athletics led him to the University of Florida's revered College of Health and Human Performance in Gainesville, Florida, where he lectured in Exercise and Sport Science and completed a master's degree in Sport Psychology and Motor Learning.  While attaining a B.A. in Health and Exercise Science, Tim played NCAA Division I tennis at Furman University in Greenville, SC where his team captured 4 straight Southern Conference Championships.  As a Junior, Tim trained under renowned Romanian Davis Cup Coach László Serester on Long Island, New York.
Tim's athletic, academic and scientific background, combined with years of experience working with talented performers, helped develop his holistic and inspired methods. His wide ranging study of 'the roots of excellence' in all types of high performers including that of artists, musicians, designers, executives and others, contributes to his creative mental approach and his understanding of what it takes to be truly great in any endeavor.  Common among each of his roles is Tim's dedication to helping others to excellence through personal relationships and a thorough understanding of each performance environment.