Report This Page
If you think that the content on this page this page contravenes our Terms & Conditions please let us know and we will take a look. 
Wael Kilani - Tennis Coach
Wael Kilani
Wael Kilani is a former Top Juniors, ATP player, Number 1 player for the University of South Florida, and Davis Cup player for his native country Tunisia. Wael Kilani is a certified USPTA-Elite and PTR Professional Coach where he passed all tests at the Professional level. Wael Kilani also is certified by the Global Professional Coach Association-GPTCA Level B.  From 2017 to 2023, Wael Kilani served as a High-Performance Coach at the John McEnroe Academy in Sportime Syosset. Today , Wael is serving as the Director of Tennis at Sportime Bethpage.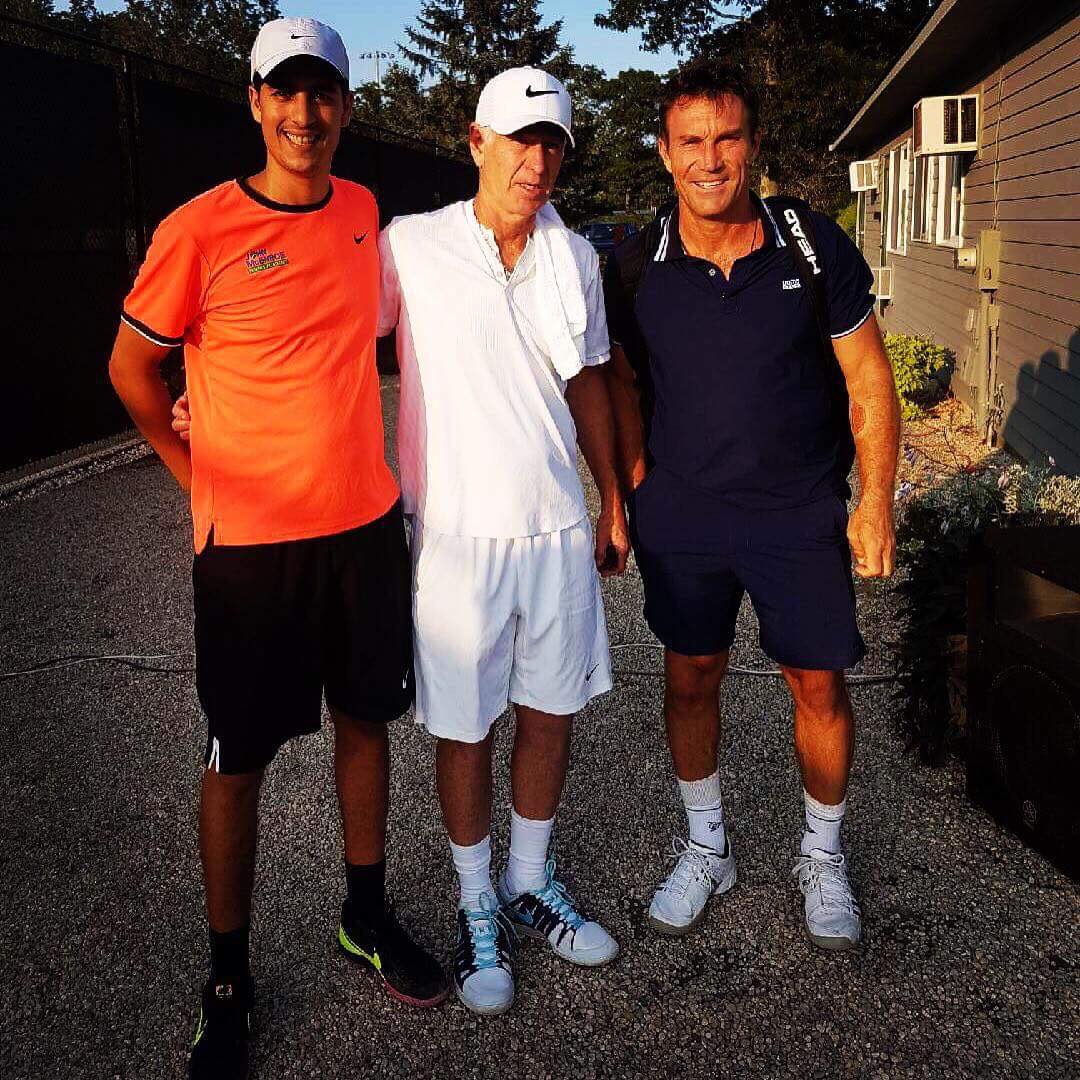 Qualifications
2012- Wael Kilani received a degree in business management from the University of South Florida in the United States of America with a 3.2 GPA. Wael Kilani received a full scholarship for four years where he competed as a Number 1 player for the University of South Florida. In 2008 Wael Kilani was named the Big East Freshman of the Year, also Wael has been chosen in the all Big-EAST Team for four successful years 2008,2009,2010,2011,2012. Wael Also has been chosen in the all Academic team for two years 2008-2009
2011-Certified as Professional Tennis Coach by the Professional Tennis Registry -PTR. He passed all the tests at the Professional level
2015- Coach Wael Kilani is GPTCA International Tennis Coach-Level B certified by the ATP. Wael is member of the Global Professional Tennis Coach Association since 2015
2017- Certified by the USPTA at Pro level(United States Professional Tennis Association)
2018- Certified by the USPTA at the ELITE level
2018- Received the Industry Excellence Award by the USPTA Eastern Division
Coaching times & fees
Please contact Wael directly for information on his availability and costings
Wael can be contacted by email on Wael_kilani@hotmail.fr or via Facebook page : Wael Kilani-Tennis Coaching
Wael is a former top 70 Juniors player in the world, participated in three juniors Grand Slams, professional and college player, Davis Cup player With 25 years of experience in the world of tennis as a top player and high-performance coach, Wael practiced and worked in the best academies in the world with the best coaches and pro players in Spain, France and USA ( Coaches: Patrick Mouratoglou, Jorde Aressi, Daniel Contet, Guillaume Peyere, Maria Cercone, Stefano Capriati ,Steve Hill. Players:Felix Mantilla, Younes El Aynaoui, Marcos Bagdhatis,Pera Riba,Malek jaziri, Jennifer Capriati…)
Wael Kilani was Born on July 9, 1988, in Tunisia. He is the former Tunisian Number 1 tennis player. He won the Tunisian championship in singles in all categories and ages ( Twice in juniors and twice in Men's). Wael also won the Tunisian championship in doubles and with his team the Tennis club of Tunis many times. Wael is a former Davis cup player where he started his first match at the age of 16 in Ireland. He was selected 4 times and played 16 matches in Davis Cup with two singles victories and six doubles win. Wael reached the group 2 twice with Tunisia in Davis Cup. Kilani played against strong countries such as Ireland, South Africa, Denmark, Ivory Coast, Armenia, Cyprus, and Portugal. Also, he had confronted the top 100 players like SARGSIAN, SARGIS from Armenia, Marcos Baghdadis from Cyprus, Claude NGoran from Ivory Coast, and De Voest Rik from South Africa. Wael was the African champion under 16 in singles in Egypt, Arabic champion in singles, doubles, and teams. Wael qualified Tunisia for the juniors World cup in Barcelona as a number 1 player. He is also the African Champion under 18 in doubles with partner Slah Mbarek with victories over Egypt, Morocco, and Ghana. Moreover, He was selected by the International Tennis Federation for a circuit in Europe. In Barcelona, Spain, Wael Kilani led Tunisia as the number one player for the 9th place in the World Cup juniors ( Best Tunisian performance ) with historical wins over Germany, China, and Morocco. In 2005, Wael Kilani got the bronze medal in the Men's African championship in singles at the age of 18 and won the gold medal for Tunisia (first time in Tunisian Tennis history) in Teams against Algeria in the final with his partner and former top 100 players in the world Malek Jaziri. With over 120 wins in singles and doubles, this Tunisian gifted champion was ranked in the top 69 juniors player in the world with three Grand Slams participation ( US Open, Australian Open, and Wimbledon). In 2004, he won the Prince Cup Championship juniors in Miami Florida but also few ITF juniors singles and doubles titles all over the world in singles and doubles ( in Tunisia, Portugal, USA, France, Egypt. Wael Had great wins in singles and doubles Juniors over top players Like Matteo Trevison (former N:1  juniors player in the World), Hsin-Han LEE ( Former 9th ITF juniors in the World), JOAO SOUZA ( top 50 Atp player), ZOPP Jurgen (top 100 in Atp), ELIAS Gastao, (top 50 in Atp), Attila BALAZS (top 80 in ATP), Axel MICHON (top 200 Atp player) but also in doubles against Ruben Bemelmans (Top 100 in Atp), DOLGOPOLOV, Alexandr (top 30 in Atp). Before attending college, Wael Kilani played as a professional for 6 months in Africa and Europe and reached the ranking of 1000 in singles and 700 in doubles ( won one 10K future in doubles) beating top 300 singles ATP players like OLASO, Guillermo(Spain), Maamoun, Karim (Egypt), Grassi, Claudio(Italy), EL AMRANI, Reda (Morocco). In 2008, Wael moved to live in Tampa Florida where he was recruited by the University of South Florida with a full scholarship offer and decided to complete his Business Management degree. Wael competed in the college division 1 as a number 1 player for four years on a full scholarship. With over 180 wins in singles and doubles in college division1, he was the key player for the University of South Florida and ended up the season ranked in the top 50 singles player in the nation and had many wins against the top 50 players and college in the nation. In 2009, Wael Kilani won the Big East championship ( one of the best conferences in the country)and went undefeated, qualified for the NCAA, and had been chosen as a Big East freshman of the year. In 2011, Wael was runner-up in the state of Florida Championship in both singles and doubles. In 2012, Wael was runner-up in the Big East conference with the University of South Florida and went undefeated in the tournament in both singles and doubles. Also, Wael had been chosen in the All Big-East -Conference Team for four successful years 2009-2010-2011-2012 and all-academic team 2008-2009. Wael reached the top 10 college division 1 singles player in the SouthEast region and top 50 in the United States as best singles ranking.
Experience
After his graduation from the University of South Florida in 2012, Wael started his coaching career as the Head Coach at Bardmoor Tennis Academy with the director Mrs Maria Cercone working with the best juniors in Florida. in 2013,Wael worked at Seminole lake country club and was the head coach with the director Mr Steve Hill . Wael also coached high school and was the Head Coach for both Men's and Girls at Northside Christian High School at Saint Petersburg Florida. Wael had an experience working with the company America Internationale coaching top foreign top juniors players looking to attend D1 universities. Wael Worked with Stefano Capriati(Jennifer Capriati father). Coaching top juniors players. 2013-2016, Wael was the private coach of Genesis Whitelock that got from unranked player to the top 10 in FLORIDA under 12 working with coach Wael Kilani for three years. Wael Kilani worked with his brother Majed Kilani since he was 5 years old, Helping Majed winning the Tunisian championship in all categories, the African championship and listed between the best juniors player in the world, Today he competes for the University of Tulsa a top 20 universities in America and ranked between the top 50 in the NCAA singles and doubles ranking. In 2014 at  Saddlebrook Academy, Wael worked with Jennifer Capriati former WTA world N:1, Olympic champion, winner of three grand slams titles.  in 2016,Wael was the Private Coach of Anis Ghorbel where he reached his best ATP ranking during the cooperation (ATP ranked 475 singles and 306 doubles). In Montenegro, Wael Kilani Was the 2016 Fed Cup Coach of the Tunisian Team coaching Ons Jabeur as a number 1 player. In April 2016, Wael got selected by the Internationale Tennis Federation to Coach the best players in Africa at the ITF juniors circuit tournaments. In June 2016, Wael Kilani was the African Champion and qualified Tunisia to the World Cup in the Czech Republic as the Captain of the Boys under 14 Tunisian National Team. For the season 2015-2016, Wael worked with Tunisian Federation coaching the juniors and 16 and under teams at the ITF juniors circuit but also under 14 teams at the tennis Europe tournaments. from 2017 to 2023, Coach Wael Kilani served as a High-Performance Coach at the JOHN McEnroe Tennis Academy (JMTA) at Sportime-Syosset in Long Island-New York. Today , Wael serves as the Director of  Tennis at Sportime-Bethpage.
Testimonial
I would like to introduce myself as Tina Kreinis, a former student of Mr.Wael Kilani. I am 18 years-old and reside in Toronto, Canada where I play tennis at a national and international level. My current ranking is top 20 juniors in the nation and I believe that I would not be the player I am today without Wael's aid. We met back in June 2013, when I had arrived in St.Petersburg, Florida for a family vacation. My father and I were searching for a strong and competent Coach who would ensure that my training level would remain at its highest, even while away on a vacation. Luckily we found Wael, who was far more than qualified. Since Wael possesses the background of former top juniors, professional and college player. Wael is certified at the Top Coaching Level and has coached and practiced in the best academies in the world but also coached his youngest two brothers; which it provides a reason to trust his expertise and skills in working with others, his understanding of the mentality in junior tennis players, and his experience of competing in high pressure situations. He demonstrates the dedication, knowledge, patience, experience, and endurance to be an outstanding tennis coach and hitting partner for all levels and ages.. With the continuation of Wael's drills and training sessions, I had improved enough to claim the U18 Junior Canadian Nationals doubles title this past April, and was able to receive a full scholarship from the University of Minnesota a top 50 Division 1 school in America. That being said, Wael is an experienced , Outstanding and wise tennis Coach that is always a pleasure to encounter and work with
Tina Kreinis -University of Minnesota Tennis player and former Top Canadian Juniors player
Testimonial
As the former Top juniors player in the world, number 1 player for the University of South Florida .Wael Led the team winning the BIG East championship for the first time in the history of the school. Wael was also a Davis cup player for Tunisia, Mr.Wael Kilani is an Outstanding and Talented Coach certified by one of the biggest Tennis coaching association worldwide. He is certified by the Global Professional Tennis Coaching Association (GPTCA) and the Professional Tennis Registry (PTR) at the professional level. As a teaching professional, Wael is articulate, always on time and has a much laid back demeanor to his court manner. He worked with the 10 and under kids at Bardmoor Tennis Academy, our sectional and nationally top ranked juniors and also coached the members of the University of Florida-Gators national championship team. Wael is a gifted professional and expert in tennis as he worked with his native country national team and coached the Fed Cup team and qualified to world cup as a captain of the 14 and under national teams.
David Gill -USPTA Elite Professional Coach, a USTA High performance coach, Owner of USA Pro –Ten, LLC and Director of Bardmoor Tennis Academy in Florida.
Testimonial
My Name is Don Barr and I was the Men's Tennis Head Coach at the University of South Florida for the past 20 years and now i have been recently named Head of the Tennis operations. I am writing this letter in support of Wael Kilani's to continue his professional career in tennis. I have been coaching since 1991 at the university level and have recruited many outstanding player from all around the world. in 2008 , I had the privelege of recruiting Wael Kilani a top player from Tunisia , Wael among the best juniors players in the world and number 1 in his country. He played top 1-2 for me for four straight year and he was voted freshman player of the year and made BIG East all tournament team every year. Wael is very talented player and really needs to now achieve the next level in tennis . He definitely has the ability to make the next level. We at USF fortunate to have had Wael involved in our tennis program. He is a top caliber tennis player and an outstanding person. I can attest that Wael demonstrated eligibility as a coach and athlete of extraordinary abilities and having risen to the very top of his field. He has aquired skills and knowledge of the sport which will only get stronger. Sincerly Yours Don Barr USF Head of Tennis Operation
Don Barr -former Head Coach at the University of South Florida