Report This Page
If you think that the content on this page this page contravenes our Terms & Conditions please let us know and we will take a look. 
Ashley Hobson - Tennis Coach
Ashley Hobson
Ashley has been coaching 32 years, in over 60 countries. Having played on tour for several years in the 80's.  He has Davis Cup and Fed Cup experience as coach and captain over a 5 year period.   National coach for Hong Kong, China for 5 years – coaching junior teams at international events around the world.  As a coach he has managed wins against ATP and WTA World number 1's Pete Sampras and Jennifer Capriati.  Ashley has worked with 100s of professional and ITF junior players in his career with pro tournament titles, ITF circuit wins and USTA National titles. Currently working at Hobson Performance Tennis Academy.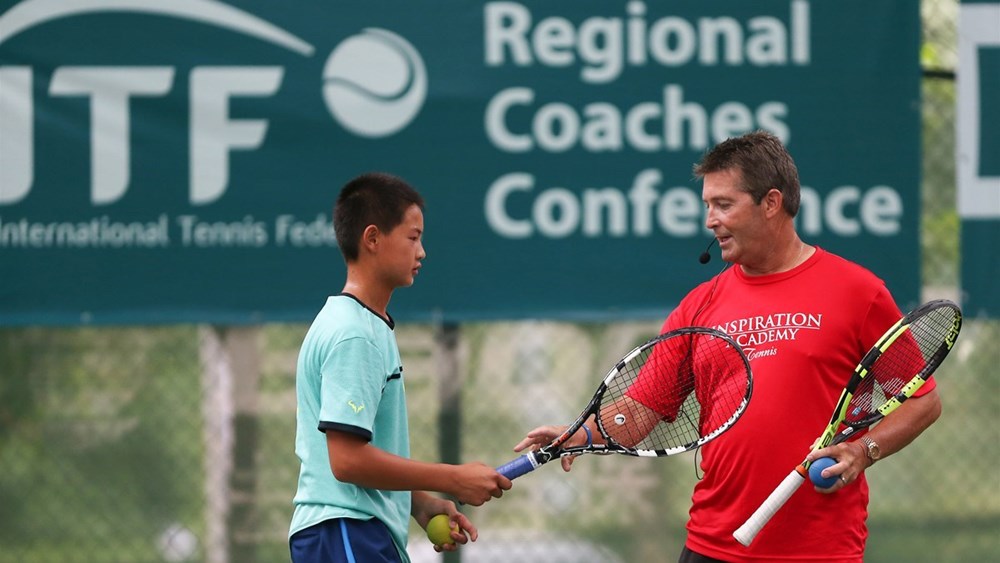 Qualifications
Worked with some of the worlds best coaches: Dennis Van Der Meer – Van Der Meer tennis academy – 5 years, Peter Burwash – 10 years and Chuck Kriese
Educated as a lawyer with BA and LLB degrees. 
USTA Hi Performance coach certification 2001
Tennis education: PTR – 1989 Professional
ITF Worldwide coaches conferences – 1997 – Mexico, 1999 – Morocco, 2002 – Thailand,  2004 – Portugal.
NSCA – strength and conditioning coach – CSCS, Etchfit certified.
Coaching times & fees
Click here to find out more about Ashley's program which heavily focuses on serious player development
This is a program by a world experienced coach with a 30 year strong record of producing pro players, pro titles, ITF junior titles, 100s of College Scholarships, National titles, being a 5-year National coach of a country, Captain of Davis Cup and Federation Cup Teams as well as educator of coaches for many tennis organizations. More info can be found on the website by clicking here
AT Hobson Performance Tennis Academy WE ARE COMMITTED TO DEVELOPING GREAT PLAYERS, AND GOOD PEOPLE. WE BELIEVE THAT WITHOUT THE RIGHT HEART AND MIND CHAMPIONS CAN NEVER BE MADE.
The more I see top players compete, I realize the difference is mainly mental. Attitude, Discipline, Hustle, Courage, Ability to play better when it matters – are paramount. Parents, coaches and teachers need to be instilling these traits which are absolutely key in developing champions. This approach is captured in our academy philosophy and steps to developing a player.
This is a serious player development program with emphasis on good CHARACTER, TECHNIQUE being corrected, FOOTWORK and STANCES being made perfect, high percentage winning STRATEGY being used correctly, hard PHYSICAL training, proven MENTAL TOUGHNESS programs being implemented and TOURNAMENT planning and periodization.
Experience
Competed on the professional tour
Thirty two year coaching experience in 60 + countries
Coaching wins over #1 player on ATP and WTA tours – Sampras and Capriati
Worked with many top 100 players on mens and womens tours
Developed 15- 20 US National champions
Developed two boys –  2017/2018 who played at "La Petit As" for the USA (Top 3 in USA)
Grand Slam junior champion 1996 – developed from age 6 
Completed 5 Ironman triathlons.
National Coach for Hong Kong, China 1996-2001
Hong Kong – Davis Cup Coach and Captain – 5 years
Federation Cup Coach and Captain – 5 years
Developed two teams (6 boys) to world group of Junior Davis Cup and World junior Tennis in 2001 for Hong Kong, China
Coaching seminar speaker – Japan, Singapore, South Africa, Hong Kong, US High Schools Assoc, GA High Schools Asoc, Florida Coaches Association.
Speaker ITF regional coaches conference Guangzhou China, 2016
Produced videos – "Movement for Tennis" and "Tennis Technique – Player Development"  
Currently producing champions at Inspiration Academy, Bradenton FL.
Testimonial
Ashley evaluated the current coaching programs and then drew up a master plan for the growth of tennis in the country. He is extremely hard working, honest, reliable and truthful, a real credit to any group he chooses to work for.
Ed Hardisty, Director Hong Kong, China Tennis Association
Testimonial
We would like to thank you for the wonderful and informative coaches workshop. All those that attended enjoyed it very much and went away loaded with information.
Lim Swee Tak, Director Singapore Tennis Coaches Association
Testimonial
My son has also in the past attended one of the best known tennis academies in Florida. His Hobson experience was far better. He got lots of personal attention at Hobson. They know my son and care about him and that makes a big difference.
Ed