Report This Page
If you think that the content on this page this page contravenes our Terms & Conditions please let us know and we will take a look. 
Brett Karpman - Tennis Coach
Take your Tennis to the next level…  With hands on coaching in Charlotte, North Carolina, or online consulting and lessons. Brett has extensive experience working with clients from many countries and levels from beginners to collegiate level and more…  Contact Brett for more information on how he can 'transform your game'!!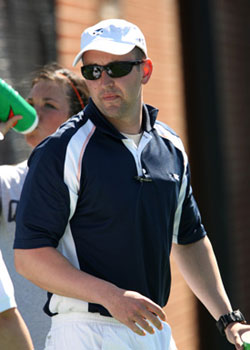 Qualifications
USPTA certified
PTR certified
Cardio tennis certified
CPT
Coaching times & fees
Call for availability and costs for lessons
Further information
Assistant Coach at University of North Carolina at Wilmington during the years 2006-2007.
Head Coach Men's and Women's Tennis Coach at Queens University 2007-2015.
Director of Tennis Serve It Up 2015-2018
Director of Adult Tennis Providence Country Club 2018- Present
This is one of Brett's interviews as Head Coach of the Royals….
Please look through these photos for more of Brett and his clients…
Experience
The Canadian Native competed in NCAA tennis with a medically repaired shoulder. He proceeded to coach at the division 1 NCAA level along current Australian National Coach Adam Carey. Brett is the currently the Director of Adult Tennis at Providence Country Club.
At the age of 23 Brett became a head coach at the NCAA level and inherited a program with 6 wins the season before combined between the men's and women's program. Before the age of 30 Coach Karpman had achieved close to 200 wins, while earning coach of the year honors, serving on national/regional committees, achieving program firsts like the men's first conference title, national ranking and trip to NCAA championships along with the women achieving a perfect regular season, NCAA appearance and highest national ranking/ranked wins.
Brett has since refocused and is available for hands on instruction and online coaching/consulting. He highly enjoys creating individual developmental plans to running cardio tennis classes.
Testimonial
Having employed Brett previously as my assistant men's coach of a division 1 men's collegiate program I can say both the quality and quantity of the work and skills Brett brings to any field in the sporting world far exceeds the norm. His attention for detail and his passion for uncovering new and innovative ways to improve and derive performance makes him an asset to any sporting organisation looking to increase performance
Adam Carey, National Coach at Tennis Australia.
Testimonial
Brett is one of the most energetic and action-focused coaches, I have ever had - smart and confident, and a person who makes his team rise along with himself. I take great pride in having had the opportunity to play under him for Queens University of Charlotte, and the pleasure, of developing a close personal relationship with him during that time. Brett is a result driven leader who is focused on optimal performance which is supported by his diverse leadership skills and a charming charisma that motivates his team. Brett is energized by challenges and is never content with status-quo; he actively supports the team and inspires them to not only excel on court but also off court. He not only developed my game, but also helped excel in university, and ensures that a student athlete has a healthy balance between the two. His recruiting skills are impeccable, and his commitment to the program is highly visible from the heights he has taken the Tennis team to. His knack for understanding an international students challenges and capabilities is remarkable. A great Mentor to have during the early days of a career.
Vivek Yadav, former student of Brett's at Queens University.
Testimonial
Brett represents professionalism, expertise, creativity and success. I would recommend Brett to anyone who needs a customized and successful training program whether you are a professional athlete, overcoming an injury or someone like me who wants to improve their overall fitness level and appearance. Through Brett's positive support, encouragement and expertise, I have started seeing results in a few weeks. I have been an instructor in the fitness industry for 12 years and I am always impressed by Brett's creativity and ability to focus on target areas with precise exercises and routines that I have never seen. Brett is always focused on every exercise, constantly watching and correcting my form and encouraging me to push myself. I always leave exhausted and with a feeling of accomplishment.
Lee Fisher, former fitness student of Brett's.