Report This Page
If you think that the content on this page this page contravenes our Terms & Conditions please let us know and we will take a look. 
Gilles Lemore - Tennis Coach
west sussex
United Kingdom
Gill Lemore
I am a tennis coach with over 20 years experience based in London and South-East/South-Central England. I work at the Roehampton Club, one of the UK's most top tennis clubs, where I have clients of all ages and abilities. I have lived and coached overseas at many prestigious tennis clubs and travel has always been an important part of my life. I am also Tennis Director of Nike Sports Camps in the UK.  I am also fluent in English, French & Spanish and have a basic knowledge of German.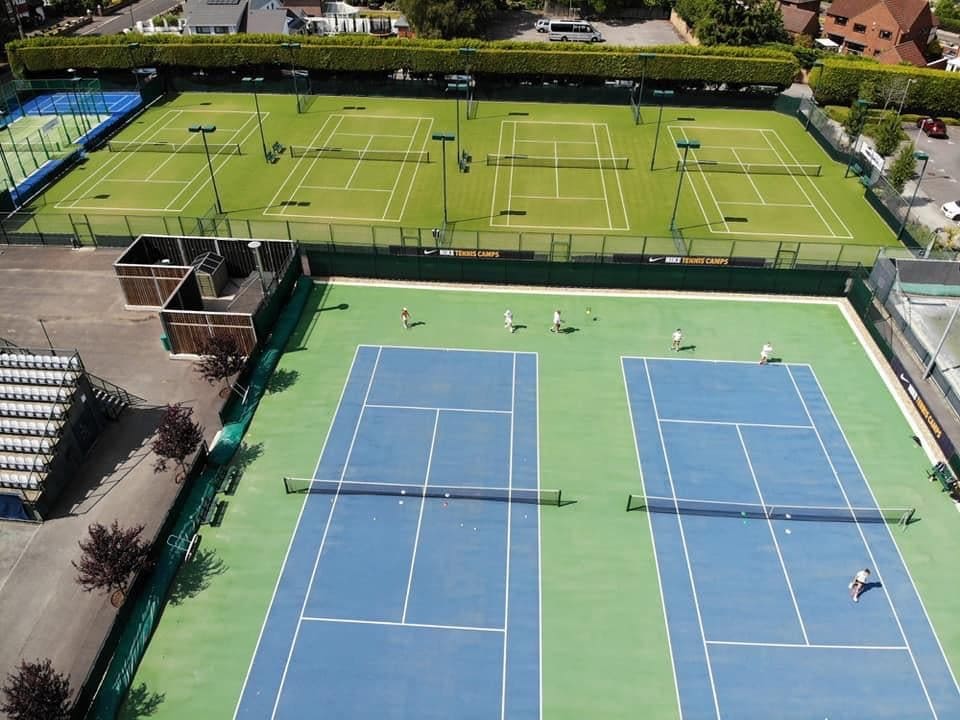 Qualifications
Educational Background
Ecoles des Cadres d'Entreprise

High School of Business Studies – Paris
Qualifications obtained:
A' Level

Degree of Marketing, Business & Commerce
Coaching Qualifications:
USPTA – PRO

USPTR – FRANCE

LTA-LEVEL 4

LICENSED

(UK)

MEMBER of BTCA
Languages:
Fluen

t in English, French & Spanish

Basic knowledge of German Language
Further information
TENNIS COACH – HITTING PARTNER
2016

             

Tennis hitting partner for Nicola Slater ( WTA N. 165 )
2015

             

Tennis events with Bryan's brothers, Dimitrov, lendl

2010 – 2012 Tennis hitting partner for Nima Roshan ( ATP N. 258)

2012

             

Tennis coach to Robert Dickson ( England team over 60)
2011

             

Tennis hitting partner/Exhibition matches

 

with Ilie Nastase

2005 – 2007 Tennis hitting partner for Johan Carlsson (ATP n.83)

1999

             

Tennis hitting partner for Magnus Larsson
1995

             

Exhibition match with Bjorn Borg
Tennis Experiences
Played national level in France

Assimilate 2.1 English rating

Playing in the seniors ITF
PROFFESSIONAL SKILLS OVERVIEW
Implementation of training programs for juniors, seniors and elite players

Management of competitions, clinics and social tennis

Competent in analysing technical, mental, physical and tactical elements of tennis skills

Liaison with the club members and committee relating to memberships, competitions and client relationships.
LEADERSHIP SKILLS
Ability to lead a team of assistant coaches and motivate them.

Excellent communication skills in dealing with a variety of different people and circumstances.

Ability to manage multi-tasks in the business environment
CREATIVITY AND ORGAINSATION SKILLS
Developing

 

coaching programs

 

for beginners, juniors, seniors and social players
Developing

 

training manuals for advance players, including on-court and off court activities plus tournament preparation programs.

Ability to select teams based on performance and strengths, liaise with players, parents and club members.

Experienced in dealing with the committee members in relation to various club activities (such as Club Championships, Club Open Day, functions and fund raising events)

Experienced in designing, implementing and running a club coaching program that includes assistant coaches, players, parents, sponsors, associations and club members.
Experience
2011 -Present : Tennis Director Nike Tennis Camps
EUROSPORT CAMPS THE EXCLUSIVE OPERATOR OF NIKE SPORT CAMPS IN THE UK.  EUROSPORT offer worldwide performance players of all ages intensive on court training, provided by some of the finest qualified coaches.  Courses combine sport coaching with high-quality English language tuition for international students.  
2015 – PRESENT – Tennis Director at Tennis world coaching holidays
Founder of Tennis World coaching holidays, I have created and continually developing tailor made tennis holidays around Europe.

All trips are located in 5* locations designed for groups of individuals and created to meet clients tennis levels.

Clients ranged from club players to national tournament players.
www.tennisworldcoachingholidays.com
Sep 2005 – PRESENT – Tennis professional at The Roehampton Club London
The Roehampton Club  offers full time elite training academy's, clinics, private lessons for all ages and playing abilities, junior training camps, mid week ladies programme, corporate clinics, stringing service  and various club tournaments/events. With over 5000 members The Roehampton Club is listed as 1 of the top 3 clubs in London.
https://www.roehamptonclub.co.uk/
Jan 2000 – Sep 04: – Freelance Tennis Coach – Southern Spain
During this time I had experience in he following clubs, hotels and resorts:
The Kempinski Hotel 5* – Estepona

Hotel Atalaya/Club

– 

San Pedro

Don Carlos Academy – Marbella

Puento Romano Hotel – Marbella

Los Altos del

 

Rodeo Club – Marbella
Club

 

Leisure

– 

Estepona
1995 – 1999: Club Med – Head Tennis Coach
Head of tennis for 9 seasons at various Club Med Village locations, USA, Africa, Asia & Europe. Primary responsibilities at each of the Club Med villages involved the set up and the running of all aspects of the tennis clubs. Each village being unique to the area and with its own identity required individually tailored event and tennis programmes.
1994- 1995 la Jolla Bishop Tennis Club, California – Assistant Tennis Coach
La Jolla Bishop Tennis Club patroned by Mr Fred Perry, for the teaching of tennis to children ranging in age from 8 – 17 years from the local schools and colleges.
1991-1993 Tennis Club of Melun – Assistant Tennis Coach
My introduction to tennis coaching came about whist playing at the Melun Tennis Club in France for the national team. I was approached by one of Paris's leading coaches, Denis Boudot to further my training and to assist him with all aspects of tennis coaching throughout the summer months
Testimonial
I and 3 friends have had tennis coaching lessons with Gill for around 2 years now, focusing on doubles match play. I have found the lessons with Gill fly past in no time, there is always something to remember whether it's an adjustment with grip or as a reminder to finish the shot or pointing out flaws in doubles positioning. Although Gill runs the legs off of us he somehow makes it fun and the lesson is different every week and we have all seen an improvement in our match play.
Julie
Testimonial
Gill Lemore has headed up our Nike Tennis Camps for the last 8 years. Individual sports need great coaches if young athletes are to achieve significant improvements. With Gill, we have a Tennis Director with boundless energy who inspires, entertains and motivates players and staff alike. More players return on Nike Tennis Camps than we have a right to expect and a lot of that is down to Gill. He is a great role model for young players and for coaches, working to consistently high standards and combining sound technical knowledge with fun and energy to bring out the best in everyone on camp.
Dale Hobson - Nike Tennis Camps
Testimonial
There's never a dull moment on Gill's tennis trips. A feast of drills, mini tournaments and mix-ins with the locals means we are all kept on our toes while rapidly sharpening our skills. But the main ingredient, which leaves everyone at the end of the day wanting more, is the fun Gill injects into proceedings. You will have as many laughs as cold beers consumed at the end of the day. You will come away a much sharper tennis player, a stone lighter and looking forward to the next one with people who will become firm friends.
Nick