Report This Page
If you think that the content on this page this page contravenes our Terms & Conditions please let us know and we will take a look. 
David Campbell - Tennis Coach
David Campbell
Passion, creativity, structure, knowledge and teamwork. Within my 16 years I have had the privilege of coaching 'Grassroots Tennis', to winning at national level with a University Team.
Domestically, within the UK, I have coached twice at one of the best Clubs in Scotland. I've also had the gratitude of working with some of the best players and coaches during that time.
Internationally, I have coached in 5 different Countries fulfilling a variety of interesting and challenging roles. The most recent was in China, where we brought the LTA Mini Tennis system to an entirely new audience.
Now having relocated back to Europe, I am ready for a new challenge and hope to bring my wisdom, dedication and enthusiasm… To the next Club or Academy that I Join.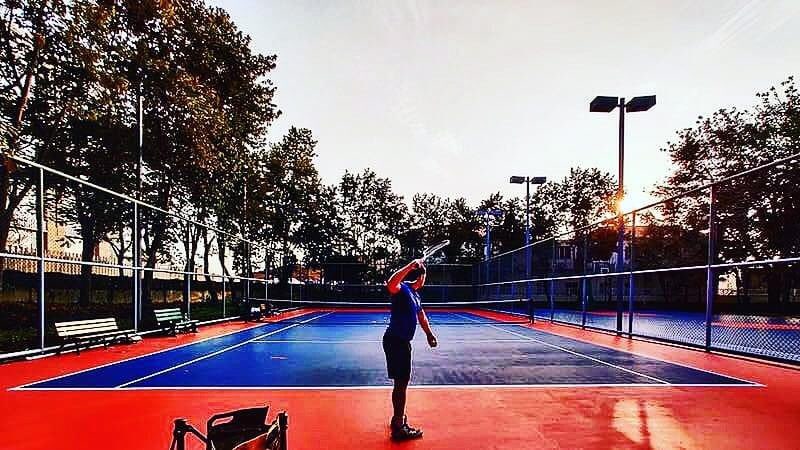 Qualifications
University of the West of Scotland (2013) BA Honours Degree Sport Development
Uddingston Grammar School (2008) Physical Education (Higher B) Music (Higher B) English (Higher C)
Lawn Tennis Association (2013) Level 3 Coach Award (Full License)
Coaching times & fees
Please contact David direct for his availability and fees
He can be reached via email on djpcampbell1@live.co.uk
Or via WeChat on +8614776116365 or Whatsapp on +34 695724432
Further information
LTA
Thorn Park Tennis Club
AE Tennis Academy, Shenzhen
Experience
2019-present Head Coach AE Tennis Academy China
Coaching Chinese International school students
Teaching English whilst coaching students
Managing coaching team and reviewing coaches lesson plans
Delivering on court coaching seminars for our coaching team
Providing online coaching eduction in English for our academy students
Teaching Tennis to children as young as 4 years old
Helping to recruit international coaches for our academy
Mentoring teachers on how to improve their on court delivery of coaching
Proof reading marketing material in English for our school
2019-present Assistant Head Coach at Thorn Park Lawn Tennis Club
Coaching all levels of player; Pre-school, Performance Junior and Adult
Coaching regional performance Mini-red, Orange, Green and Yellow players
Assisting Head Coach with programme/player planning and Delivery
Working with Partnerships to grow Coaching Programme/Club
Mentoring Level 1 Coaches
Building a Schools Programme with Active Schools East Dumbartonshire, to develop a clear pathway from School to Club.
Co-ordinating and delivering monthly Events at the club, social/Competition Tennis
Captaining Thorn Parks 2nd Team to 2 consecutive promotions , co-ordination junior team matches
Coaching Players on a 1-1 basis weekly
August 2017-2018 Sunball Tennis Europe Turkey/Tenerife/Sardinia
Working with 5* Hotel management to provide a 1st class tennis coaching service
Marketing/promoting the tennis programme to guests
Supervising the Hotels tennis activity. Ensuring racquet and court rental are off a high standard
Liaise with hotel guests and promote the hotel's Tennis programme
Working/coaching in difference languages on/off court
August 2016-2017 Senior Tennis Coach Anyone for Tennis Singapore
Conducting a high standard of Mobile/Condominium Tennis Coaching
Building Client Base and Scheduling Diary based on travel time between Lessons
Retaining Clients and delivering individual and group lessons to all ages and abilities
Promoting the company through bimonthly blogging and vlogging on social media
Delivering staff training to an international coaching team
Recording all lessons and income for each lesson
Arranging court booking for clients
Gaining experience from an international Team of coaches from all over the world
2015 August -August 2016 Westburn Tennis Centre Head Coach/North East of Scotland U10's Performance Coach/Aberdeen University Head Tennis Coach
2015 – August Western Lawn Tennis & Squash Club
2014 – 2015 August Assistant Head Coach at Thorn Park Lawn Tennis Club
2011 – 2014 Head Tennis Coach at Drumchapel Tennis Club
2007 – 2011 Tennis Coach (IC Tennis and Various clubs across Scotland)
Testimonial
David has performed all of the above roles with great professionalism and enthusiasm. He would be welcomed back to work at the club anytime. David will be a great asset to your business and I would support his application.
Jordan Gray - Head Tennis Coach Thorn Park
Testimonial
I am fully aware of the requirements of a modern coach, not only in terms of relaying the correct guidance and applying the coaching ethos but also in terms of the wellbeing and protection of those being coached. I have in more recent times, sat on the same board of management within the local Tennis and Bowling Club with David and was highly impressed by his professionalism, courteous and approachable manner and his ability to assimilate information to make informed comments and decision on an equitable basis
Former director of Tennis UBTC