Report This Page
If you think that the content on this page this page contravenes our Terms & Conditions please let us know and we will take a look. 
Pablo Liebau - Tennis Coach
Pablo Liebau
I am from Cordoba , Argentina, the same city as David Nalbandian. I was born in 1981 and compete in juniors with him. I am a business administrator and a Real State Agent. I have a Tennis Academy that works in different locations and surfaces for all levels, and ages, from 4/5 up in advance. I have an adults program for social tennis and I have experience in high performance. My goal is to listen the request of each person to help them to find their passion and to trust in the process of becoming the best version of each one with healthy habits made with discipline. Be persistent until you succeed.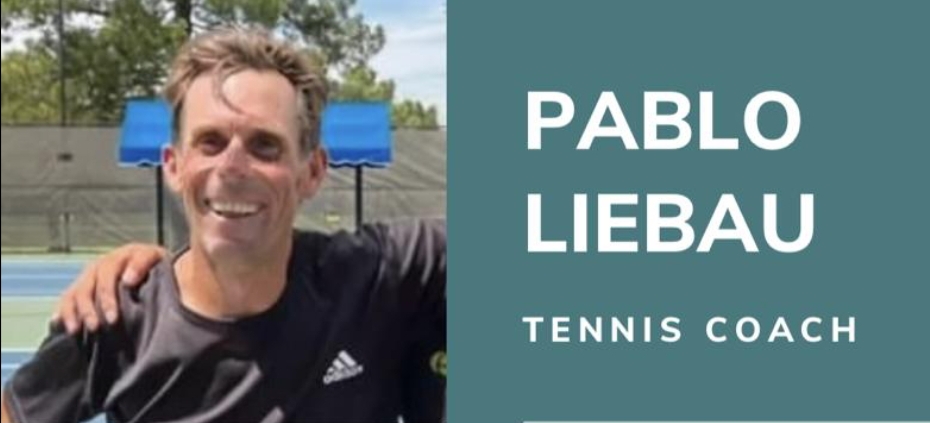 Qualifications
I have been coaching for more than 10 years, and I did The International Tenis Certification by the Argentinian Tenis Asociation and ITF level 1 and 2.
Now I am doing a course of Biomechanics and a Mental Trainning Program
Coaching times & fees
Please contact Pablo direct via email or WhatsApp.
He can be contacted via WhatsApp on +5493541627300
Or you can contact him using email on pabloliebau@hotmail.com
I work on the 4 battles:
Mental Game Power of writing, visualization, routines,  positive affirmation and breathing
Fitness: Conditioning- Core Strength, reaction, coordination, stability, stretching
Technique All strokes. Written report with all the suggestions and drills associated .
Strategy: Match analysis, Chest, Test Grid
Experience
Country Tennis Club Academy
Koten Tennis Academy with Jose Lucca
At Koten Tennis and Country Tennis Club I run the academy and I design and prepare the specific training program and I size the development of the players with the contribution of all the coaches that work on my team
Toscano Tennis Academy
At Indian school Park in Toscano tennis academy I start all days 7am with Beto from Mexico doing a private he was 20 years old, he compete and his training is high performance. We do conditioning following the fitness program of Horacio Anselmi, then we work on his footwork and Mental Game. He plays with me, we work on consistency, attacking short balls, defense, net game. At 9.30 another private/semiprivate session with adults following the requests of each one, trying to help them to expand their limits. At midday I do cardio with adults working for the facility that offer that services for the players… At 3.30 I start with kids from 4 up to 11, a beginners program with red orange and green balls. At 17.30 I start with the junior academy, up to 21, different ages and levels, most of times feeding, looking for a fun & dynamic lesson where they look to improve technique, footwork and all types of skills, including mental Game
Seth Korey Tennis Academy
At Seth Korey academy I exclusively do privates for the adults and group lesson for all levels
Itusa Tennis Academy
I work with Rafael Font de Mora in the high performance academy. He designs a specific training program for all the students and sends it to me via WhatsApp and print to follow the program. I start the first lesson with 2 kids that are 12 years old, then I start working with a VIP player called Michael from Miami, he has an injury so we work most of times doing footwork, fitness, mental game and measure the development. My role was taking notes, following the program, feeding and playing against the players points and matches
Testimonial
It is a pleasure to recommend Pablo Liebau. Pablo worked with my son Niko Klyachkin for a week in Scottsdale, AZ and was absolutely phenomenal. His coaching approach was extremely professional and detail oriented. He took the time to assess Niko's strengths and weaknesses and then tailored the training just for him. The training was very intense, and the criticism and praise were constructive and timely. As most junior players, Niko was at times frustrated with his own play – and this is where Pablo was exceptional. He took the time to talk to Niko to understand what was driving the frustration, and after that the training was even better. Even though the training was over after a week, we felt like Pablo was invested in Niko's development, as he is with everyone he has ever worked with. Even though we live in Kentucky, Pablo has helped Niko on numerous occasions virtually, and always checks up on Niko to see how he is doing. Pablo lives and breathes tennis – he is in top physical shape and hits a great ball. From the physical fitness and conditioning standpoint, he had never made Niko do anything he is not able to do himself, which was inspiring to see. We can't say enough good things about Pablo and highly recommend him for this position. Please feel free to reach out to me if you have any further questions about Pablo's expertise.
Yuri Klyachkin
Testimonial
I really can't say enough about Coach Pablo. My kids tennis improved so much under him in such a short period of time. He's so full of energy and got them moving. His training is intense but the kids always had fun and learned a lot. They always looked forward to their lessons. He is very knowledgeable and always willing to pass on that knowledge. He taught my young kids the kick serve. He is a very good coach. Our time with him was memorable.
Rita
Testimonial
Pablo and I know each other from being coaches at an academy in Scottsdale, AZ. Several characteristics of his coaching style really stand out. First is his insatiable desire to learn. Pablo has great respect and humility for all players and coaches. In the coaching world you find many coaching rivalries discrediting other's methodologies and techniques. Pablo learns from all. He's quick to share what he gains from all the coaches he encounters. No one has more energy for the game than Pablo. He eats, drinks and breathes tennis. He's always asking questions and seeking ways to teach more effectively. When he's not on the court, he's observing other players/coaches, talking to people about tennis and/or sitting with a book reading about tennis. Another area that sets Pablo a part is his focus on footwork. I absolutely love many of his drills. I've seen many coaches spend much time on technique and neglect the importance of footwork. No matter the level of his students, footwork is always emphasized. Many times you will find Pablo running side by side doing conditioning and footwork drills with his students. His lessons are action-packed and creative for the tennis skills he's teaching. Third is his generosity and willingness to help people. There are certainly challenging students out there who desire to learn the game. No matter one's difficult personality or lack of abilities, Pablo is willing to take on any challenge with much enthusiasm. In addition to his attitude and teaching methodologies, Pablo is a fantastic role model for nutrition, hard work and enthusiasm in being a top competitive player
Louis, Tennis coach from Indian School Park Scottsdale, Phoenix Arizona