Report This Page
If you think that the content on this page this page contravenes our Terms & Conditions please let us know and we will take a look. 
Player Seeking Sponsorship - Sofia Shapatava
Sofia Shapatava
I have been playing tennis since I was 10 years old, so 21 years now. I started travelling to tournaments from the age of 18, but really full time from age of 20. My career has been up and down, since I never had a coach with me, and Georgia is not the best place to try to be a professional tennis player. I have therefore struggled a lot with injuries due to lack of knowledge.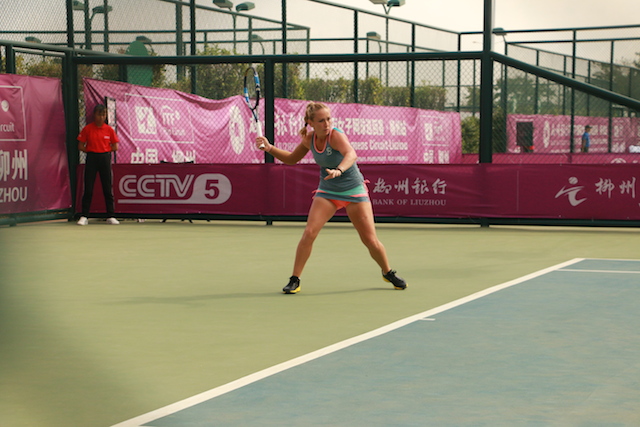 Education & Rankings
Education:
7th Gymnasium Tbilisi. (high school)
Musical college (piano).
Tbilisi first medical college.
Georgian-Ukrainian Law school.
Rankings:
Career high singles ranking: 180
Current: 365
Career high doubles ranking: 132
Current: 145
About you
DOB: 12-01-1989
Hand used: Right handed
Height: 1.70cm
Racket: Yonex V-core 100
Strings: Solinco Tour Bite
Clothing: Adidas
Sponsors: Solinco. Adidas.
Favorite players: Martina Hingis, Kim Clijsters, Roger Federer
Career Aspirations: Martina Hingis.
Favorite tournament: Us Open
Best Surface: Hard, Grass
Best Win: Any Win
Goals for the year: get back to top 200 and play grand slam qualifiers.
Favorite Quote:  Ganbaru (Japanese word). Has a deep meaning in general and to me personally.
During my time I have made many mistakes, but also experience is a great teacher and the lessons I learned throughout my journey are very prosperous and I cherish them. It is not always easy, but as long as I am healthy and fit, I will compete as I love this game and it inspires me!!
Current and Previous Coach, Club & Academies
My coach is : Tim Schultz.
My previous coach is : Marina Malatsidze
Clubs I played previous: BASF Ludwigshafen, Germany.
Clubs I play in currently:
Oppau Ludwigshafen, Germany.
CTC 36, Chateauroux, France.