Good morning Fernando Segal, it's great to have you here…  A long-time and loyal supporter of sportsprosconnect.com and now SportsProsConnect!  Fernando, please introduce yourself and your career in tennis.
I am an International Tennis Development Specialist, and have being working in a similar capacity as main consultant with several tennis federations. I have written many tennis books in various topics such as tennis training methodologies, organization, tennis development, tactical concepts and so on.
My main purpose is to contribute to evolve our coaching profession.
Also, I'm the co-founder and creator of the World Tennis Conference by GPTCA/SI, which is now in its third year.
Thanks very much Fernando…  Now we are really here to talk about the World Tennis Conference taking place at the end of March.  Please tell us how you came up with the idea and what was the inspiration behind it all?
The World Tennis Conference (WTC) is a virtual event which acts as as bridge between top coaches on ATP and WTA Circuit, plus, top scientist, tennis legends and experts.
We want to create ways to understand what it takes to be a high performance individual. Now, WTC is the most relevant conference on high performance tennis in the world.
You are now on the third edition of the WTC, and the names keep getting bigger and better… How do you sustain this, and whats next for you and your team?
Is a combination of people, factors and efforts. We have 68 WTC3 Main Speakers and 27 WTC3 Live Panels Special Speakers, all are top ones in high performance tennis. You can find Grand Slam Champions, top coaches of ATP/WTA Top 10 players, legends, scientists.. all together sharing knowledge and life stories. Also, we have a strong cooperation and work with GPTCA and ATP teams which have been working with us in all process.
This year also we add the cooperation of WTA with us presenting on WTC with 9 main speakers, National Tennis Federations involved to bring the best coaches of each country, and many other organization contributing to create this great event.  This is good for tennis. Each year we spent six months with a team of eight working full focused in to build up this success.
You have had big success with WTC in the last 2 years…  What is your goal in terms of numbers attending this year and going forward?
We have a good number or attendees, but if we consider that in tennis coaching profession worldwide, we have close to half million we can do more to help those who want to keep learning, evolving and improving how to produce tennis players.
This is a long term project with a tennis coaching movement to change what we are doing. In some cases, we are repeating the same formula over and over the past 40 years. We know that talent is everywhere, so we should change to create progress thinking and acting differently. Evolving. This is a conference for who want to keep learning and being the best version of themselves each day.
WTC SCHEDULE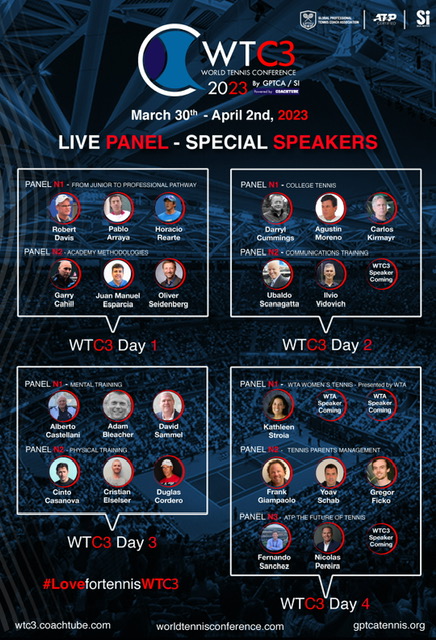 Do you ever have any plans to make this an event to meet up in person?  I always love attending conferences from afar, but having one at your own facility is always exciting too!
Yes, of course the in person experience is wonderful. However, this is another channel to extend the possibilities for tennis coaches. The powerful line-up is possible because we are working with them for months in preparation of WTC. Also, virtual event are cheaper, simple and more accessible to everyone. I have organised many conference in person, which are of course great for human contact. But, to spend thousands of dollars to travel is something to consider. Also, here with WTC Platform you get a 4 day conference, and 45 days more to repeat as many times you want.
With so many of the most famous names in tennis attending and/or presenting, this must be a very hard question…  But who has been the most rewarding speaker to have spoken at WTC so far?
Is easy to respond… all of them! All speakers are top ones on different fields. We have a lot of legends, key people, extraordinary leaders, top tennis management. Each one represent success in your tennis. WTC is UNIQUE!
Finally, please send some links and codes so that many of our members and readers can join this amazing event?
Many thanks for this interview. Everyone is welcome on WTC receiving a $24 discount off general ticket price. (General price is $149, so you will paid $125). This equates to less than 2 dollars for each main presentation, plus WTC3 Workbook (PDF with Top 10 recommendations), 9 Live Panels, 10 Meet the speakers, 7 Special Workshops, etc.
So it's a great investment, especially with the discount!
Bookings:
Book your ticket: wtc3.coachtube.com
SPC Discount Code:WTC3SPC
I for one can't wait to attend the WTC!
Until next week,