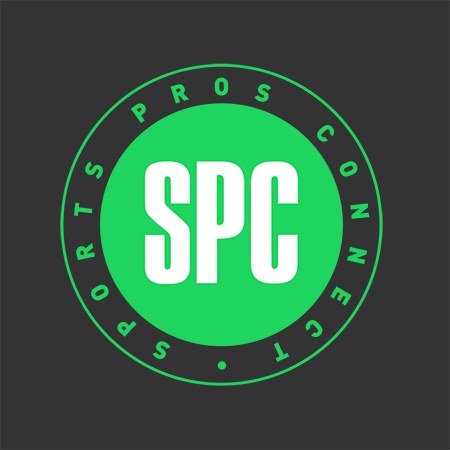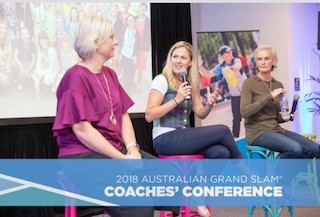 Emma Doyle, its a pleasure to have you with us today!  Please could you introduce yourself and what you have done in the tennis world so far?
Hi Mark – and thank you for allowing me to share some of my insights on your blog.  For those of your readers that have not met me before, here is my bio that shares some information about what I have done in the tennis world to date. 
Emma Doyle is an International speaker, mentor, coach and consultant impacting and inspiring over 100,000 tennis players and coaches over the past 25 years.  She is a Tennis Australia High Performance Coach (USPTA and PTR) with a background as a touring professional where she helped female players reach career high singles & doubles rankings inside top 120 WTA.  She now continues to travel the world as a professional speaker specialising in helping people to maximise and live their potential using tennis as the vehicle.  Emma is an expert communicator (NLP, EI & Life Coach) and workplace coach, who incorporates a range of skills in practical, fun and tailored hands-on programs to suit the needs of the passionate players through to elite coaches.
Emma has been an Australian National Selector for Australian Open wildcards as well as the Junior Federation Cup Captain. Emma is the director of ACE Coach which provides coach education to players, parents, clubs, schools and coaches around the world.  She is a Tennis Australia lead learning facilitator for coach education courses and a talent development coach.
Emma's mission is to empower more female players, teachers and coaches in all sports.  Every time she presents, her goal is to inspire, improve and impact the communication, coordination
and confidence of people around the world.
You are known to many around the tennis coaching world as a 'Motivational Speaker', tell us a little more about it and how you came to do this?
I am very humbled to travel around the world as a motivational speaker in the tennis and sporting industries.  I prefer to call myself a motivation and activation speaker because every time I present I believe in sharing practical strategies to help all people discover their inner coach.  Gaining knowledge or being inspired without taking action is useless.  Therefore, even for this blog I would like to share my journey of becoming a motivational speaker to potentially help any of your readers out there that might want to also choose this as a career path.
My first ever speaking opportunity was on Marketing Small Business and it was at the 2001 Tennis Australia Coaches Conference.  While the content was new (including a Harry Potter Quidditch tennis activity), I learnt the entire six minute presentation word for word and stood behind the lectern the entire time – need-less-to-say it was one of my worse performances.  Despite great content, I did not speak in line with my personality, had very little experience nor did I really engage the crowd.
Many years later (after running serval coaching businesses and coaching on the tour), my second official International speaking opportunity came from the head of the ITF, Mr. Miguel Crespo with an endorsement from a mutual friend and colleague at Tennis Australia, Patrick McInerney.  My topic was Creative Retention Strategies for Red Ball players in Mexico at the 2013 ITF Worldwide Coaches Conference.  From this moment in Mexico, I walked away wanting to focus my career on International speaking.  Why?  Because I felt ready to spread my message, experience and I never take for granted the great honour in impacting one to many.
I have since spoken at:
International Tennis Federation – Mexico (2013) and Turkey (2015)
United States Tennis Association and USPTA – USA (2013 – ongoing)
Professional Tennis Registry – London and USA (2013 – ongoing)
Federazione Italiana Tennis – Rome, Italy (2015 and 2017)
Akademia Trenerów Tenisa – Poland (2014 – ongoing)
North Cyprus Tennis Federation – Cyprus (2015 – ongoing)
Australian Open Grand Slam Coaches Conferences (2002, 2012 – ongoing) Melbourne
Behind Closed Doors – Corporate Sports and leadership (2015)
Tennis Congress – Arizona (2016, 2017)
Scottish Women in Sport Conference (2017)
Vienna Tennis Association (2017)
Lawn Tennis Association (LTA) – London (2017)
Womens Tennis Coaching Association (WTCA) – New York (2017)
And this year I am very excited to be speaking at different types of events, such as The Festival of Doers in Switzerland.  I speak on a range of topics from 10 and under tennis, parent education, connecting girls with sport and corporate topics such as Stretch your Comfort Zone.  The take home messages are around self-awareness and practical winning strategies with a strong focus on how to communicate effectively.
As you can probably imagine speaking opportunities are all about building relationships and networking as well as under promising and over delivering.  So if you are reading this and thinking that you would like to get into the speaking world my top three strategy tips are:
1) Build and grow your network of key people who believe in you
2) Walk your talk – only ever present on topics  where you live your content
3) Present in line with who you are – and then consider this question – is who you are going to get you where you want to go? 
Remember that as tennis coaches – we are constantly speaking to an audience – usually the parents of the players we are coaching.  I am currently working with the Women's Tennis Coaching Association (WTCA and its founder, Sarah Stone) about an online learning course on how to become a speaker, so watch this space.  

Tell us a little about your tennis career.  What achievements did you have as a player and how did you progress these to the coaching profession?  What have you achieved as a coach?
Well actually, after my paper round, tennis coaching was my very first 'real' after school job and I fell in love with the profession immediately.  The reason this happened was because of the energy that I gave and received back from the players.  Providing a creative learning environment with energy is one of my key philosophies as to what makes a great tennis lesson.  I was 14 years of age!  I loved the atmosphere in which I grew up playing tennis and while I was a solid local level player, I generally did not make it past the second round on a National level. 
Therefore, I focused on getting into my first university preference, Sports Coaching and Administration.  During my first year, our course coordinator was a famous Australian Rules Football Coach, David Parkin, and he asked me what I now call the magic question:
'Well Emma, before you can be the best coach possible, I need to know whether you have maximised your playing potential first?  Have you gone as far as you can go in tennis?'
My response, again without a moment's hesitation, was:
'No.'
I still had a love for tennis and I was not burnt out by the sport like many of my previous rivals and teammates. The answer was simple.
'Parko – I think I am good enough to play USA college tennis and see how far I can go.'
While I knew that I thrived in a team environment, and that this support suited my training motivation, in truth I had no idea if I was good enough to play college tennis.  However, I knew of other players around my level that had gone down this path, and thought:
'If they can do it, why not me?'
I kid you not, within four weeks, the girl from East Keilor was on a plane to Nashville, Tennessee on a full scholarship to play for Middle Tennessee State University (MTSU).   
So what did college tennis teach me?  It taught me how to discover my inner coach, and how to tough out a match physically and mentally! Playing number one in both singles and doubles for a division one college was an ongoing challenge. I would be in the warm up telling myself, 'this girl is just as good as me with no obvious weaknesses – let's see who is prepared to stay out on the court longer'.  Lessons learnt during this time, like this one in determination, were worth their weight in gold to me in the long run. Knowing that I was playing not just for myself, but for my team, served me well.
Returning from college I continued to play State Grade Pennant while starting up my very first Tennis Coaching Business – Tennis Innovations.  The club was about to close as it only had 50 members.  In the first 12 months, one of my biggest achievements was that I went from 2 coaching clients to over 150 with an 80% conversion rate into club members.  The club is still going strong today.
Some of my other coaching achievements have been as a touring coach, in representing my Country on the world stage and as the Junior Federation Cup Captain of the U 16's Australian team.  I have been a National selector for wildcards and a Talent Development recognised coach since 2010.
On an International level I have learnt from, worked with and presented along some of the world's best coaches (Nick Bollettieri, Patrick Mouratoglou, Peter McCraw and Judy Murray).  Some of these early opportunities came from simply turning up on great coaches doorsteps and asking if I could just watch them coach and be their eyes and listen with all my senses.
Overall, I am most proud of the long standing friendships that I have with many of ex-students and coaches who I mentor.  In 8 weeks' time I will be attending the wedding of a player whom I travelled internationally with for over 5 years including many Junior Aussie Open Grand Slam matches.
You are also involved as an ambassador for Judy Murray's Miss Hits programme and extremely involved in the WTCA (Womens Tennis Coaching Association), tell us a little bit about these and how they became part of your life?

As I mentioned above, I believe in taking chances by volunteering your time to learn under great mentors.  This is how I originally met Judy Murray.  Then a few years later, I tagged her in a facebook post and thanked her for creating the Miss Hits characters because of the dances that my Aussie girls had adapted for the first ever GIRL POWER CAMP.  She asked me if I could travel to Scotland, four weeks later to show her these camps.  As they say – the rest is history. 
Since then, I have worked with Judy on a number of initiatives – such as the Miss Hits program and the LTA's She Rallies program.  The goal of She Rallies is to empower and expand the number of women and girls coaching and playing tennis across the UK.  My role was in helping to educate all coaching on how to more effectively communicate, coach and connect girls with tennis.
Sarah Stone, who is the founder of the WTCA, and I played on the same State Grade Pennant team for Hawthorn Tennis Club many years ago.  She was an exceptional junior and I was very fortunate to play doubles with her.  She is passionate about supporting and helping all coaches better understand how to develop female players.  It is an honour to be involved with Sarah and the WTCA as we continue to #PressforProgress on a number of exciting projects together, such as,
1) Expanding Miss Hits into the USA
2) Girl Power Camps – Engage. Develop. Empower
3) How to become a great speaker online course
And I am looking forward to presenting at Indian Wells at their conference on 'Stretching your Comfort Zone' because Confidence = Time + Experience.  You cannot short circuit time, only other people's experience and then make it your own. Therefore on that note – I hope to see as many of your readers as possible at the PTR/WTCA Coaches Summit in Indian Wells March 5 – 8, 2018.
Register Here:  https://fs10.formsite.com/ptrtennis/form53/index.html
Finally, I would to invite you to participate in The Volley Challenge on International Women's Day, March 8, 2018.  Please click on the click below for more information.
https://www.eventbrite.co.uk/e/volley-challenge-united-in-tennis-sport-tickets-39454296864?utm_campaign=new_event_email&utm_medium=email&utm_source=eb_email&utm_term=viewmyevent_button
What are you most proud of in your career so far, and have you any regrets?
I do not believe in regrets. If you make a poor decision – take destiny into your own hands and change your circumstances as best you can and immediately. 
I am most proud of the long standing friendships that I have with many of ex-students and coaches whom I have mentored and consequently attend their 21st birthdays', weddings and family funerals.  To watch children and young coaches grow into decent human beings due to the small role and impact that they mention I might have had on their life – this is my measure of success.  In 8 weeks' time, I will be attending the wedding of a player (Michelle Brycki) whom I travelled internationally with for over 5 years including sharing many Junior Aussie Open Grand Slam matches and moments together. 
One of my proudest moments as a speaker came last year when I ticked off on my bucket list to deliver a TEDx talk in New York.  It was entitled 'Unleashing Female Potential' and I invite you to please watch and share if you LIKE:



Finally, bearing in mind this will be going live on Men's semi final day, who are your picks and predictions for the Australian Open this year?

Simona Halep (Because she is a fighter and of course she has an Aussie Coach in Darren Cahill)
AND
Roger Federer (he never ceases to amaze me under pressure and he is a true gentleman of the game)
Thank you for investing your time in reading this blog.  I hope that you have picked up on one or two practical strategies that you could apply in your life.  If you require more information about any of my services, please reach out through my website:
emmadoyle.com.au
Inspire. Improve. Impact.
Thanks Emma for this fantastic interview, its a really interesting and motivational piece.  I first met Emma at the WTCA / PTR Conference in New York in September…  She doesnt know this until she reads this, but after Emma's presentation at the conference, she inspired me to walk straight up to Judy Murray and talk to her about sportsprosconnect.com.  I may have stuttered through what I was trying to say, and may not have left much of a memory for Judy, but it was through her speech that put me in that position.  Thank you Emma.
 Mark Wylam (Owner sportsprosconnect.com)