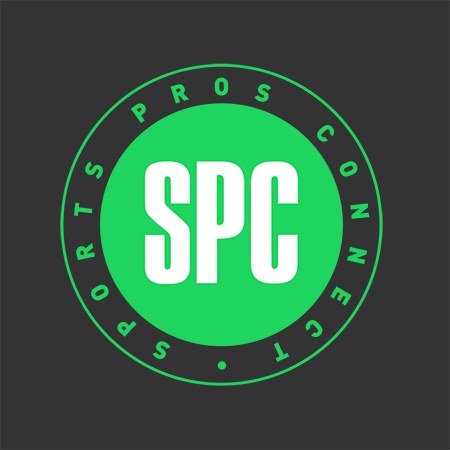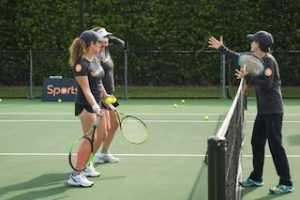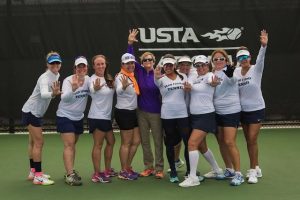 Good morning Jane Forman, thank you for taking time out of your busy schedule to answer these questions… Firstly, please introduce yourself to our readers and give us some information on your career playing and coaching tennis to date.
Hi Everyone, My name is Jane Forman and I own Jane Forman Sports in Miami Fl. JFS is a sports management  group comprised of a tennis academy, an after school sports company and a local 501.3c foundation. I personally coach all levels of play with an emphasis of  adult recreational league play. A.K.A Team Forman Tennis. Utilizing my years of experience in competitive tennis, I made it a mission of mine to transform recreational tennis players into competitive athletes through a variety of services including team management, clinics, workshops, and lessons.
Thank you Jane.  You had a fantastic professional playing career…  How easy was it to transition from player to coach?
For me it was fairly easy. I really enjoy teaching so it was a natural transition. Playing Professionally for so many years was super challenging. Staying fit, traveling, training, etc… When I transitioned into teaching everything seemed easy! It was just a different challenge. Being focused on being my own boss and staying true to my mission helped this process.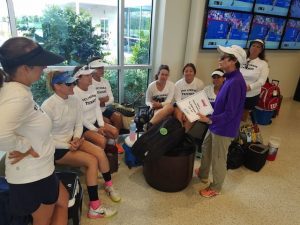 Most tennis coaches, especially when a pro player themselves want to be a performance coach.  Why do you think this is and how come you are so passionate about teaching the average club player?
Professional tennis players have been through the gambit of tennis competition, at least I have.  Junior tennis, High School Tennis, College Tennis, Professional tennis. This route enables pros to train anyone and everyone. Personally I started my career training high performance kids. The parents wanted the knowledge of an experienced pro player so the demand is there. Many pros like to see the talented kids come to fruition. They can personally relate to their own experiences.
Coaches who haven't achieved that level have less to offer. After coaching this level I realised I wasn't enjoying myself. I didn't want to go back on the Junior circuit and I soon realised that parents quickly  forget my experience and only focus on their kids winning. So I shifted my business to grass roots programming for recreational juniors and adults and my business exploded. I found my calling as a coach and never looked back.
You are extremely passionate about team tennis.  You have been hugely successful recently, with some of your teams getting to nationals at USTA competitions…  What is your secret to success, and how have you helped them as a team?
Mission statement of Team Forman Tennis " You don't have to be a pro to train like a pro"
Respecting the everyday tennis player is the key to success. Most pros do not like to teach the everyday player. The attention I give to all my teams and students is as if they are on a high school or college team. I'm not only instructing them on strategy and tactics, I'm teaching them how to be competitive tennis players and play for a team. The enthusiasm and dedication I receive back is tremendously rewarding. These players train hard, stay fit and want to be the best they can be! Additionally I manage (captain)  all teams rather then a player doing so. This is a little unconventional but eliminates league drama.
Please tell us about some of your top moments in tennis, both as a player and a coach?
As a player I have been fortunate to have successes and honours in all aspects of my playing career. Being inducted into the Clemson Hall of fame in 2003 and having the longest winning record  in Clemson Tennis history (which still stands) is a stand out. Playing Martina Navratilova center court Wimbledon in 1986 will always be a top moment. Being named one of top 50 athletes in the century in my home State of RI is a special stand out honour.
As a coach being a successful business women and staying relevant for 29 years is a huge stand out. Times and trends change and a good coach and business person has to change with them. Kids I coached playing college tennis, teaching 2nd generations in families is always a stand out, but taking a group of 3.0 level women to a Florida State Championship Win is #1.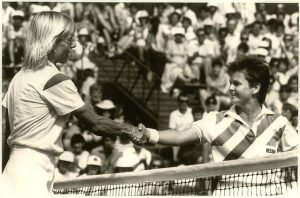 It has been stated around the media that tennis is on the decline in some places around the world.  Do you agree with this, and if so what in your opinion should the governing bodies be doing to change this?
It's hard to comment on other areas than my own, but I definitely feel the pinch.  I honestly believe tennis never bounced back 100% from the 2008 crash. On a local level after school tennis is not what it used to be. Both parents are working, getting kids to after school classes is more difficult. The price of tennis is also an issue. Many families can't afford to play. Speaking of governing bodies I only have real contact with the USTA. I believe they are doing a great job growing the game . Adult leagues, Junior team tennis, 10 and under Formatting, junior and adult tournaments, its massive! And these are all affordable. On a higher level the USTA is targeting talented kids and offering mini camps and workshops for this "Next Gen". In addition there are grants for under served communities.
The media wants the next Venus and Serena ! They are looking for  the next American phenoms and when other Countries win Grand Slams the media blames the decline of tennis.
Finally, we are coming to the end of an amazing Australian Open.  Be honest, who were your tips to win this years tournament at the start, and have they changed since some of the top seeds have already gone been defeated?  I can openly admit I thought Kerber would win the ladies, however at time of writing Novak is still in the hunt for the mens!
On the Women side you can never rule out Serena.  I personal love Halep but that was a sentimental pick like Federer.
I think Osaka will win the women's
On the men's side Novak or Nadal, but its fun to see the new blood breaking through. Novak vs Nadal in the finals.
Thank you so much for talking with me today Jane.  Please click the links, if you want to see more about Jane or you can contact her via email on jane@janeformantennis.com.
We are always looking for new coaches and players to interview.  If you have something you would like to say to the tennis world, please feel free to get in touch by emailing on mark@sportsprosconnect.com or send us a Whatsapp on +353867922188.
Mark Wylam (Owner Sportsprosconnect.com)