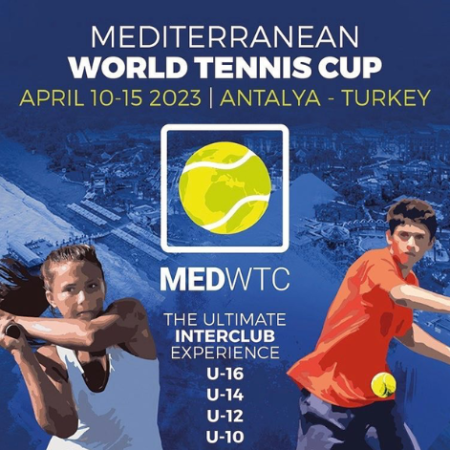 Good afternoon Miquel Puig. It's a pleasure to speak with you today! Please start off by introducing yourself to our readers with some background of your tennis career.
Good afternoon Mark, thank you for inviting me. I've been tennis coach since I was 16 years old when I started in a local primary school teaching tennis. When I was 21 I had the opportunity to start my own project in a club with 6 red clay courts in the area of Barcelona. Today we have more than 140 players and we already helped some players to get in ATP and WTA rankings.
In our area, it's very popular to participate in team leagues and competitions and that's why I came up with the idea to do a Worldwide Teams Cup. Kids are very motivated to represent their clubs and doing it with friends so much fun!
Thank you Miquel, it's fantastic to be connected with you today! This interviews main purpose is to present some of your ideas about the Med World Tennis Cup (MEDWTC)… Please tell us how you came up with the idea?
Tennis is a global sport, but it's not easy for everyone to play international events: you need to play at a very high level. Also, it's expensive, and if you loose in the first round, you go home. I think that what should be a positive experience can turn produce high levels of pressure and frustration. MEDWTC is a great chance for every player to represent their club or academy in an international event. Also with the round robin format, every day they have a new opportunity to play well and enjoy the sport they love with their friends.
Please tell us more about the tournament itself… Date, time, age ranges, locations etc…
MEDWTC is an U-16, U-14, U-12 and U-10 Tournament by Teams. It will take place from 10th to 15th of April in Antalya (Turkey).
Teams will be housed in all-inclusive accommodation in Megasaray Club Belek*****, a five star hotel that has more than 40 courts, great services and amazing facilities including an aqua-park, spa, gym, beach,….
The MEDWTC has a round-Robin format, with eight Teams divided in two groups of four. Each team plays the three other teams in their group. The winner of each group (best overall record) is placed in separate semi-final brackets, with the top team in Group A playing the runner-up in Group B, and vice-versa. So every team has 5 matches guaranteed.
Thanks Miquel, sounds like a fantastic idea! Can you tell me how many teams are signed up so far?
We have teams from many different corners of the world and we love that our event will be rich on diversity. Rafa Nadal Academy Mallorca, Kuwait, Rials Academy Barcelona, Oristano Tennis Academy from Sardinia, Vilasanta from Milano, among other teams from Dubai, South Africa, Japan and Turkey.
Are there any plans to set up any future tournaments using the same or similar format?
Yes, we have received some offers to do it in other locations but in this moment we are fully focused on making the forthcoming event an unforgettable experience for all the participants! After that, we will publish details on the next destination!
Finally as we come to write this we are at the Quarter Final Stages of both the Men's and Women's draw for the first grand slam of the year! Who are your picks to win the men and women's Australian Open 2023?
In Men's, I always bet on Novak;  with the experience that he has and best to 5 sets, it's an enormous challenge to beat him. In the Women's, I've always been a big fan of Azarenka, she's a great competitor. I reoth of them won before in Australia and they have shown that they're determined to do it again.
I want to thank you personally for your time speaking with me today! I think the concept of a team event for the lower age groups is excellent, and SportsProsConnect are very excited to be working with the Mediterranean WTC these next few months to help promote.
SPC will be in attendance and have something special lined up to make the event even better. Watch this space for more news on the event, and feel free to contact me on +353867922188 or info@sportsprosconnect.com for more information and registration forms.
Until next week,