Good morning Jared Ominde, its a pleasure to have you with us today! Can you please introduce yourself and family as to your connection with tennis in Kenya?
It's a pleasure talking to you today. I am Jared Ominde father of three great tennis kids namely, Derick Ominde, Baraka Ominde and Innes Achieng. I am married to Rosemary Achieng mother of our six great kids. I have been coaching my own kids plus other kids who have played for tennis Kenya at international level.
Many thanks Jared.  Great to hear about you and family!  Please tell us more about the state and reputation of tennis in Kenya and other African countries?
In East Africa, Tennis Kenya is one of the top federation with a strong junior tennis program, I will not forget to mention that before the start of the pandemic , Tennis Fenya Federation has ITF centre in Nairobi where my son Derick was one of the beneficiary. A total of 9 ITF tournament are held there each yearl. Nairobi has one of the best climate for all the sports!
What is the ability of coaches and players in Kenya, and how can this be improved?
Coaches and players here really have high level of tennis ability. Lots of tournaments are lacking having better facilities.
You are looking to send your son Baraka away to an academy currently. Why is this and how will it help his development at the age of 14?  Are there any countries you are particularly interested in?
If Baraka gets to the international program, like Spain, USA or South Africa this will further his tennis level better as an elite athlete. There is not enough competition here. There is also a lack of exposure and lack of good training facilities. I believe Baraka's level after 2 to 3 years will tremendously improved once he attends an academy.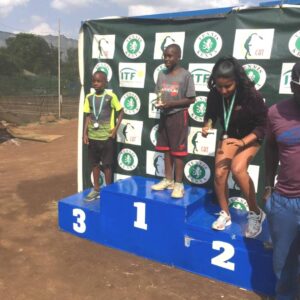 Tell us more about your other son Derick and where he is at with his tennis right now?
Derick got to top 300 ranking in the juniors in the world  – amazing! He received a generous scholarship to study in the USA at St Louise Missouri Baptist University, but unfortunately he was denied due to visa issues. As you can imagine this was so frustrating.
He might start local university while waiting for some miracle to occur. Derick also played for Davis Cup Kenyan team!
Are there any other players within Kenya and the surrounding areas in a similar position who would love to have more support to help their child's future within tennis?
Africa is full of talent, but less opportunity. It all comes down to issues with applying for visas.  It's really killing any opportunities that players may have.
Finally who are the African players to watch out for in 2023?
Maybe some players from North and South Africa and of course Baraka Ominde is really promising!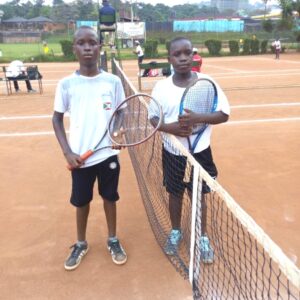 It was a pleasure talking to you today Jared!  We certainly hope that this article can be the catalyst to help Baraka, Derick and any other aspiring players out there in some way!
It was amazing talking to you too Mark. Really appreciate it.
Until next week,